The AirAsia logo's red and white colours have always been associated with positivity. Indeed, the major Asian airlines have clear green policies as well.
Yap Mun Ching, Chief Sustainability Officer of Capital A, the holding company of the AirAsia Aviation Group, said in the last two years it has a lot of data and contents about environmental sustainability, but in the region awareness is very low. So this is the first interview in Thailand to provide more details about this.
"A lot of things that we want to do and what we need to do for environmental sustainability, we cannot only be done by AirAsia, it has to be done with regulators, with industries and with passengers as well," said Mun Ching.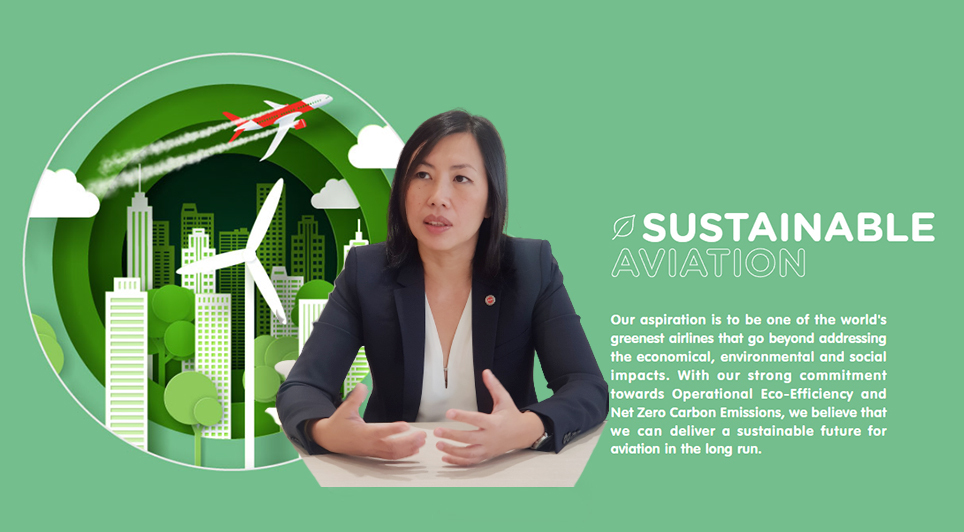 In 2017, the global aviation industry came up with their own program to decarbonize in response to the Paris Agreement. The aviation sector contributed about 2 percent of the global total carbon emission. The plan aims to contribute to solving the problem according to the International Civil Aviation Organisation (ICAO) standards.
Before the pandemic, concern was mainly over the environmental impact of tourism but at the industry level, airlines have agreed on a plan that will be implemented from now until 2035, so the ambition is critical.
This plan sets emissions caps that will be reviewed every three years at the international level to see how we are doing. For the period between 2021-2023, the cap is set at the 2019 level of emissions. To date, the industry has not exceeded the cap because the Covid situation caused the travel industry to shrink. However, as recovery is proceeding quickly now, we anticipate that by 2024, emissions will exceed the cap, requiring airlines to take action to offset and reduce their emissions.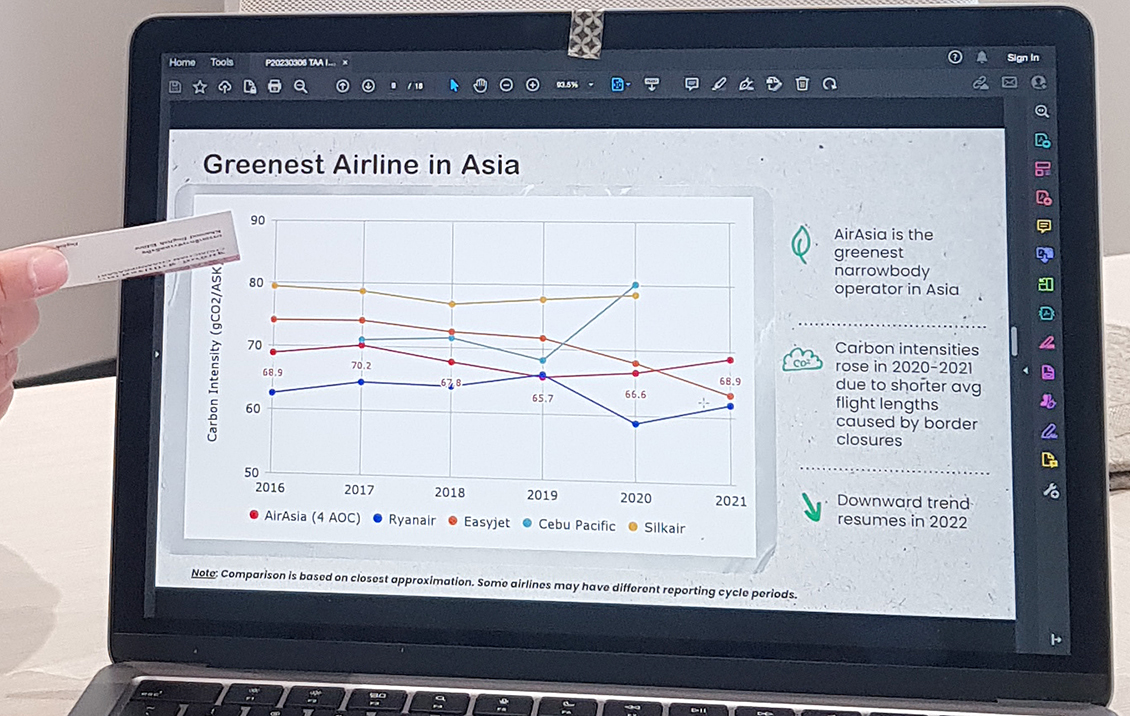 AirAsia Group's net zero pathway identifies 4 ways to achieve net zero carbon emissions by 2050.
The airline aims to align itself with the Paris Agreement's 1.5-degree Celsius policy to ensure that it contributes as little as possible to greenhouse gas emissions or achieves 'net zero' by 2050.
AirAsia will also be part of ICAO's Carbon Offsetting and Reduction Scheme for International Aviation (CORSIA) program, which aims to reduce carbon emissions from international aviation to 85 per cent of the record 2019 emissions level by 2024.
Yap Mun Ching explained their 4 strategies which are:
1. Upgrade the airline's entire fleet from Airbus A320 to A321neo by 2035 by increasing capacity per flight, resulting in cost savings and a 20 per cent reduction in emissions. The company will receive additional new aircraft in 2024, which will be operated in Thailand. They will also upgrade their software to achieve greater fuel efficiency.
2. Improve the fuel-saving system through green operating procedures, a series of procedures that pilots can employ to reduce fuel consumption and greenhouse gas emissions, e.g. by reduce Flaps Landing, reducing fuel consumption by 12 litres per flight, which reduces emissions by 2,166 tonnes, and by using one Engine Taxi on Arrival to reduce fuel consumption by 7 litres/minute, which reduces carbon emissions by 1,432 tonnes.
In 2022, Thai AirAsia was able to reduce greenhouse gas by 7,066 tonnes, equal to planting 513,890 Loop-root mangrove trees and saving fuel of 2,237 tonnes, saving as much as USD 1.8m in cost by implementing green operating procedures.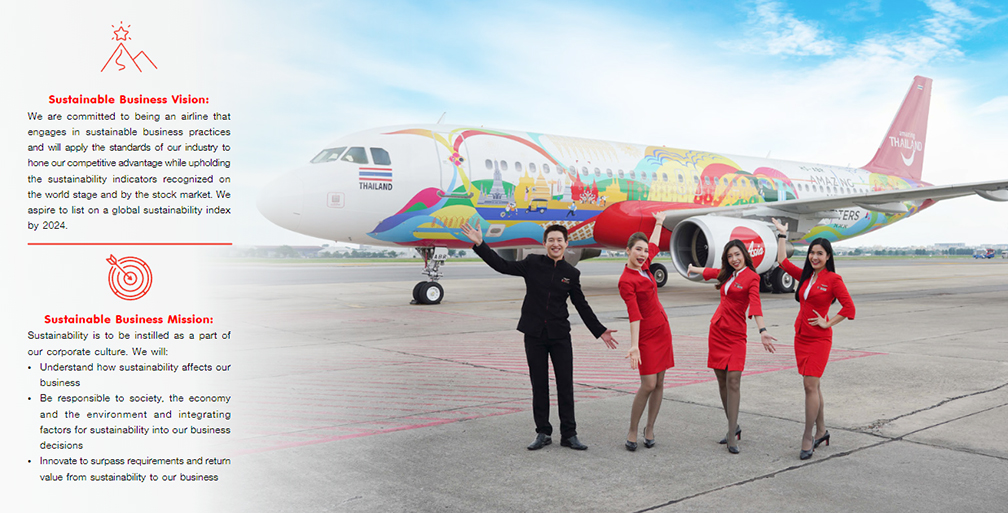 3. Introduce aviation biofuel to replace fossil fuel in an increasing ratio by 2050. Sustainable Aviation Fuels (SAF) can help reduce greenhouse gases by up to 80 per cent. The main problem is that it is 2 to 3 times more expensive than aviation jet fuel and is available currently only in Singapore in this region.
However, AirAsia has started talking to fuel partners about supplying SAF. The company recently spoke to PTT Public Company Limited. It is estimated that the SAF invested by PTT will be ready for the market in the next 2 years.
4. Offsetting emissions through good activities such as plantings. It is a way of paying for others to reduce emissions or absorb CO2 to compensate for your own emissions. Anyway, there is a lot to do in ASEAN, because now Thai standards for certifying carbon credits are not yet accepted by ICAO.
"We are talking about how to convert the credit; for example, here in this region, they have a mangrove planting system that is good for carbon capture, but the U.S. and Europe do not have this standard. So it will take time before some of the local projects can be included in international standards. It is a long-term plan. Therefore, Air Asia is concentrating on the top two strategies now."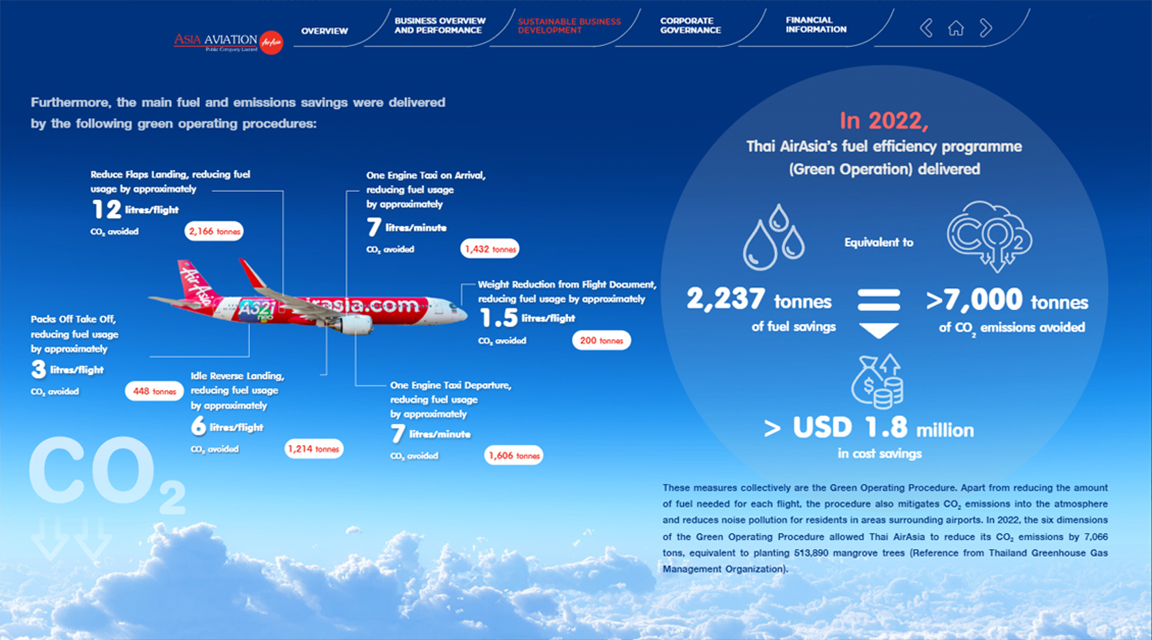 When asked what the main obstacles were to reaching the target, the Chief Sustainability Officer at AirAsia Group said the industry is not ready. We want to use SAF, but SAF is not very available in the region. One thing is certain: There is a lot of money involved in financing all of this.
"What we are doing is what we can. We invest in efficiency programs, and we use the most efficient aircraft. A huge investment is coming from us in equipment and technology. But we cannot change all aspects. We cannot drive alone. We need the government to come in; we need the fuel producer to come in. We also need the public to understand there will be a cost to doing this." said Mun Ching.
"If we care about the environment, we want to reduce carbon, so everybody has to do some part." she added.
______
Related Articles: