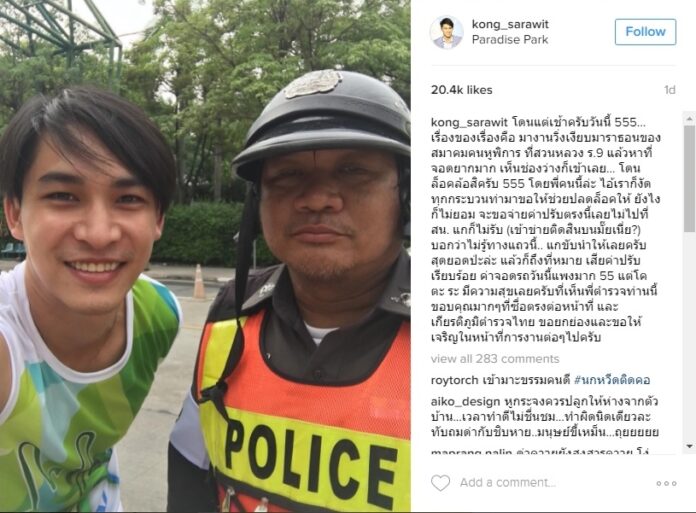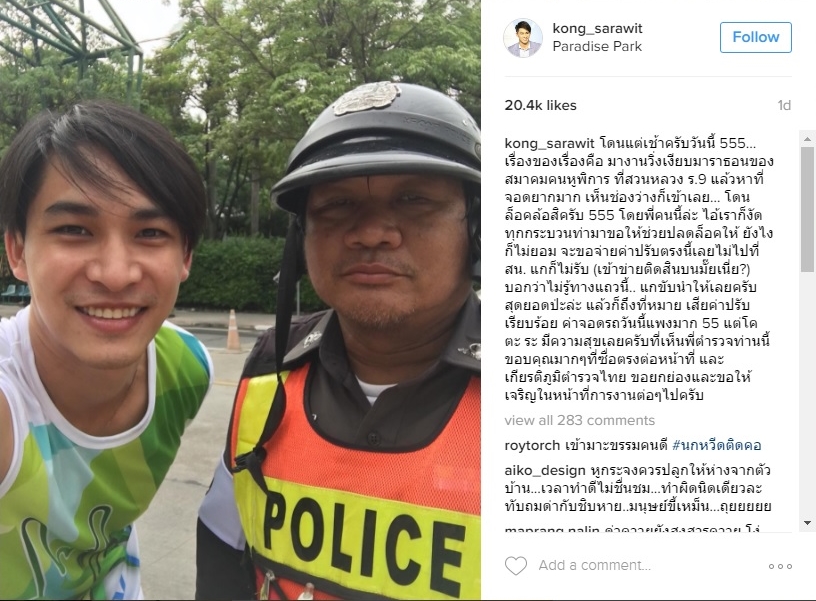 BANGKOK — A soap opera star who's spoken out against corruption failed to impress his fanclub Sunday by boasting online that he tried to bribe a police officer.
In a post to his Instagram account's 640,000 followers, Sarawit "Kong" Subun recounted how a traffic cop clamped his illegally parked car at Rama IX Park and then refused to take a bribe to remove it.
"I used every trick to have him unlock the wheel, but he wouldn't budge," Sarawit wrote. "I begged to just pay the fine right there instead of going to the police station, but he wouldn't accept it (is this considered bribery?)."
Attempting to bribe an officer is a crime punishable by up to five years in prison.
The 32-year-old actor went on to praise the unnamed officer for his honesty and for upholding "the dignity of Thai police." he also posted an obligatory selfie of himself with the cop.
Traffic laws state that fines must be paid at police stations, but many motorists choose to save the journey by paying money to the officers on the spot in return for not being cited.
Because the money goes to the officers' pockets, this option is considered bribery under the law, a fact raised in many replies to Sarawit's post.
"Well, this is how it is, police and citizens are equally bad," wrote user Balltmclive. "This story teaches us that sometimes police do evil because the citizens want an easy way out."
Some also accused Sarawit of hypocrisy, as he was publicly decried corruption as one of the leading figures of the 2014 anti-government protests which were styled as an anti-corruption crusade.
"So you don't campaign against corruption anymore?" wrote user Suwannasaroj1980.
Police gave no signal they would take any action against Sarawit, who rose to fame for starring in Channel 3 lakorn series. Police spokesman Piyaphan Pingmuang said by telephone that he's not aware of the incident and declined to comment further.
Bribery is so endemic in the symbiotic relationship between police and the public that in 2014 Bangkok police force briefly paid bounties to traffic cops for refusing bribes.
Related stories:
Corruption Catch-22: Report a Bribe and Go to Jail?
Thailand Wins 'Ig Nobel' Distinction for Bribing Cops not to Take Bribes