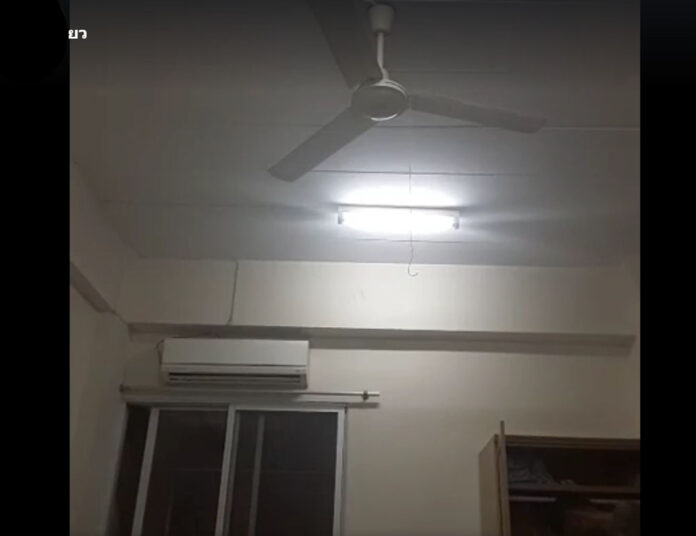 BANGKOK — A man was found dead Tuesday after livestreaming his suicidal via Facebook Live.
Charoen Chimphuk was found dead inside an apartment in Soi Phaholyothin 48 the morning after he filmed himself hanging himself in a streaming video running about 30 minutes.
Sangrawee Omdee, 24, his wife, told police she rushed to the residence after seeing the 30-year-old was preparing to hang himself through the live broadcast streamed via his personal account on 11:46pm.
Titled "Just a man going to die," the live video showed a calm Charoen making preparations for about 19 minutes to hang himself from a ceiling fan. He is mostly silent the entire time apart from some comments about his family.
"I have nothing left," he says at one point.
His body remains suspended motionless for another dozen minutes or so. The video is still available but a content warning had been added by Facebook by Tuesday afternoon.
"His wife was not suspicious about his death and believes it was a suicide," said police Col. Amnat Intharasuan of Bang Khen Police Station. "Though the case is being investigated by the police's office of forensic science, as it must be."
Sangrawee told police she has lived with Charoen for five years, and the two have a 3-year-old daughter. She recently found out he was having an affair with another woman, so she had left him.
Sangrawee said the room where Charoen hanged himself was where he went to see the other woman.
Police said they did not find the live video suspicious and believe Charoen hanged himself of his own free will.
Earlier this year, an internet celebrity pretended to shoot himself on Facebook's livestreaming service in order to promote a skin cream.
Related stories:
Police Find No Evidence Net Idol Shot Himself on Facebook Live
Did a Thai Net Idol Just Shoot Himself on 'Facebook Live?'