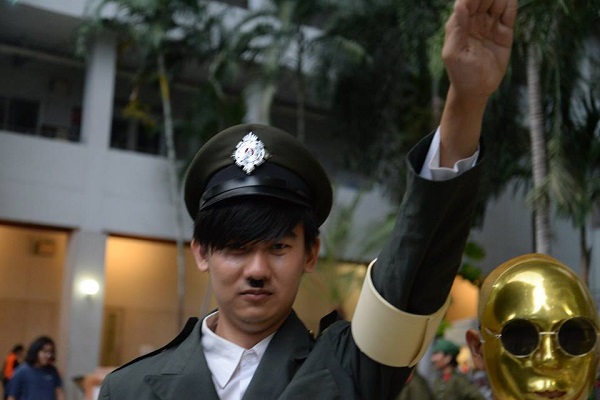 BANGKOK — Silpakorn University announced it would investigate students who recently dressed as German Nazis and Chinese Red Guards and apologized for the incident.
University Rector Chaicharn Thavaravej announced late Monday night that the university had sent an apology to the Israeli Embassy after students in Silpakorn's Faculty of Decorative Arts dressed in Nazi costumes for activities to welcome freshmen.
"Silpakorn University regrets what this group of shameless and irresponsible students did," he announced via Facebook alongside a link to Monday's story by Khaosod English. "A committee will be appointed to review what happened, and people involved will all be disciplined."
It also said the university's deputy rectors as well as the dean of the faculty would meet with representatives from the Israeli Embassy today.
To prevent similar incidents in the future, the university said it would raise the topic at an administrative meeting and plan an exhibition to further educate students and the public about genocide and world history.
Writing by email, Israeli Ambassador Simon Roded said it was important to note the university took action to "rectify the absence of teaching about the horrors of the Holocaust, by organizing events to raise the awareness of their students.
He said the embassy he leads would collaborate "in any possible way."
Related stories:
Thai University Students Cosplay as Red Guards and Nazis, Again (Photos)
Director Defends 'Hitler Scene' in Thai Junta Film
University 'Hitler Mural' Leads To Flurry Of Apologies – And Gag Order