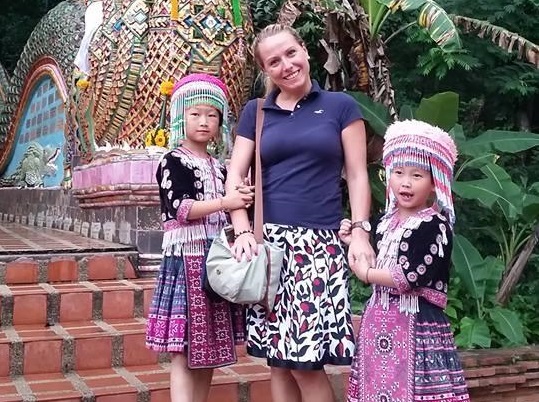 CHIANG MAI — After a photo spread the world over of their children "stealing" a tourist's watch, two parents of the two Hmong children insisted to police Tuesday it was simply not true.
The photo of the foreign woman posing with two girls in Hmong ethnic garb in front at Chiang Mai's most famous temple shot to the front page of Reddit after it was posted Sunday under the caption "Girlfriend in the progress of having her watch stolen."
The image, in which one of the children's fingers touch the strap of her wristwatch was taken as certain proof by most of thousands of commentators who upvoted it more than 6,000 times and in news stories it spawned around the world, which took at face value it captured a crime in commission.
Phujarat Jiraphakorn and Lulu Laowa today brought their two daughters, 7 and 10, who appeared in the photo, to answer questions after they were summoned by police.
Anek Chaiwong of Phuping police said the parents were incensed and would have pressed charges for making a false accusation, were the foreign couple still in Thailand.
"The farang did not file any complaint to us," Lt. Col. Anek said.  "The parents of the kids are very concerned and said they would have filed a complaint against the false accusation were the farang still here in Thailand."
In comments to the image posted to r/MildlyInteresting, MedardBoss, the original poster, implied the watch was later found missing among a few other disclosures.
"She was a bit drunk tbh," he wrote. The account has since been deleted.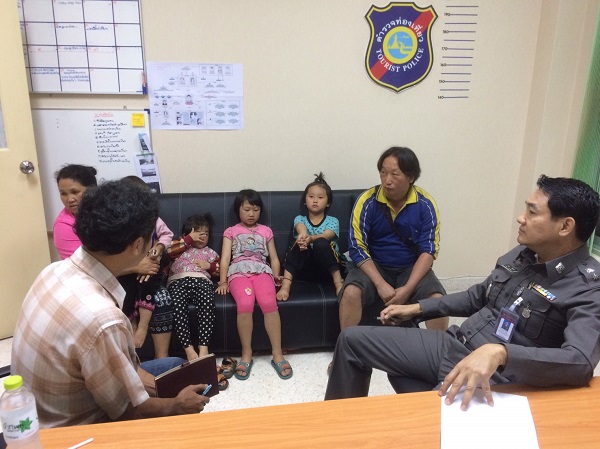 But the couple said they interrogated the girls, who denied any wrongdoing. They said they take them to every weekend to Wat Phra That Doi Suthep to make some money posing for photos with tourists for which they accept voluntary donations.
"They never beg for money," Lulu said. "It always depends on how much the tourists want to give them."
The Hmong mother said she didn't see how it was possible for her daughter to steal a watch from someone's wrist without them noticing.
Their village headman also accompanied them to the police station Tuesday to vouch for the family's clean record. Methaphan Fuengfukitchakarn said they are well known and liked, and said accusing the children on the basis on one photo was not fair to them.
Yet a number of users were less persuaded, leaving comments certain the girls were engaged in criminal subterfuge.
"I've lived in Chiang Mai for almost seven years. Those kids aren't good; they're expert. That watch is long gone," Reddit user Oh_dear_ wrote.
Chiang Mai police aren't convinced, saying they've never known children at the temple to be criminal elements.
"We are deeply concerned," Anek said. "There has been no such incident like this before."
Clarification: Due to an editing error, an earlier version of this story indicated police knew children at the temple to be criminal elements, when in fact they said never knew them to be so.