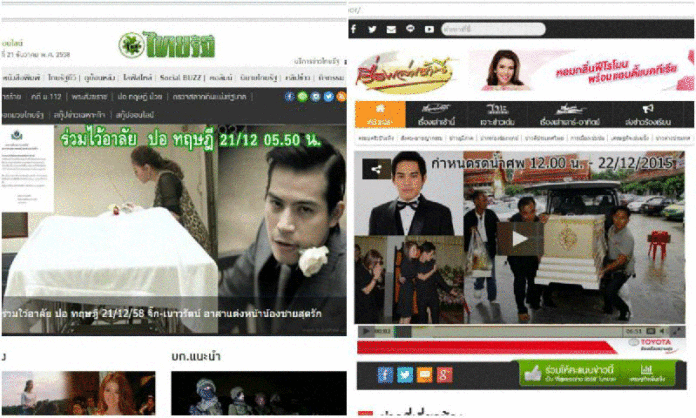 BANGKOK — Ultra-conservative activist Suthep Thaugsuban died suddenly in May, according to the website of "Khaosod TV Online."
Two months later, a tourist was raped and murdered aboard a river raft in Kanchanaburi, "Matichorn" declared in a news report.
Just last month, police arrested a woman for selling yaba at the Sanam Luang, where throngs of people were mourning His Majesty the Late King Bhumibol, according to "Nalnar."
Published under believable domain names using the same fonts and formats of the news sites they sought to mimic, those outrageous stories were just a few in the torrent of hoax news stories by sites masquerading as actual news agencies such as Khaosod, Matichon and Naewna.
As newspapers have chased revenues from print to the web, the past year has seen an explosion of fake news stories ensnaring gullible readers and leaving newspaper executives scrambling to make them stop.
"It's certainly a huge problem for brand owners. It destroys their reputation," said Nattapong Tiandee, an online personality known as Por Mor and an exec of Spokedark, a popular social media news platform. "The other day, some aunties in a Line chat group posted a link to a fake Khaosod website. They kept cursing Khaosod for reporting fake news, but actually it was a fake website."
The hoax sites share common tactics: They pose as major news sites and post short stories on the biggest current events or subjects sure to draw readers, such as outlandish crime stories complete with graphic, misleading photos. They spread fast on social media, where sharing such items has become second nature to users.
There are more than a dozen variations of Khaosod alone, including Khosaod (khosaod.com), Khosod (khosod.com), Khaosod-Online (khaosod-online.com) and Khaosod.Online (khaosod.online.com).
Just this weekend, as the internet buzzed about a viral video of a celebrity punching a motorcyclist and forcing him to prostrate to his car, yet another Khaosod clone (this one "Khaosob") falsely reported the motorcyclist was the nephew of folk rock legend Aed Carabao.
Catch Me if You Can (You Can't)
Hoax stories first grabbed wide attention in December when a popular television star's comatose condition became a national obsession fueled by minute-by-minute reports from many media outlets.
A number of faux obits heralding the death of Thrisadee "Por" Sahawong began appearing on social media, but instead of taking readers to fake news stories, then went directly to porn sites.
A month later, an article spread about a 15-year-old boy eaten by a crocodile at a Kanchanaburi resort. It even included a convincing photo of what appeared to be rescue workers removing a human arm from a croc's belly. The resort filed a lawsuit.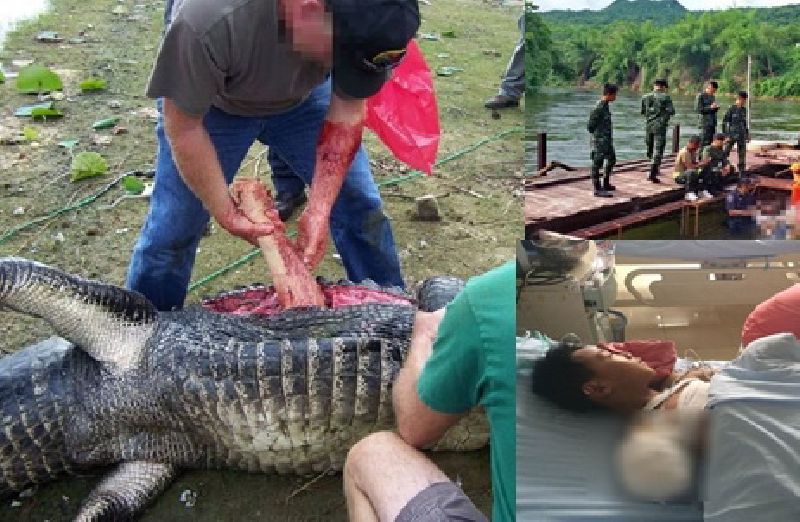 Why go to such lengths? It's not simply trolling reporters and newsreaders. It's about money, according to Nattapong, who also serves as a marketing adviser to Matichon Group, the parent company of Khaosod English.
Nattapong said site creators simply place auto-generated ads and wait for the clicks (and money) to come in from unscrupulous ad networks.
He said it's difficult to estimate how much money they make, as it depends on traffic volume and arrangements with specific networks. A report by the state-owned Thai News Agency said low-grade ads pay about USD$1 dollar per CPM, the standard metric used online for every 1,000 ads served. That means a modestly successful hoax story can earn 3,500 baht in a day.
Nattapong grudgingly admitted it's a sound business model. All one needs is a copywriter to write convincing, eye-catching stories, a registered domain name and a server somewhere. They're also very hard to catch.
Khaosod, Matichon, Thairath and Naewna are among news agencies that have filed complaints with the police to prosecute their impersonators. But Nattapong said he hasn't heard of a single case of someone actually getting caught.
Therdsak Pintasai, a lawyer for Sanook.com, one of the kingdom's most popular sites, said his team has to go to the police station at least once a month to report Sanook imposters.
"I'm more annoyed than angry, to be honest," he said.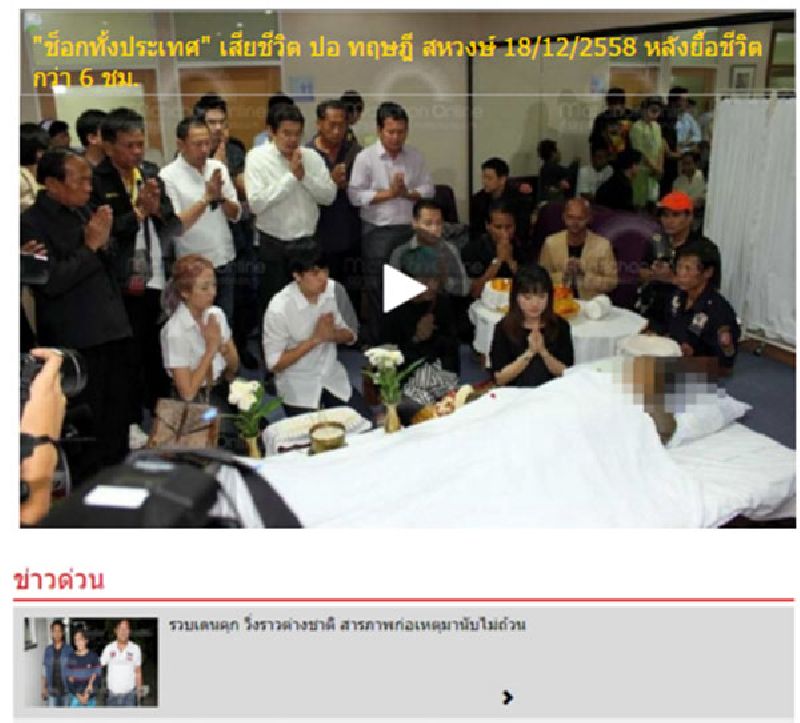 It is illegal. Posting false information online is a crime under the Computer Crime Act. Cases filed under the offense are investigated by the Technology Crime Suppression Division, but even the tech cops don't have the capability to track hoaxes to their source and ask Sanook for help the lawyer said.
Therdsak said his IT team tracked one of the fake sites to a server in the United States. The most they could do was write to its web host and ask for help exposing the identity of the hoaxers.
"I don't know if they would cooperate," he said.
Spokedark's Nattapong said it's near impossible to pinpoint who's behind such operations, but he believes their servers are overseas, and some go so far as to pay for online mercenaries to cover their tracks.
When Sharing is Snaring
Readers aren't the only victims. Some people, disgusted by graphic content or misinformation on the hoax sites, direct their anger at the real news agencies being spoofed.
Nattapong said he worries the trend will harm the credibility of news outlets. The only response is to educate readers on how to spot fake news sites, he said.
"It affects gullible people. I don't know what percent of newsreaders that is," he said. "We have to tell readers how to spot fakes."
The trend comes at a time people's consumption of news has changed. Readers find stories through social media, where they often only read headlines, said Subhatra Bhumiprabhas, director of watchdog group Media Inside Out.
"I often have this problem," Subhatra said. "I see on my chat groups. My friends sometimes share hoax news or old news, and I have to intervene and tell them."
She said it's the responsibility of news consumers to actually read and exercise caution before believing or sharing stories. Many hoax news are easy to spot if readers look carefully enough.
"For example, there were many people who misunderstood and took 'Pujadkuan' as actual news, too," Subhatra said, referring to a satirical column in Manager newspaper. "It's because people don't read much. In fact, they say right there that it's satire news."
She agreed with Nattapong that news executives should try to keep their readers informed about hoax news and resort to legal action if the offenders don't stop.