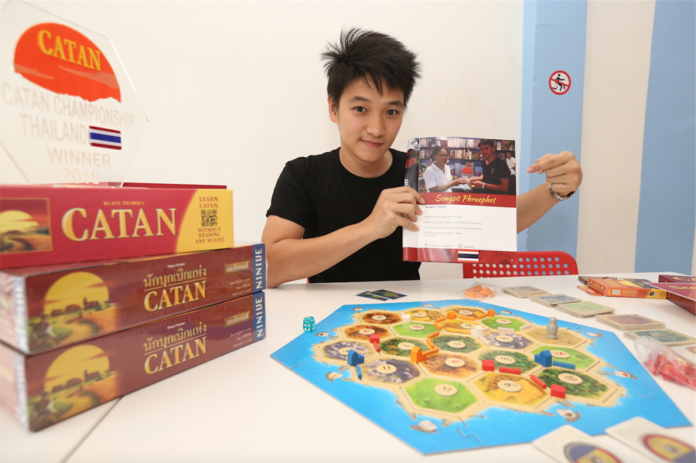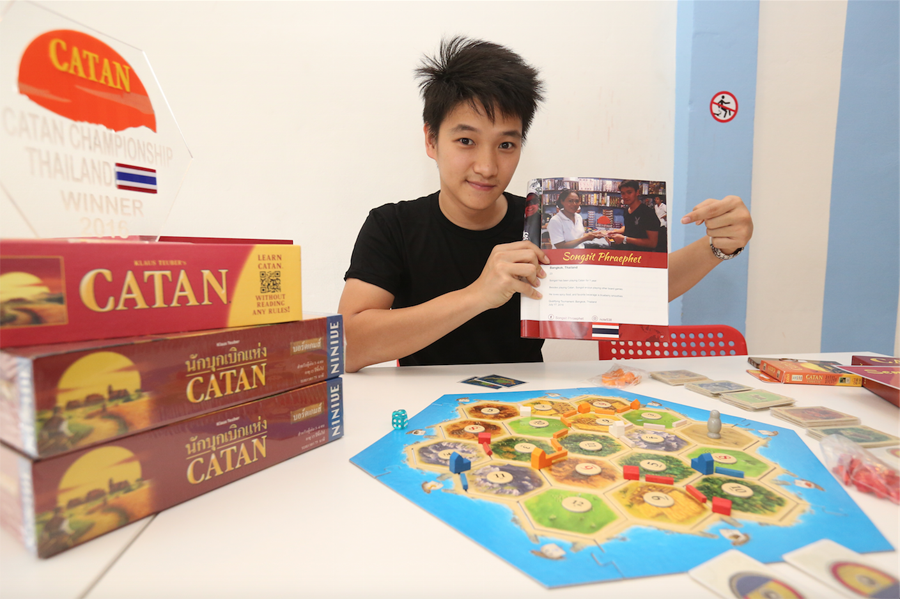 BANGKOK — Settlers of Catan is more than just a resource-management board game for Songsit "Note" Phraepet, the Thailand Catan Champion of 2016 and owner of the Board Game Academy cafe in Thonburi.
It's a way to exercise one's analytical and strategic skills, and a way to bring family and friends together.
"Once, a man over 50 brought his wife and children to play Catan at the shop. The kid, no older than a third-grader, even beat me!" the 23-year-old champion player chuckled.
With his game cafe in Soi Prajadhibok 6, Note is at the fore of the burgeoning board game scene which has seen dozens of similar cafes pop up in the capital in recent years. Apparently, he's one of the best Settlers of Catan players in the country as well.
Note placed 16th out of 60 contestants from 33 countries at the 2016 USA Catan World Championship in Durango, Colorado, held in September. He was the first Thai national to reach the semi-finals.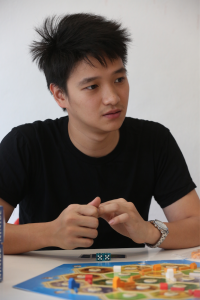 In the days leading up to the tournament, he often logged six hours of daily practice with other Catanheads. Whenever he was free during the day, he would practice on an app as well.
"I lost because one guy got all the 9s and hogged all the rice and rock," he laughed. In one apparent localization of the game, he calls Catan's "grain," one of the main resources in the game, "rice."
Rise of the Champion
Note's trip to Colorado was sponsored by Ninive Games, a game seller and distributor, which obtained the exclusive rights to print Catan in Thai. Ninive, which has another board game cafe in the Phra Khanong area, held a qualifying tournament in July.
"[Ninive] paid for my ticket, and Mayfair, the company that makes Catan, paid for my food and lodging there," Note said. "So it was pretty much an all-expenses-paid trip where I got to meet skilled, friendly people from all over the world."
Catan is a 20-year-old German board game in which players compete to develop territory by obtaining and trading resources. It's easy to pick up and learn, but the strategy runs deep.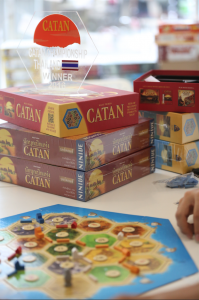 "I didn't even like the game at first," he laughed, setting up the board game's hexagons. However, a friend dragged him to Ninive's storefront to play the game with other enthusiasts, and he became hooked by its demanding mix of strategy, psychology and memory.
"This game requires so much from you: speaking skills, memory, bluffing and manipulation skills, even luck," Note said.
After graduating from Mahidol University in Business Economics, Note decided to open his own board game cafe after returning from graduate school last year in the United Kingdom, where they are found everywhere.
"At first, my mother didn't understand why I wanted to open a game shop. But then she saw that board games are beneficial and educational to the players," he said. "Like chess, but more exciting."
For the Children
Playing board games is not yet mainstream among Thais. Note said that sometimes people peer into the window of his shop and walk away confused, or enter, intrigued. "I really respect people who take the plunge to try something new," he said.
Board Game Academy mostly attracts students from the nearby Taweethapisek and Suankularb Wittayalai schools. The shop charges a 20-baht hourly fee or 100 baht flat fee for students and university students, and 40 baht hourly or 150 baht flat fee for adults.
"I very strongly support Thai kids playing more board games," he said, tousling the hair of a nearby child returning a game to the shelf. "Unlike online games, you don't really get addicted to it. You finish after a game, and each time playing it is different. I see kids in the US and UK playing board games and it improves their mental faculties and helps them to express their individuality."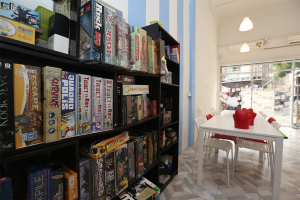 While most Thai kids are open to playing board games, some have yet to make that transition.
"Sometimes, when I'm explaining to them how to play Catan or another strategy game, they sigh and say, 'P, can we just play a game that doesn't need to use our brains?' When I hear this, I think to myself, 'hey, is this what it's like?' But I'm not shocked."
He said he hears that schoolgirls utter that phrase more often than boys.
"Girls prefer to play speed-based games such as Halli Galli, or imagination-based games such as Dixit." Boys, however, will gladly connect three tables together for a massive game of Catan.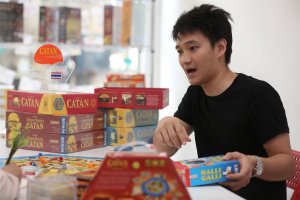 He tries to get people hooked then lead them to more advanced games.
"If a group has played Halli Galli for a while, for example, I suggest Splendour to them. Some people take the dive and love it, while other stick to simple, fun games," he said.
The adults who come in later at night however take up hours playing "heavy" games such as Game of Thrones or Terra Mystica.
"From midnight till morning, there are some business entrepreneurs or even musicians who like to come and play time-consuming games. One guy broke our shop record of playing here for 27 hours," he said.