BANGKOK — "Oh my god, Oh my god!" the woman screams as she fails to block the orange orb hurtling toward her. A meter away, a man fires four times and ducks behind a counter, pumping his shotgun. As the murder-bots close in, he reaches over his shoulder for the katana on his back and swings desperately at them.
Worlds real and virtual are colliding. The murderous melee these two have been living is being projected into their eyeballs by headsets covering their faces. In their hands are not shields or pistols or swords but wireless motion controllers. Where they're at is neither space station nor robotics lab, but a store in a Ratchada shopping mall.
After decades of false promise, Virtual Reality is here, with consumer-level (if still pricey) products that provide a convincing experience of transporting users to another place.
With the opening of Bangkok's first commercial VR game cafe, and a VR horror experience made by a young Thai development team, 2016 will be remembered for the technology's arrival.
But while it can wow users by immersing them in three-dimensional worlds and environments, the technology could either prove the next transformational media experience – or die on the vine as a gimmick with limited appeal.
Playing Space
At The Street Ratchada, Total VR operates two "room scale" VR experiences. That means two people are not only seeing a different world but also have 4sqm to walk around them and even crouch behind virtual objects. Players at Total VR can do their own thing or share experiences.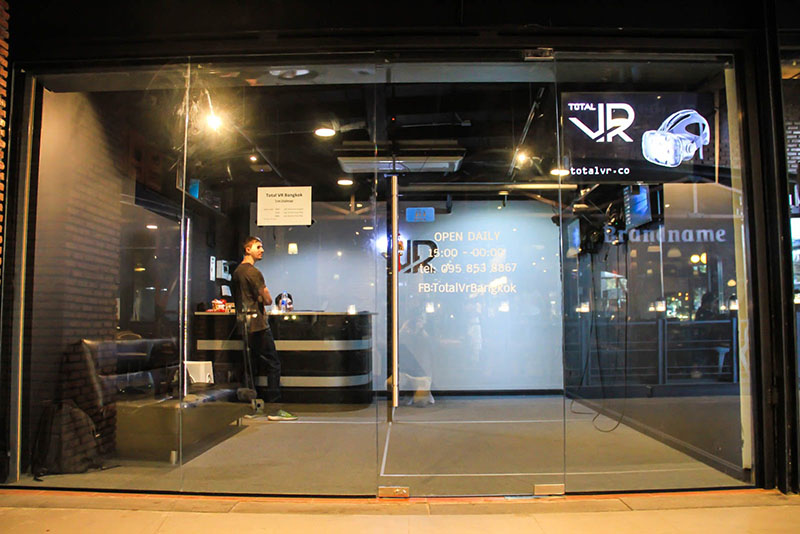 There are two barriers to bringing the best VR into the home. One is the cost for the headsets and powerful computers needed to run them. The second is space. The top product supports upward of 20sqm of room-scale space, but whether 4sqm or 20sqm, good luck finding the space so things don't get broken during tennis battles.
That's why Total VR opened in September, said owner Alexandru Damascan.
"VR represents a beginning of how the gaming industry could evolve in future," Damascan said. "It's like the first arcade games back in '80s. It's new and exciting."
Since opening in September with about 40 games and "experiences" available on the Steam platform, he says business has been good.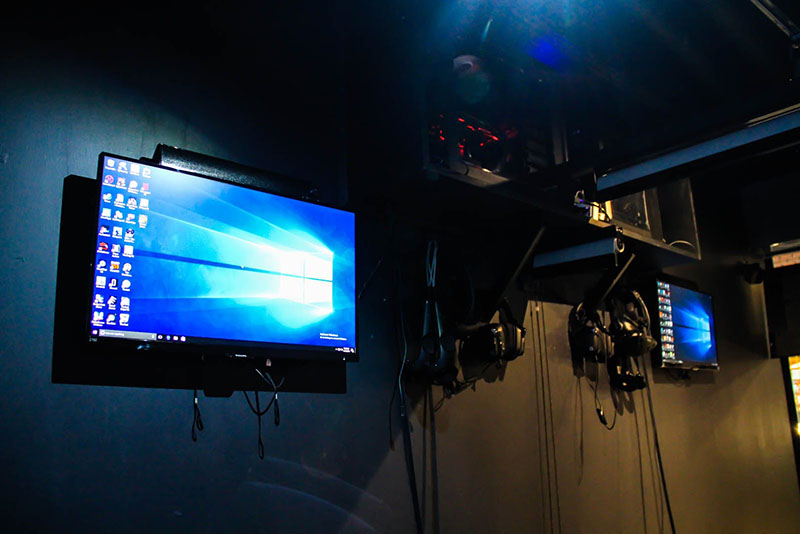 Damascan has been in Thailand nearly two years. He said he looked at other markets such as China, where more than 3,000 unofficial VR arcade centers have popped up. He foresees business in Thailand could be much the same. So far, at Total VR, enthusiasts and skeptics and VR virgins have walked in to enter another world for at least 60 minutes.
"Most clients are not necessary gamers," said Damascan, whose favorite game is a sniper simulator called The Nest. "[They] scream and laugh. For a few minutes, they're completely in a middle of totally new world … It's insane."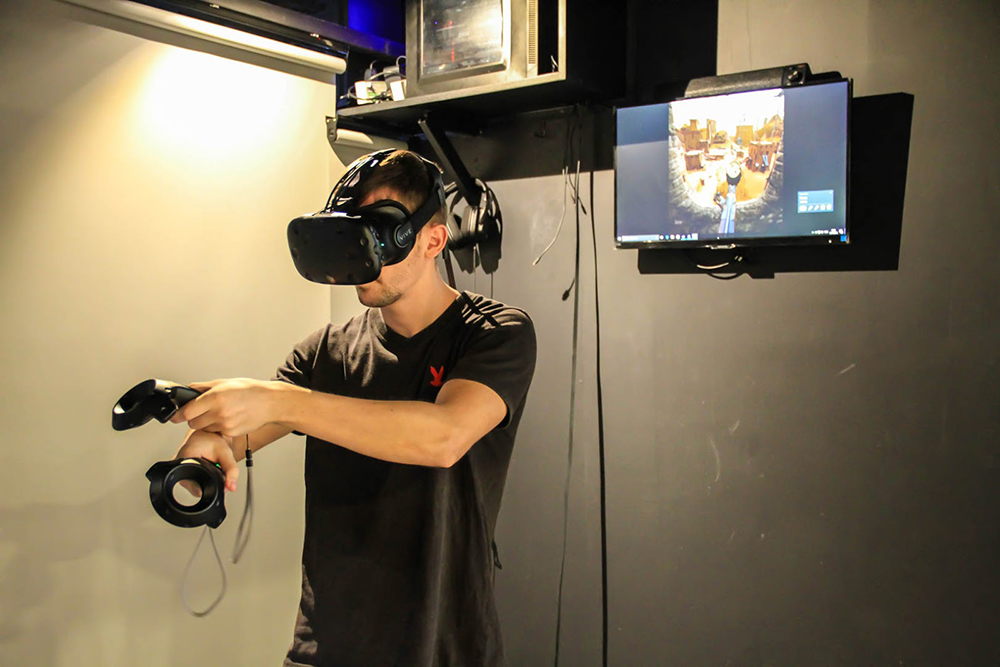 Ready for Prime Time? 
In Thailand, the biggest force in computer gaming is Garena Online. From cybercafes, publishing, distribution and competitive e-sports, Garena is everywhere in the kingdom.
Garena Thailand CEO Maneerut Anulomsombut said that while they are researching the technology and studying it in other countries, they don't believe it's ready to break out in the mass market. At least not in Thailand, which is dominated by accessible and competitive titles such as FIFA Online 3, League of Legends and Heroes of Newerth.
"For hardcore gamers, high-resolution visuals and being able to play in groups are very important. For that, VR games are not yet the best answer," she said.
More disadvantages follow. Were the headsets even in stores, the majority of Thai consumers would still be priced out. For room-scale VR, the Oculus Rift and HTC Vive, which are not yet sold in Thailand, run about 21,000 baht (USD$600) and 28,600 baht ($800), respectively. And that's not including the powerful computer needed for them to work. (More accessible but less impressive is Sony's PlayStation VR, which should be about 14,000 baht in Thailand.)
And interfacing technology with flesh is still in the crude stages of development. Some people get motion sickness, either suddenly or after prolonged use, that can include dizziness, disorientation and nausea. Maneerut said the side effects are more evidence the tech has a ways to go.
Damascan, who uses the HTC Vice at Total VR, said he's looking forward to some improvements as well.
"The headsets should be made wireless because the customers want to move freely," he said.
They Build Worlds
Although mass market adoption is unlikely this year and possibly next, some see virtual gold in the market.
Late last month, users got to enter a virtual Thai horror film through "Araya," a first-person horror game developed by Bangkok-based Mad VR Studio. The adventure takes place inside a Thai hospital and contains supernatural elements from Thai folklore. In the game, players can experience a thrilling journey through three different characters to crack a murder case.
The studio was founded only a year ago by a businessman and seven new grads from Sripatum University's School of Digital Media.
The first Thai supernatural horror game to leap into VR began as "The Hospital Haunted: Be Lost," a haunted hospital-themed game and thesis project of Jatuporn "Kok" Rakthaijaroencheep. The game's plot moments were plucked from ghost radio programs and movies.
"At first, I wanted to do an actual haunted house where people could have an interactive horror experience, but it's really expensive," said Kok, who majored in interactive and game design and graduated last year. "So I thought 'How do I make people have such experiences without going outside their homes?' Then I found Virtual Reality as the answer."
"Araya" wouldn't have happened if hawk-eyed businessman Alan Archapilaj didn't spot an opportunity. He invested in the company and started it from scratch in October 2015. It took 13 months for the game to be ready.
So could this be the kind of innovative, creative new enterprise the government talks about supporting?
Alan says it's too soon to tell. For one, virtual reality entertainment is already lagging behind other countries such as China, the United States and European nations, partly because none of the hardware is yet being imported for sale in the country.
"If you compare technology to four seasons, Virtual Reality in Thailand is now in spring," Alan said. "Virtual Reality is still very new here. Plus, the hardware is very expensive. It's like smartphones in their early years."
Not All Fun and Games
While virtual reality has grabbed attention for its primary application – gaming – it can also be used to enter virtual painting studios to create art, explore the solar system, travel the planet via Google Earth and experience immersive story-telling.
Beyond entertainment, it's likely to find more practical uses in everything from medicine and engineering to education.
Leading a team of 10 college students, Bangkok University's Phattanapon Rhienmora has conducted research into using VR to make the world better. They've experimented with using it to treat anxieties associated with everything from learning to drive, speaking publicly and acrophobia – fear of heights.
In other faculties, students learning to be guides save time by learning venues and historical details of places like the Grand Palace or historic parks of Sukhothai without actually traveling there. Architecture students can walk through their designs before they even go to blueprints."The students are so excited. They told me Virtual Reality can be very useful," said Phattanapon, a lecturer in the university's School of Information Technology and Innovation.
He said a Virtual Reality Development course will be introduced into the curriculum next semester.
Total VR Bangkok is located on ground floor of The Street Ratchada, a shopping mall walkable from MRT Thailand Cultural Center. "Araya" is for sale on Steam for 369 baht. Though it only supports the Oculus Rift, can also be played on a regular PC without a VR headset.