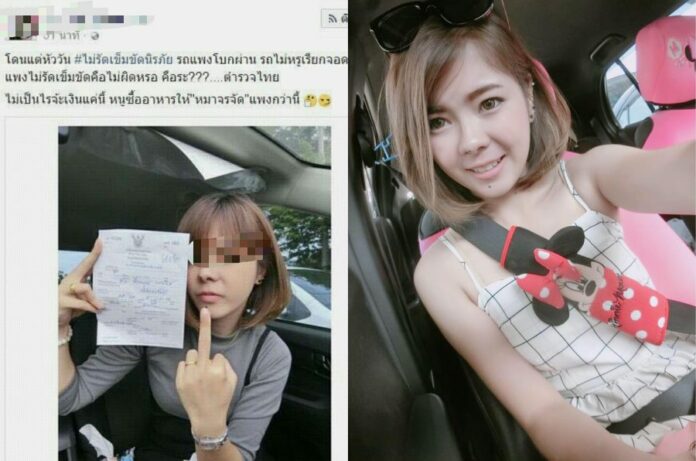 PHUKET — A driver fined for not wearing her seatbelt posted a photo of herself giving the middle finger with the ticket, prompting an Internet fight with Phuket police.
After being pulled over and fined for not wearing a seatbelt Tuesday morning, Facebook user Jeeranan Khamsuwan decided to take her road rage to Facebook, where she ignited a flame war with the authorities by posting a photo of herself, the ticket and her raised middle finger.
"Caught early this morning for #notwearingaseatbelt. They let more expensive cars pass but pull over non-luxury cars," she wrote. "If you have an expensive car but don't wear a seatbelt, that's fine??? … That's okay, it's only a small amount. I spend more money than this feeding stray dogs."
Phuket police soon hit back on their Facebook page by posting a blurred screenshot of Jeeranan's now-deleted post with a reply employing wordplay derived from television gossip program, "Gossip Since Morning."
"This is called 'bullshit since morning.' Why would police pull over cars that are already wearing seatbelts? The issue of wearing seatbelts is for your own safety. It's still your life, you can think like that, but it's also against the law. In foreign countries, the fine is so heavy that it'd make you instantly poor. That's why people there respect traffic laws," it said.
This prompted Jeeranan to reply that she saw police wave through expensive cars whose drivers weren't wearing seatbelts.
"Still not repentant?" the police page admin replied.
Comments from netizens ranged from supporting Jeeranan to berating her behavior.
"They really do wave past expensive cars, I experience this often," Jaturong Yoosawat wrote.
User Loang Champa Airline said it was just sour grapes on Jeeranan's part:
"Serves you right. This is for your own safety. Even kindergarten children know the basic rule of fastening your seatbelt."
Then it got personal.
"She's just trying to get more customers so she can sell more cream," Touchathun Taii Suwattanawinit wrote, referring to Jeeranan's Facebook page where she sells sunscreen and whitening creams.