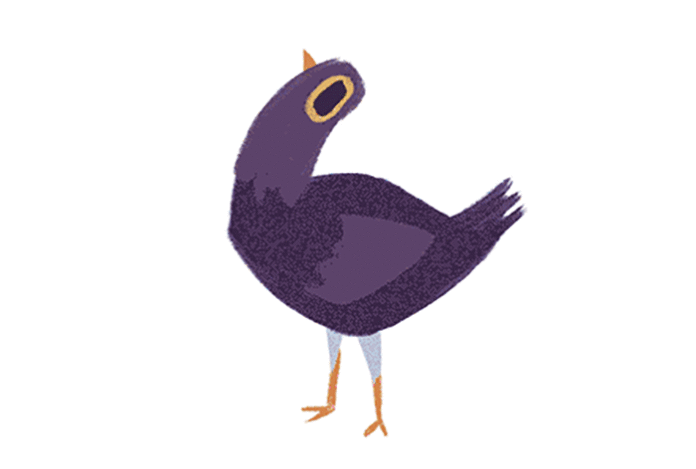 BANGKOK —  If you want a picture of the future, imagine a purple cartoon bird thrashing its head – forever.
Somehow a set of Facebook chat stickers has conquered Thai social media this month, drawing so much attention the American artist publicly thanked her Thai fans Friday night for becoming obsessed with them.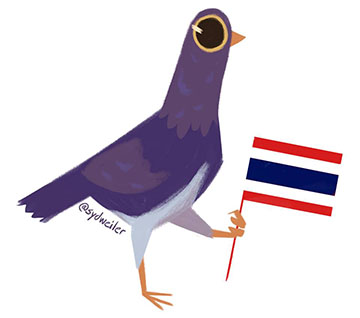 "I am very surprised, but grateful! Thank you, Thailand. I think it's really fun, and I'm glad you all like the Doves!" Syd Weiler said Saturday.
On Friday night Weiler posted images of the cartoon bird holding a Thai flag to thank her fans, along with a video in which she said they would soon be available on Line.
The set of 24 stickers featuring the purple pigeon was released Feb. 1. But it's really just one that has been spamming comments sections since then – the one where it flops its head up and down. Recently, Thai netizens have taken to filling entire comments sections with it.
Asked to explain the bird's strange behavior – metal fan? emotionally disturbed? – Weiler was noncommittal.
"He could be either, or both! Or happy and excited… it's whatever you want it to be," she said.
Weiler said she streams her work over Twitch and is working on future sticker packs.
"There are two new packs – one is of raccoons, who are friends of the Doves. The other is sushi!" she said.
Why has a headbanging cartoon bird seized imaginations so? One theory is that the word for bird, nok, is also used to describe someone hopelessly single or suffering from unrequited love.
And of course, the hashtag #purplebird has been trending with the internet expressing its obsession as it tends to do:

'What the hell are you doing?' asks each guy in the video before falling under the bird's spell.
Popular Facebook page Suklokomteen speculates as to the origin of the suddenly ubiquitous purple bird.
Trash Doves have also inspired fanart:
YouTuber Overact shows hows he rocks out with Trash Doves.
YouTuber Ajarn Pie Englogic discusses in English the internet sensation that are the Trash Doves.