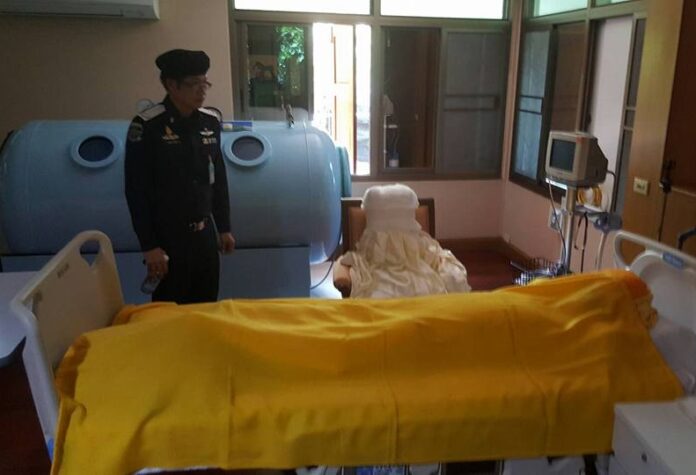 PATHUM THANI — During Thursday's search of Wat Dhammakaya, officers from the Department of Special Investigation stumbled across what looked like a trick straight out of Scooby Doo.
There, in the very bedchamber said to belong to the temple's fugitive leader Dhammajayo, was a bed that appeared occupied by someone taking a nap under the blanket. One tug of the sheet, and officers found the figure to be nothing but pillows arranged in a human shape.
Photos of the scene, presumably taken by a DSI agent, circulated on social media Thursday, drawing humorous speculation that it was a ploy to deceive any possible observers into thinking the fugitive former abbot was still in the room.
"Historic magic trick that the world must remember, from monk to pillows!" read one repost of the images, which was shared more than 1,400 times. "Oh my, it's so convincing! David Blaine pales in comparison!"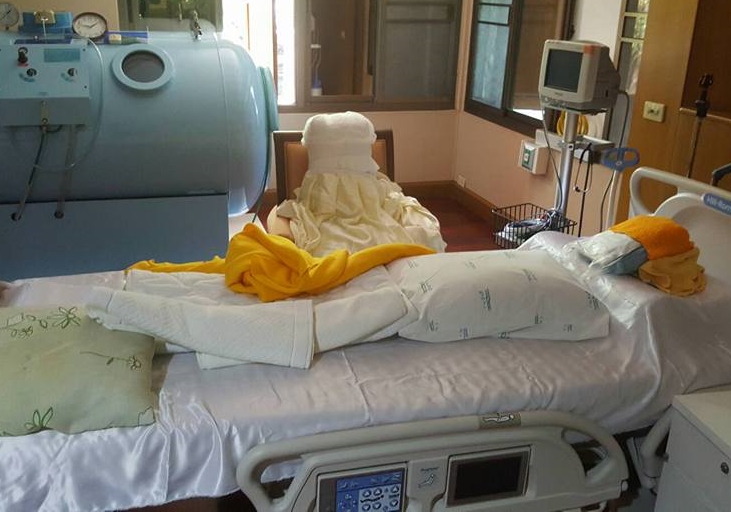 Dhammakaya spokesman Phra Sanitwong Wuttiwangso said Friday it was not meant to be a trick of any sort. He said it's simply a housekeeping routine.
"As far as I know, the blanket was pulled over the pillows to avoid dust, which is a normal thing to do," Sanitwong said.
He did confirm that the chamber was that previously occupied by Dhammajayo when he was recovering from illness. Dhammajayo was photographed lying on the bed, surrounded by doctors, in a photo released by his temple in June to support the argument that he was too ill to meet with police to discuss money laundering charges.
Sanitwong also said he didn't know where in the sprawling temple complex Dhammajayo is located. He said the monk hasn't been seen since May.
"No one knows where he is. No one can contact his aides," Sanitwong said. "Most of the people here do our own duties. Where His Reverence is recovering is his own business. It's simple, it's like when we were students, we only saw the rectors twice in our time there: at orientation and graduation ceremonies."
Search operations in the temple continued for a second day Friday. A DSI spokesman told the media he believed Dhammajayo was still inside.
Related stories:
Live Updates from Wat Dhammakaya Raid
Live Updates from Day 2 of Wat Dhammakaya Raid