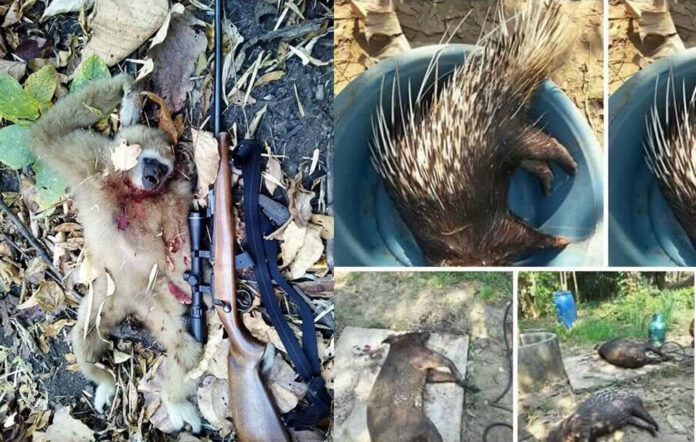 BANGKOK — National park officials said Wednesday they are hunting for poachers who have been showing off their illegal kills and trading protecting species online.
Wildlife officials are trying to find eight people after images they shared in a closed Facebook group of animals they killed – porcupines, monkeys, flying squirrels, leopard cats, rare birds and more – were leaked Friday.
"It's frustrating to live in an era where bragging about killing animals on social media is cool," wrote the admin of the Queen of Spades page, where the images were leaked. "Killing for survival and killing for fun is different."
An official with the National Parks Department said they're looking for the eight people behind the Facebook usernames used in the group.
"Right now we're working with the police and investigating the people involved," said Siri Akka-akkara, director of the department's Forest Protection and Fire Control Office.
Images of the slain animals included dead porcupines, a crab-eating macaque, flying squirrels, leopard cats, great barbets, gibbons, crested serpent eagles, Burmese hares, black kites and white kites.
While not everyone who posted such images violated the law, if they are found to have broken the Wildlife Preservation and Protection Act of 1992 by hunting or attempting to hunt protected species or owning a protected species' carcass, they could be fined 40,000 baht and face up to four years in jail, Siri said.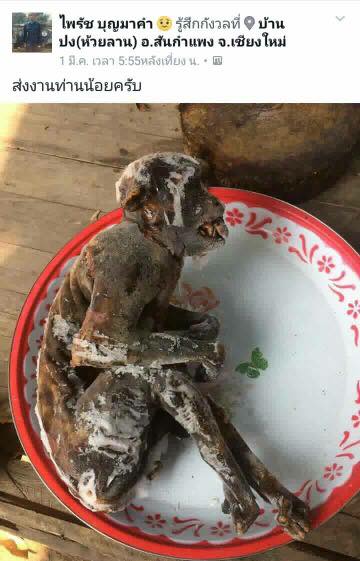 "We will have to investigate the eight people case-by-case. Some species aren't endangered, but many were, especially the birds," Siri said. "The initial investigation may expand later to include more than the eight people."
Hunting is restricted in Thailand to unprotected areas and excludes a long list of species. Hunters must obtain licenses for guns and ammunition.
The admin who publicized the images said she first saw a photo of a killed eagle which set her on the warpath.
"I kept searching and found pictures of killed animals both inside the group and outside the group on the users' pages," she wrote. "I got mad and started screencapping."
She's faced a backlash and threats from the hunters incensed at their group being outed. In a screenshot posted to the page Saturday, some members threatened to "hunt and kill" her or "find, trap and make her a wife."
"I feel whatever about these threats. There are so many, so it's normal to me. I'm not scared because I'm anonymous," the admin wrote in reply to questions Wednesday. "I actually wanted a healthy debate with the group members, but they were barbaric, so I was barbaric back to them."
Her posts of images taken from the group, which contained more than 13,000 members, have been shared thousands of times since Friday. They included what appeared to be evidence of hunters buying and selling both dead and living animals over Facebook.
The Department of National Parks has urged anyone with information or evidence of illegal poaching to report it via its 1362 hotline, available for callers in Thai or English.