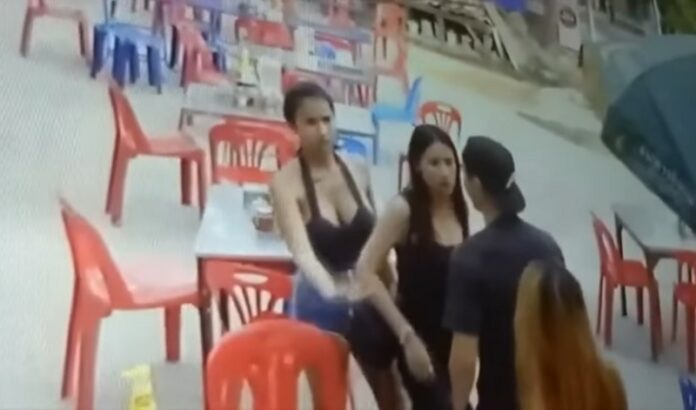 BANGKOK — Failing to get the woman's number led to a fight that cost a man 10,000 baht Sunday.
In a video which went viral Sunday, a man gets into a fight with two women at a congee restaurant on the southern resort island of Samui, allegedly because one of them wouldn't give up her phone number.
In the footage, a man in a black cap, later identified as Thanachai Unsiri, talks to two women at a table when he strikes the table, causing a bowl of congee to fall onto one of the women.
She responds by throwing a glass of water at him. That's when the three begin arguing and shoving. He kicks at the woman who threw water, threatens both with a basket of condiments, grabs the other woman by the neck and then throws another bowl of food and the condiments at the first woman's head.
Police Lt. Tula Sawangrat of Bophut Police Station said Sunday that the incident took place the night before. The woman, who he did not name, later filed a police complaint. She told police the man was angry that she would not give her number to him.
She alleged that he claimed to be the son of police inspector with a famous surname, saying to her, "Do you know whose son I am?"
He was later identified as Thanachai and was brought to the police station Sunday night. Thanachai said he did not want the woman's number but volunteered to get it for some other guys who were too shy.
"I already have a girlfriend. I did not want her number," he said.
He admitted to the media he engaged in a fight because he got angry after the woman berated him.
"I don't know why she was upset. When I got back to my table, she cursed my parents, so I became enraged," Thanachai said.
He denied claiming to have an important police father or an influential family name.
"I am just a tourist," he told police.
Thanachai agreed to settle with the woman by paying her 10,000 baht. He was also charged with assault and fined by the police.