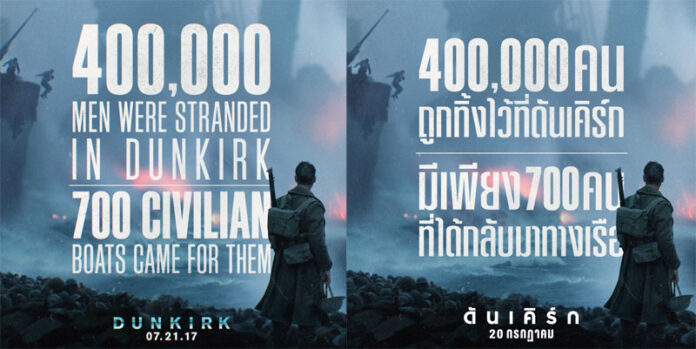 BANGKOK — A mistranslated advertisement for World War II movie "Dunkirk" has made Thai netizens shake their red-cheeked faces in shame.
The official Thai Facebook page for the movie about the Dunkirk evacuation directed by Christopher Nolan posted a crucial mistranslation in a promotional ad for the film. The poster went online April 20 but has been gaining notoriety since Monday.
The Thai translation, which had not been corrected or removed as of Wednesday morning, read "400,000 men were stranded in Dunkirk. Only 700 returned by boat."
The original English version, which dozens have sought to correct by posting it on the botched translation post, reads, "400,000 men were stranded in Dunkirk. 700 civilian boats came for them."
"If you don't know how to translate then use Google to research. I wanted to go watch the movie, but it looks like you're not even taking the time to translate easy words and back it up with research. You didn't even correct it, what sloppy work!" wrote Facebook user Supalak Ueasiyapan.
Thai subtitles for foreign films sometimes have glaring translation errors, which are picked apart by viewers who notice them.
"Please delete this and translate it again. What a blight on Nolan's name," wrote user Peraya Lorphensri.
"Dunkirk" opens in Thai theaters July 20.