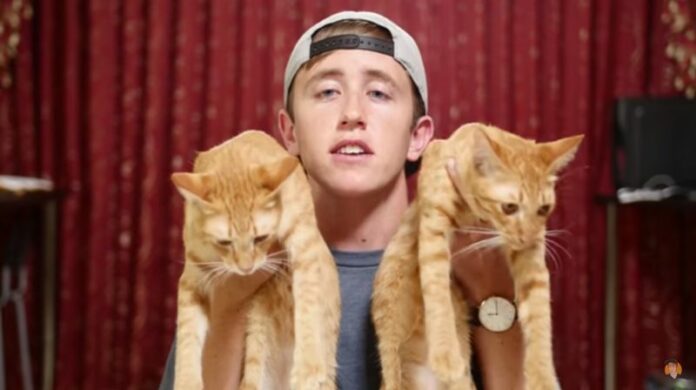 BANGKOK — Police said Monday they are investigating a controversial American YouTuber for animal cruelty after animal groups filed a report against him Friday.
After American Nathan Bartling, better known by his YouTube handle "My Mate Nate" posted a video of his two cats fighting a scorpion on June 5, an angry online backlash led to two people taking their anger to the police.
Read: American YouTuber Criticized for Making Cats Fight Scorpion
"If you look at the clip, you can see that animal cruelty was committed," Lt. Col. Suppachai Hamkamlha of Huai Khwang Police station said Monday. "Still, we will have to investigate further."
The complaint was made Friday with Huai Khwang police by Nat Prasopsin, a woman who has built an audience with her cat-themed Facebook page Kingdom of Tigers and Jack "Dek Farang" Brown, a Briton who also is a YouTube personality in Thailand.
Bartling has said he did not intend to hurt the animals.
Suppachai said the case had to be transferred to Makkasan police, since the alleged animal cruelty happened in their jurisdiction.
"The cat was crying out in pain, but he didn't stop his actions," Nat said Friday at the police station. "I know that making a video requires a lot of takes, so he probably had to do this with his cat over and over again. It's funny clips that we don't laugh at."
Nat also said that Bartling's previous videos showed other instances of animal cruelty, such as tying his cat to helium balloons. "He needs to stop this, because it's a bad example to many youths and children watching him," she said.
Nat said before filing the police report, she consulted an exotic animal vet who said that scorpions can be deadly to cats.
Reached for comment via Line on Monday, Bartling declined to answer questions and referred to a link to a video posted online Saturday. In it, Bartling said he had obtained the stinger-less scorpion from a shop that sold edible scorpions on Khaosan Road, and he found his cat playing with the scorpions in his kitchen.
"Grabbing the camera to film my cats might have been my fault," Bartling said in Thai. "Letting the cats play with a scorpion is like teaching a child to know what's hot or cold by letting them learn for themselves. I didn't have any malicious intent to hurt the cats."
Bartling also said that his cats are in good health and that he learns each time his videos cause controversy. For example, after the drama about asking embarrassing English questions to Thai strangers, Bartling said he began focusing on putting English vocabulary into his videos rather than doing prank videos. Bartling says in the clip that he will stop doing "these kind of videos" as well.
"No one is perfect. I made a mistake," Bartling said. "But does the the drama have to be this big?"
Bartling, 23, says he has a legal work permit and asked people to focus critical comments on him, not his family, girlfriend, religion or even the cat rescue organization from which he adopted his cats, the Pet Animal Welfare Society, or PAWS.
"To the people who said I should leave the country, how will I be a good example to youths watching if I run away from my problems?" Bartling said in the clip.
Many in his fan base of more than 3 million Facebook followers continue to stand by him.
"Dude, continue your work. Don't listen to what they say. This nation is too freaking conservative. Please help us change that," wrote YouTube commenter Passkin in English. "I'm so sorry I signed up to sue you without watching the whole video and knowing your full intention."
According to the Prevention of Animal Cruelty and Provision of Animal Welfare Act of 2014 animal cruelty is punishable by up to two years in jail a 40,000 baht fine.