BANGKOK — After the prime minister became preoccupied with a teen luk thung singer's sexuality and apparently dispatched police to cover her up and count her hip thrusts, Lumyai Hai Thongkam has become an icon of the national cultural wars.
Details of her signature gold bikini and even her stage name were being dissected, debated, defended and criticized online and off this week.
On a recent episode of the Hoan Krasae talk show, Lumyai, 18, and record label owner Prachakchai Navarat were asked if she wore anything else under her sparkly hot pants.
Read: Police Sent to Cover Up Teen Country Singer 'Lumyai'
"There's a petticoat, stockings and underwear, so you won't see anything," Lumyai said, a rejoinder to Gen. Prayuth Chan-ocha's comments that she was about to "show all her genitals" with her twerking.
Lumyai, who has been singing for nine years and performing as "Lumyai" for two, said her routine has brought her success, and she's now doing up to five concerts daily.
"I found her when I heard her singing at a banquet. Her singing was on pitch and her dancing was good," said Prachakchai, who contends that Lumyai's fame is mostly due her singing talent.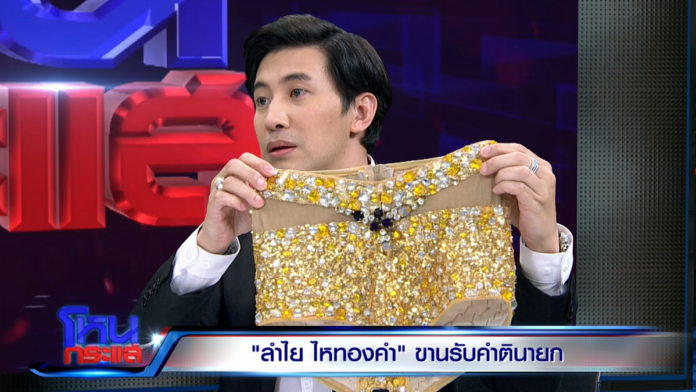 Her breakout song, "Phu Sao Kha Lor," ("Party Girl") was watched more than 244 million times since its November release, despite its low-production values.
"It's not even a music video, just a low-budget song," Prachakchai said.
Her costume, he added, isn't outrageous and is consistent with other country singers.
Read: Prayuth Criticizes Teen Singer's Sexy Dancing, Blames Farangs
"This kind of dancing and clothes are very common in mor lam sing and coyote dancing. Their clothes are even smaller. We don't know where the line of morality lies after the phu yai started criticizing."
Former Khon Kaen Sen. Rabeabrat Phongpanich, a cultural conservative who heads the Society to Create Happy and Warm Families, earlier called Lumyai cultural "trash." She called in to Hoan Krasae to say Lumyai's stage name, Hai Thongkam ("Golden Jug"), was "disgusting."
"There's no way she thought of it herself. She was given the name for fame and business purposes using sex…I don't want to see her get taken advantage of," Rabeabrat said. "Why isn't she named Lumyai Jaidee or Lumyai Jaingarm?" she said, suggesting names that mean "good-hearted."
The name will stand, Prachakchai told Rabeabrat.
While cultural crusaders make their points laying into the 18 year old, the internet mostly responded with a collective eyeroll at what netizens see as a cultural double-standard.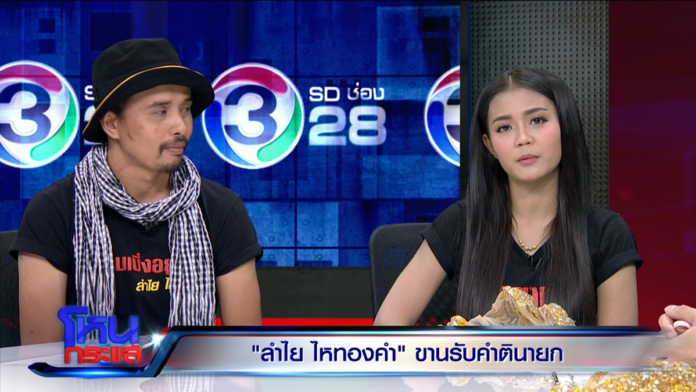 The Loke Maeng Dudjrit page compared the cultural double-standard between "high-class" ballet and "low-class" luk thung.
Current-event savvy webcomic Kai Meaw underscored the double-standard at work.
The story went through the wringer of millennial internet sensibilities that is Pim Thai Mai Dai, which plastered "LUM YAI" over the junta leader's face, referencing the singer and slang suggestive of lumkarn or "annoying."
Related stories:
Police Sent to Cover Up Teen Country Singer 'Lumyai'
Prayuth Criticizes Teen Singer's Sexy Dancing, Blames Farangs