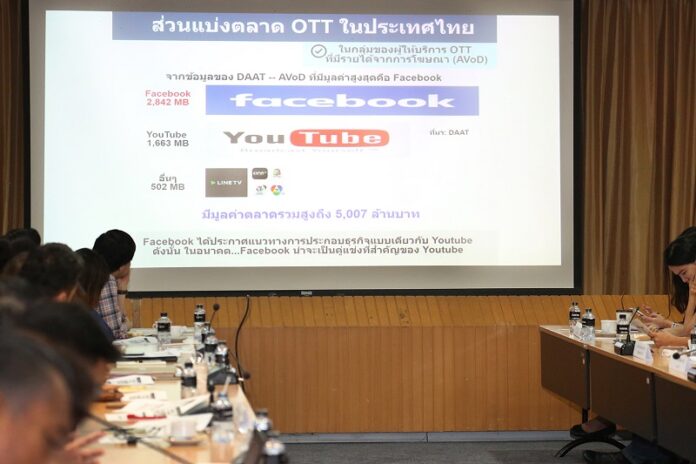 BANGKOK — Telecommunication regulators called on top online advertisers Thursday to boycott three foreign platforms if they don't register with the government by next month.
YouTube, Facebook and Netflix will be declared illegal in the kingdom unless they register with the National Broadcasting and Telecommunications Commission by July 22, said Nathee Sukonrat, chairman of its regulatory committee. Anyone who advertises with them after that point, he said, risks criminal charges.
"Supporting a business that doesn't comply with the law will also affect the good governance of corporations," he said after meeting with 47 domestic companies who account for the largest share of online broadcasting ad spending.
The commission said its regulations classify as broadcasters 14 online services which transmit video content via the internet, including Iflix, TrueVisions Anywhere, AIS Play and Line TV.
It cited a 2010 law it said requires they register with the government. One week ago on June 22, all so-called over-the-top, or OTT, media were given one month to enroll.
The Asia Internet Coalition, a trade association which counts Facebook among its members, responded today that it was deeply concerned about the policy. In a statement, it urged the NBTC to draft the new regulations transparently and openly in consultation with the public.
"The proposal to regulate 'OTT services' will adversely affect Thailand, create business uncertainty, slow economic growth and limit investment in Thailand's growing digital sector," it said.
Last month, the NBTC threatened legal action against Facebook for not removing content it deemed illegal. It later admitted that Facebook had not done so because the regulators failed to furnish necessary court warrants.
Read:  Facebook Threatened on Belief Govt Had Warrants it Didn't
Arthit Suriyawongkul of the Thai Netizen Network said regulating online platforms in this way goes against the principles of the NBTC and the law it cited. Both were intended for allocating public resources, he said, such as managing limited radio and television frequencies, not regulating content. The internet, he points out, has no limited resources that call for regulation under the commission's mandate.
"The NBTC commissioners have already turned themselves into content regulators for television," he said. "Its use of power to regulate has been called into question. So it is worrying if they come to regulate online platforms."
Five billion baht was spent to advertise on online video platforms in Thailand last year. Facebook received over half, with 2.8 billion baht in revenues, followed by YouTube who gained 1.6 billion baht.
As of today, a week after the policy was announced, all platforms had complied except the three largest multinational providers, two of which are top advertising earners: YouTube, Facebook and Netflix.
The NBTC decided yesterday to summon representatives of advertising associations to warn they could also face criminal charges if they paid to advertise with "illegal media."
"I can't say I disagree. It is the law. They didn't ask for an opinion," said Triluj Navamarat, chairman of the Media Agency Association. "The NBTC said if they don't come to register, they will be considered illegal and those who advertise with them will also be guilty as supporters."
However, Triluj believed the three companies will meet with Thai authorities by the deadline.
The move seems a new strategy for pressuring the internet companies the regime has been unable to influence through other means.
Today the regulator held yet another meeting with the companies which spend the most advertising on those online platforms. Among those summoned were Unilever, Colgate-Palmolive, Toyota, PTT and Thai Life Insurance.
Since the military government seized power in 2014, it has sought unsuccessfully to win cooperation from foreign internet firms to further its aims to rein in the internet. Requests for access to user data or content were roundly rejected.
In recent years the authorities have used the NBTC's regulatory authority to achieve de facto censorship by suspending and shutting down broadcasters perceived as overly critical of military rule.
Online media have faced harsher control as well, as the internet remains the only relatively free platform for criticism and activism.
Earlier this month, the NBTC also summoned admins of top Facebook pages to solicit input from them as it devises rules to regulate them.
Net freedom advocate Arthit said he was unsure what will be the consequences for those who register. But if the NBTC deems online content providers to be broadcasters, it may regulate them under the same law it applies to television. That process can be politicized, as the law's interpretation was stretched by a junta order to turn it into a tool of direct censorship.
"I think question is not why those three companies didn't comply, but why the rest accepted these regulations, which is nothing different from the media bill we have been opposing," he said. "They need to ask themselves, 'What are they doing?'"
Related stories:
Controversial Coverage of 'Murder Babes' Raises Press Freedom Stakes
Facebook Threatened on Belief Govt Had Warrants it Didn't
Facebook Stands by Policy as Govt Ultimatum Passes
Regime Threatens Facebook With Computer Crime Act
As Advertising Goes Dark, Industry's Bad Year Turns Worse
Media Groups Criticize Shutdown of Voice TV in Rare Show of Solidarity