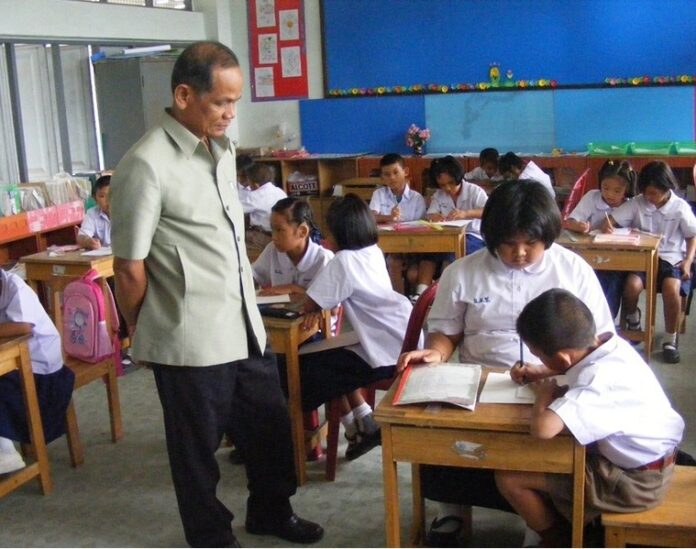 BANGKOK — An internet discussion about teacher candidates calling for lower English-language requirements sparked arguments over their necessity on social media this week.
Taking over online discussions for nearly a week, the matter gained attention after some candidates for an initiative which recruits teachers to work in their hometowns rallied online to lower the proficiency score required to teach.
Nearly 3,500 eligible candidates who already passed the test were called to report to the Office of the Higher Education Commission over the weekend. To finally secure a teaching job in their hometown, they will be obligated to submit their English language proficiency scores by Oct. 1.
The position requires scores of 400 of 990 for the Test of English for International Communications, or TOEIC; 3.5 of 9 for the International English Language Testing System, or IELTS; or 40 out of 120 for the Test of English as a Foreign Language Internet-Based Test, or TOEFL iBT.
This sparked concern among some candidates who found the requirement difficult to meet and, they said, irrelevant to their teaching skills.
Read: Thai Teachers Pose as Foreigners to Teach English
That included the manager of unofficial online Facebook page Teachers Return Home – Initiative to Train Teachers for Local Development, who encouraged candidates to ask the project to cancel or lower the English language proficiency requirement. Many comments shared his stance.
"It's something that's so irrelevant to being a teacher," wrote Facebook user Podjaman Mint Pongkla. "It's probably okay to just reduce [the TOEIC requirement] down to 250."
"Can we change it from testing to training?" wrote Facebook user Natsanan Thaiteacher. "You can just spend the 1,500-2,000 baht test fee on arranging a training session instead."
"Testing is useless. We don't have to use it. What is the reason for that?" said user Wankhangna Tongkaotorpai.
These public comments quickly drew criticism from netizens who deemed it unacceptable for a teacher to have such poor English proficiency.
Many of them expressed their concerns through the hashtag #TeachersReturnHome which also became the top-trending topic on Twitter earlier this week.
"Oh my god. Now I understand why kids from the provinces have such poor English," wrote Twitter user @brie_pie. "I'm not surprised I've met a teacher who pronounced the letter 'H' as 'hed' #Sympathyforfutureofthecountry #TeachersReturnHome"
คุณพระ นี่เข้าใจละว่าทำไมเด็กตจวภาษาอังกฤษถึงอ่อนมาก 😱😱 ไม่แปลกใจละที่เคยเจอครูออกเสียง เอช ว่า เฮ็ด 😒 #สงสารอนาคตของชาติ #ครูคืนถิ่น pic.twitter.com/hrbY6Du6Ku

— หนวด (@brie_pie) July 3, 2017
"Emerging knowledge nowadays is in English," wrote Facebook user Kwanchai Phuntee. "If teachers didn't know English and taught students outdated knowledge, what would happen?"
But some argued English ability has nothing to do with the potential to teach.
"Can a person who is not good at English be a good teacher?" wrote Facebook user Panuwat Borphimai. "There are so many factors. Won't they be able to teach physics or other subjects if their English isn't good?"
Nearly a week after the topic went viral, the page on which the matter was first brought to attention was deleted, but that did not stop the debate from continuing.
Related stories:
Elementary Students to Study English Every Day