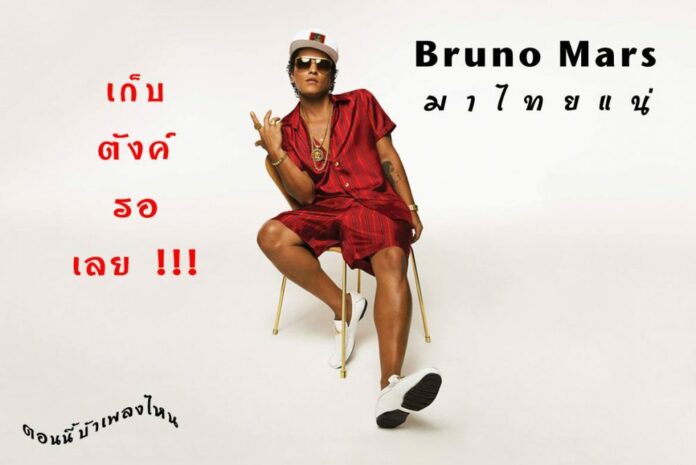 BANGKOK — Music fans cheered, some looked at their empty pockets in bittersweet pain, as hints surfaced that yet another acclaimed American artist could be returning to Bangkok next year.
It was hinted that American singer-songwriter-choreographer Peter Gene Hernandez, or Bruno Mars, could be making a return to Thailand in 2018 as part of his 24K Magic World Tour.
Asked about what artist would be coming to Bangkok to perform next, Napatsanan "DJ Peung" Chongsa-nguan of Eazy FM 105.5 – one of the country's famous online radio stations – said during her lives broadcasting on Thursday that it could very well be the singer behind hit songs "Just the Way You Are," "The Lazy Song," and "When I Was Your Man."
"Our radio station plays his songs almost every hour. He's a very talented singer and also a great dancer. I'm sure the tickets will sell out when he comes," DJ Pueng said.
The video clip on Eazy FM 105.5's Facebook page was later deleted on Friday morning – but that's after a music-related page had picked up on it and made it viral.
"It could be 100% that the 24K Magic World Tour will be coming to Thailand too. Save up your money. Rumors say tickets will be sold by this year, but the concert will take place next year," wrote the Facebook page Tornneebaplengnai.
Bruno Mars came to Thailand in March 2014 and performed at Impact Arena Muang Thong Thani as part of his Moonshine Jungle Tour. The multi-instrumentalist, born and raised in Honolulu, Hawaii, reached prominence as a solo artist in 2009 with songs such as "Nothin' on You" and "Billionaire." Both songs peaked within the top ten on many music charts worldwide.
Related stories: