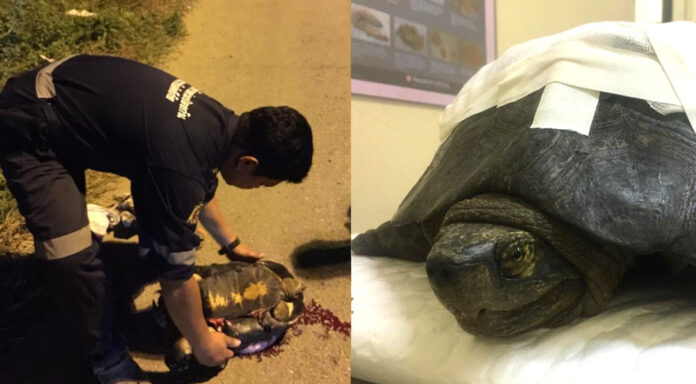 UPDATE: P'Tao, Roadkill Martyr, Dies
BANGKOK — All the internet had rallied by Thursday behind a desperate bid to rescue a bloody and battered turtle left to die in a road by a hit-and-run driver.
Facebooker Teerapon Tspeed Susilaporn has been documenting the rescue and status of a turtle he has named "P'Tao," (Brother Turtle), to the rapt attention of netizens. Teerapon found P'Tao with a cracked, bloody shell in the middle of the road right late Tuesday night and rushed him to a nearby clinic.
"P'Tao says he's still got it in him, and he will fight through this," Teerapon wrote Wednesday evening. He said the turtle was given oxygen, and the wounds to his shell were treated.
As of Thursday, the five posts about P'Tao's rescue had been liked more than 77,000 times and shared more than 40,000 times, with the video of him lying in the road racking up more than 6 million views. The comments were flooded with get-well messages for the turtle.
"We're waiting for the ambulance. Jai yen na. Su su! What a large turtle," Teerapon can be heard saying in the video posted at 11pm on Tuesday. "I saw him in the middle of the road, so I parked and decided to help him." Teerapon mentioned that he saw someone driving a BMW had hit the turtle before driving away.
The incident appeared to happen in northern metro Bangkok. Attempts to reach Teerapon for comment were unsuccessful.
Teerapon first posted photos of the turtle's treatment at a clinic, then the Small Animal Hospital at Chulalongkorn University throughout the early hours of Wednesday morning. The turtle's shell was completely cracked and his pelvic bone was broken, but all four of legs were intact.
"P'Tao is smiling through the pain. He says he's still got it in him," Teerapon wrote in a post posted at 2:30am on Wednesday. "If he knew about all the wishes you guys are sending him, he would probably say thank you."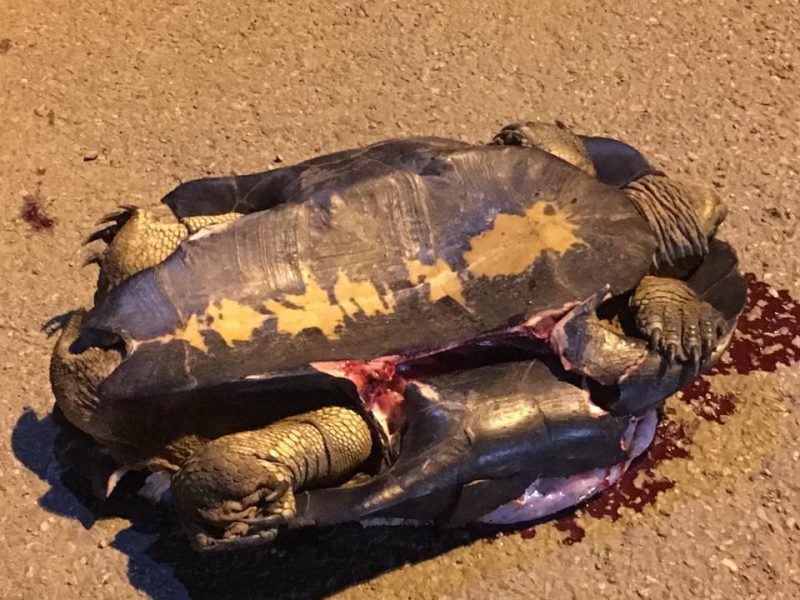 P'Tao getting first aid 1am Wednesday at Khlong 7 Veterinary.
Teerapon drove the turtle at 2:30am on Wednesday to an animal hospital at Chulalongkorn University.
Teerapon carries P'Tao into the Small Animal Hospital at Chulalongkorn University 3:17am Wednesday.
P'Tao sports bandages on his shell Wednesday night.
Related stories:
Vets Look to Rehabilitate 'Paley,' Sea Turtle Pale From Captivity
Turtley Crowded: Temple Promises More Space for Reptile Residents (Photos)
Turtle Watch: Coins Found Inside Two of Piggy Bank's Friends (Photos)