Big tech and startup expos can be great events, not just those for those involved in the tech space but also anyone with a general interest. Events like Techsauce, which unfolded over two days this past weekend in Bangkok, give startups exposure to potential partners and investors.
They also provide a venue for everyone in the industry to mingle and talk shop, possibly make deals and craft opportunities. And, of course, they give us observers an idea of how things have changed and where they are going. All of this and more was in play at this year's Techsauce.
While financial technology, or fintech, has been hot and continues to go strong in Asia, it's digital consultancy and innovation consulting which really kicked into overdrive during the past year. We are seeing many more companies jump into that space. Even HUBBA Thailand – which many Bangkokians know as the company behind a number of trendy co-working spaces – is getting into the innovation consultancy market, which was touched on by company CEO Amarit Charoenphan when I spoke to him on Friday, the details of which can be heard in my podcast below.
The Techsauce Global Summit offered a lot to the local startup community in its fifth outing held Friday and Saturday at Centara Grand. The event has quickly solidified its place as a top-tier event in Thailand, attracting an impressive list of speakers to expound across its multiple stages. The exhibition hall was filled with startups, accelerators and some more established companies, mostly from Thailand but also drawn from the ASEAN region. The business matching corner of the event, though housed in a rickety two-level structure that reminded me of a poorly erected construction site, was constantly in use, filled with entrepreneurs, investors and senior managers from businesses trying to lay the groundwork for future deals.
While the event as a whole was well run, and brought in a great deal of talent, there were some ups and downs over the two days. But, overall, Techsauce was a positive event for entrepreneurs, investors and any business in general.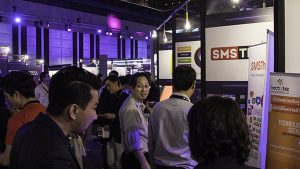 For me, the real value for attendees was attending any number of the speaker sessions, panel discussions and fireside chats. The list of speakers was phenomenal. While many were based in Thailand, more than a fair share were brought in from not just the region but the globe. For anyone in attendance, the absolute value one could gain from attending any number of these sessions was fantastic.
There were a number of topics on the docket for the various stages. Some interesting panels on fintech delved into the future of cryptocurrency. A handful of talks I popped into touched on the importance of sales. And a lot of success stories were floated, some far more interesting than others.
One of the interesting sessions on the agenda was a workshop with Maqe CEO Andreas Holmer about innovating under changing circumstances. Holmer addressed methods corporations and startups can use to foster innovation internally. Techniques such as lean startup methodologies, design thinking and the sprint method are front and center with this model. I spoke to him on Saturday about what MAQE was focused on, which can be heard in my day-two podcast.
The main expo hall was filled with startups showing off their newest or prospective offerings. For the most part, companies were clustered into similar areas, such as lifestyle and urban tech. But it was very clear that fintech and business solutions dominated the floor. My only complaint was that some of the space was difficult to navigate as the layout created easily congested bottlenecks.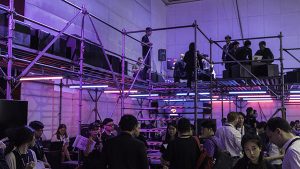 One of the interesting international organizations on the floor was Kuala Lumpur NGO Global Entrepreneurship Movement, or GEM. Gem was promoting their Colossus competition for companies to build solutions aimed at improving ASEAN countries and propelling them to first-world status. GEM is looking for ideas that span about every facet of the startup world — smart city, urban tech, fintech, even agriculture technology.
The business matching session was something a lot of people I had talked to beforehand were excited about. Think of it as speed dating for businesses and investors. The same methods apply: sit and pitch to each other before a bell rings, and you move on.
Despite this being part of the event that many people were looking forward to, and something Techsauce emphasized as a highlight, it felt like an afterthought. The business matching section was tucked into a corner behind an extremely loud stage. The space around that section was cramped, as though the designers didn't anticipate a high volume of foot traffic, and the two-level structure, as I mentioned earlier, looked unsafe, at best.
That wasn't just my opinion though, I talked to several participants with similar views.
One of which was Sivalee Anantachart a partner from Launchpad, or as she is better known in the Thai startup scene SoMA SoM. Her thoughts were:
"The area was in a corner and space was limited. It was noisy, as there was a stage nearby and when each round ends, there's a loud buzz which almost sounds like a fire alarm," said Sivalee. "Plus the metal rods look a bit unstable, and I was questioning the safety side of things. Other than that, it was great."
Had there been some more thought put into planning the business matching activities it likely would have been the sole blemish on what was otherwise a well-run and organized event.
Overall, the Techsauce Global Summit was a first-rate event by global standards. It still feels a bit Thai-centric, but less so than last year. If that trend continues, I could see it becoming the must-attend event in Asia, or at the least a contender for that title.