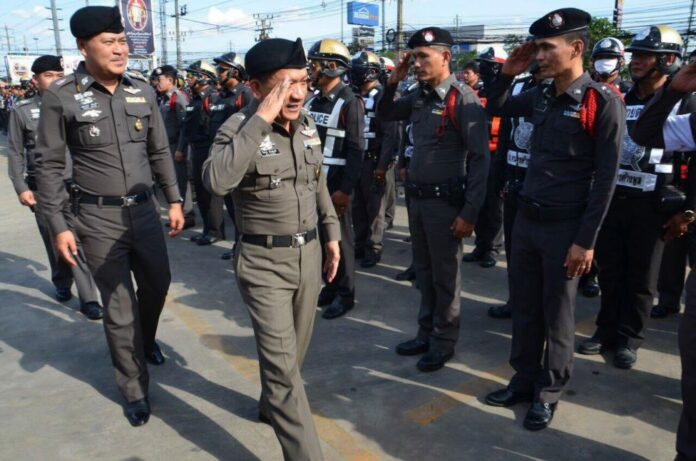 BANGKOK — Police made inaccessible Wednesday personal information for more than 790,000 residents that had been openly available on a police website after it was brought to their attention.
The information, part of a database for a police program called "Stop Walk and Talk" in the upper central region, had been openly available for an unknown amount of time. It documents details such as photos, home addresses and phone numbers of residents who have been visited by police patrols.
Read: Expat Personal Records Posted to Govt Site
Entries for at least 798,280 Thai nationals had been published by Wednesday afternoon. The latest entries were added just this morning.
Reached for comment, Lt. Gen. Thawitchart Palasak, commander of the Sixth Regional Police, initially said the website was protected by a password. After a reporter informed him no password was required to access the information, he said the content was not confidential.
"It's general information. There's nothing secretive about it," Thawitchart said. "It's just phone numbers and addresses."
Less than an hour after the phone call, the site had been protected with a password.
Thawitchart added that he had not received any complaints from the public.
According to Thawitchart, the program involves officers from police stations visiting residents in their own jurisdictions and asking them what police services they needed. He said the program has received positive feedback since it began "two or three years ago."
Each entry includes the names, photos, home addresses and mobile phone numbers of residents visited. It also details the dates and reasons for the visits as well as a summary of the conversations between officers and residents.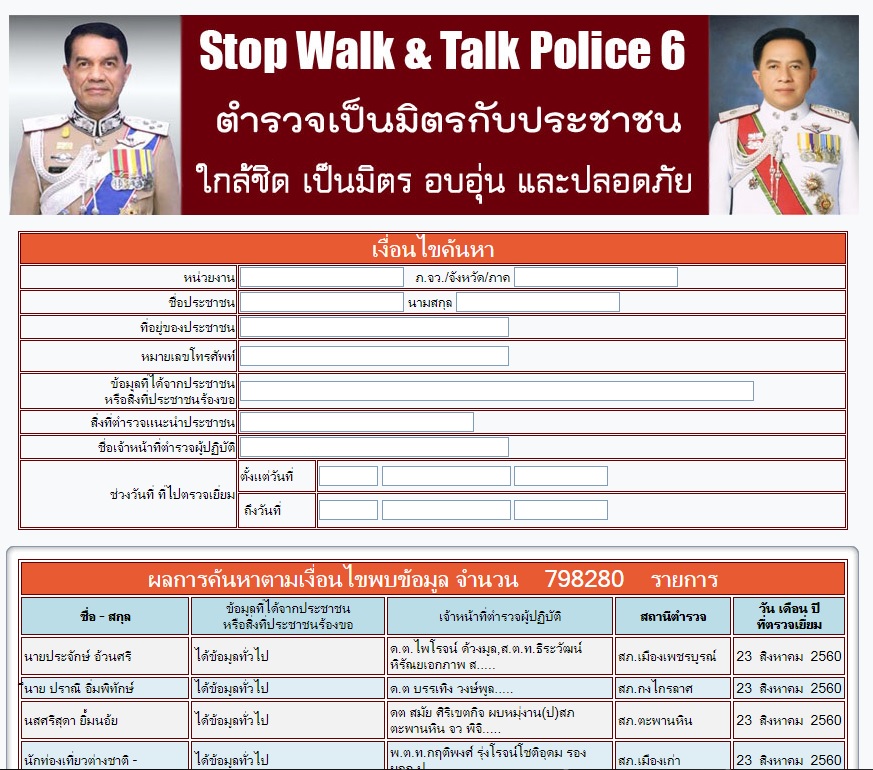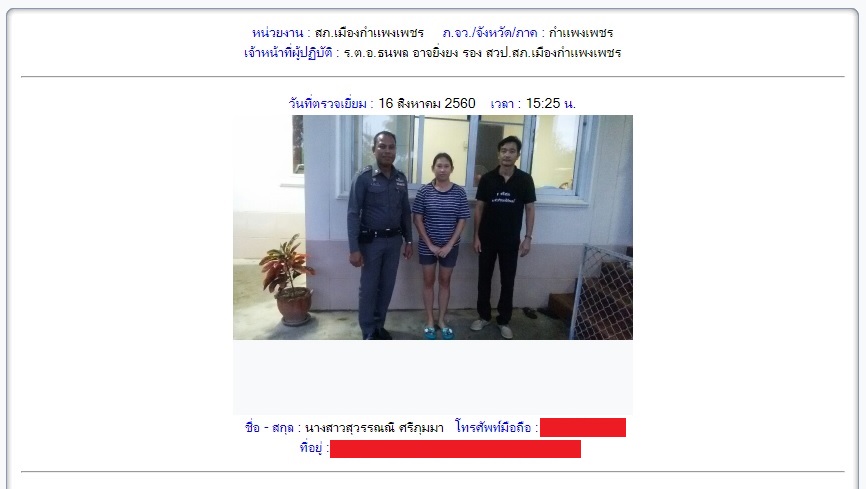 Three people whose information appears in the database said they had no privacy concerns.
One of them, a woman who complained to police about local dek van, said as long as the information was overseen by police, nothing bad could ever come of it. Another said she's happy to help police publicize her information to show they are helping civilians.
Notoriously short on technical savvy and tools, the bureaucracy has a record of mishandling and disclosing private information online, raising concerns over safety and the exploitation of sensitive information.
In March 2016, the names, nationalities, passport numbers, professions and home addresses of hundreds of expats in southern Thailand were posted on an immigration website for the public to access.
In the same month, sensitive information was published about many foreign travelers who passed through health checkpoints at land and air border controls.
Related stories:
Thousands of Senior Citizen Bank Accounts, Private Data Online
Vast Trove of Travelers' Personal Info Posted on Govt Website