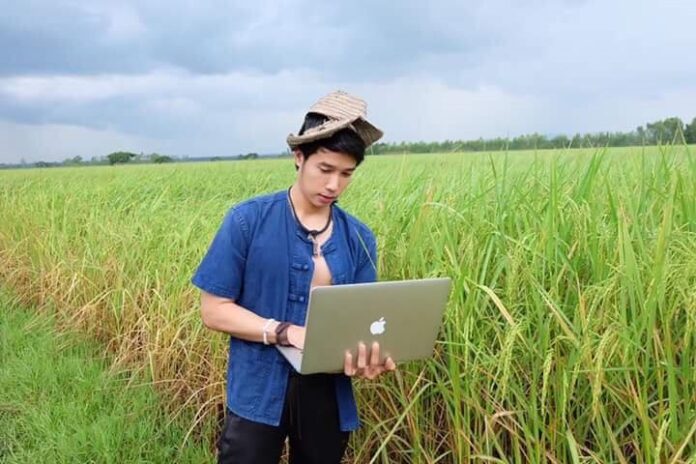 BANGKOK — Next to an 11,000-baht Garmin Forerunner watch, an expensive cup of coffee and a smartphone displaying a lovely photo of himself, Wachrin Tankuranant placed his public welfare card.
He then took a photo of it all and shared it on social media with a caption about how proud he was to live far below the poverty line.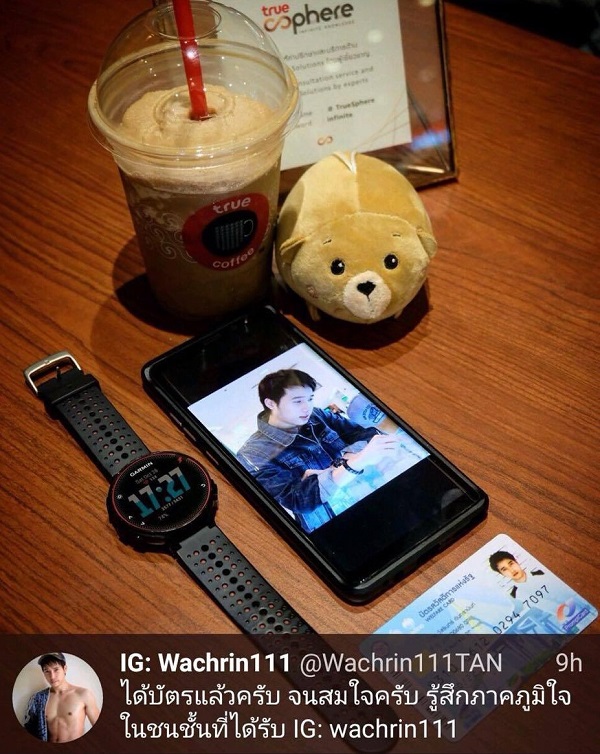 Not only did the internet bathe him in fire for the picture, but it turned out his other posted photos showed a very comfortable-looking life, sparking doubts that a man with a Louis Vuitton shopping bag and a big motorcycle could be eligible for benefits reserved for the poorest of Thais.
It also turned out Wachrin works as a model. On Instagram and Twitter, he posted revealing photos of himself and advertised his services for reviewing products.
Responding to intense criticism, he insists that posting nice photos doesn't mean he isn't poor.
Read: New Welfare Cards a Boost For Rich or Poor?
Under the military government's welfare program, low-income people registered for cash cards with a monthly stipend that can be used for travel and some living expenses. Commonly called "poor cards," they were just handed out to 11.6 million people this month.
To qualify, applicants could not have over 100,000 baht – either in the bank or bonds. They must live in homes smaller than 100sqm or multi-family housing under 35sqm. Landowners cannot possess more than 1 rai (1,600sqm) or 10 rai of farmland.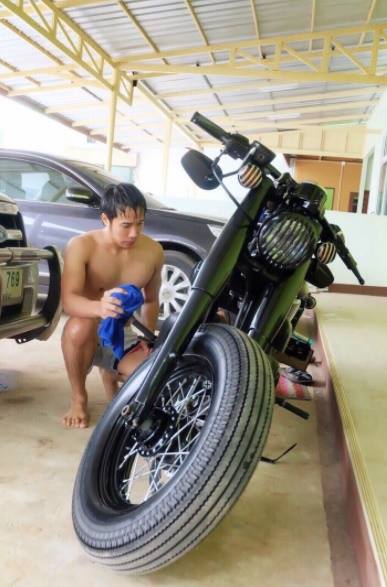 Wachrin's case erupted online Sunday, with the hashtag #BroHasReasons trending through today.
In an interview with Amarin TV, Wachrin said photos don't always reflect reality. The model insisted he is indeed poor, as he has no assets or collateral. He said his only monthly income from reviewing products online was unreliable.
"I post only beautiful photos to my Twitter and Instagram. Everyone does that," he said. "I was just someone who wanted to post nice-looking pictures."
Wachrin said the lifestyle people see in his pictures didn't come from his money but rather a that of a friend.
"Starbucks … is it fancy? Well I always liked this brand, so I didn't think about it much," he said of a photo in Starbucks. "When my friends invited me to Starbucks, I asked to take a picture to post. I didn't pay for it."
The Fiscal Policy Office said Monday it will investigate Wachrin. If found to be ineligible, his welfare card will be revoked.
"We trust people report their information sincerely," agency director Suwitchaya Rotchanawanich said. "We were confident our verification process was careful."
Suwitchaya added that the Revenue Department was responsible for verifying income and bank accounts while the Interior Ministry took the lead in verifying land ownership.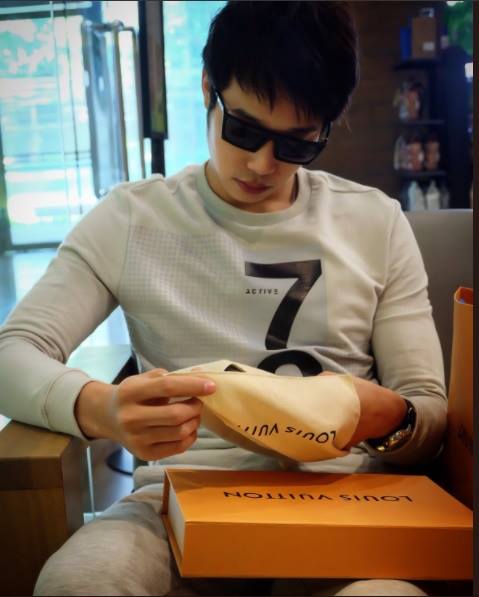 The process, which relied on self-reporting information, has been criticized as inefficient, especially after 2.5 million people who registered were later found to be ineligible.

Somchai Jitsuchon of Thailand Development Research Institute said in an interview last month there were better ways to establish poverty rather than self-reporting, such as by integrating information with banks and the tax department.

"How could we keep track if the cardholders are no longer poor next year," said the inclusive development research director. "Unlike some foreign countries, poverty is not taboo for Thais. We are not shy to report ourselves."

Related stories:
New Welfare Cards a Boost For Rich or Poor?
Welfare Cardholders May Get 800 Baht For Staples
Poorest Thais to Get 2,750 Baht Cash Cards
700,000 Ineligible for Junta Welfare Program
Confusion Over Benefits as Poorest Thais Register for Junta Welfare
Final Extension of Free Bus And Train Service?
Stricter Junta Welfare Program Unclear on Benefits