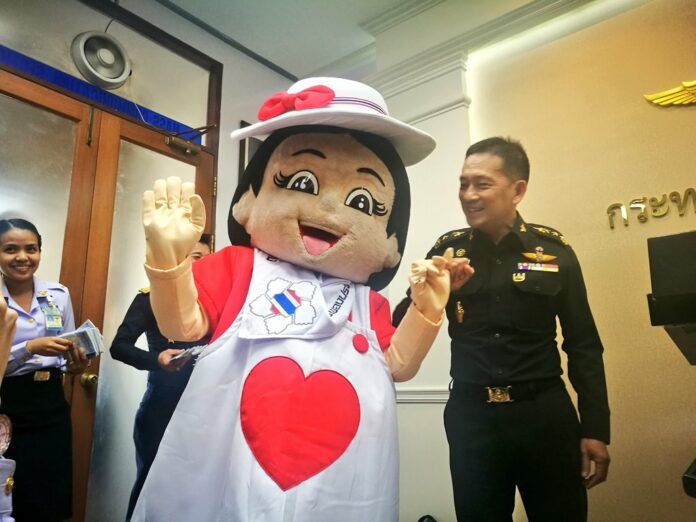 BANGKOK — A mascot designed by the defense ministry to promote national reconciliation has instead creeped out social media.
Unveiled Wednesday, Nong Kiew Koy, or "Pinky Finger Girl," is a smiling girl in overalls with her pinky finger extended, a Thai gesture of mending friendship.
But if army brass were hoping for a cultural coup like that achieved by Japanese mascots, they were wrong. Most people on the internet think Nong Kiew Koy looks more disturbing than friendly.
One Twitter user compares her to a Hollywood haunted doll.
แอนนาเบลเวอร์ชั่นรีเมค ฉายแล้ววันนี้#น้องเกี่ยวก้อย pic.twitter.com/xHJP6ie8Dr

— หมีบี (@obasu) November 29, 2017
A popular cartoonist suggests she will probably end up being shunned by all of the factions she is meant to appeal to.
A keen-eyed netizen found an uncanny resemblance between Nong Kiew Koy and Pongpan Chan-ocha, a sister-in-law of junta chairman Prayuth Chan-ocha whose extravagant treatment became national news last year.
น้องเกี่ยวก้อย vs คุณผ่องพรรณ จันทร์โอชา pic.twitter.com/uZY96LYdCK

— Panuwat (@tumbler_p) November 29, 2017
A manga artist attempted to improve her to be more kawaii so more people would like her.