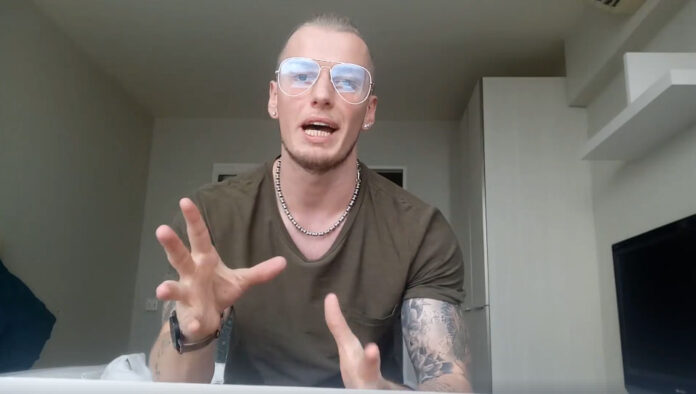 BANGKOK — It's an age-old tale: Boy lands at airport, boy meets taxi, taxi rips off boy.
But after hearing both disputed sides of a farang's fateful airport taxi ride – and watching part of it on video millions of times – Thai netizens were overwhelmingly siding with the customer Thursday.
The Thai internets were flowing over with support for a man who used his platform as a popular online English teacher to complain about a Suvarnabhumi Airport taxi driver ripping him off and insulting him.
In a video posted Tuesday, Daniel Lee McGee explained that the driver kept pressing him for more money and berating him. The video also included a clip that McGee took while exiting the taxi.
"Usually I like to give tips to people who help me out," McGee said in Thai in the video. "But he kept asking for more money, so it made me not want to give it to him."
McGee, who goes by Danny Mac or Buk Dan on his Easy English Thai page, had not responded to repeated calls as of publication time.
In the video watched more than 2 million times since Tuesday, he said driver Thongkham Srakaew demanded 500 baht, had to be pestered repeatedly into turning on the meter and then demanded 300 baht for the tollway. After the driver initially refused to give him change, McGee said he called him "farang kee nok" (cheapskate farang) and "farang ngeengao" (stupid farang).
Thongkham was ordered to appear by police. He disputed McGee's version of the story, saying he had offered to turn on the meter and that Daniel voluntarily gave him extra money for the toll. Still, he was fined 1,000 baht for impolite behavior. McGee did not have to report to police.
The brouhaha – and potential loss of face – escalated to the point both men were invited to appear with the head of the Transport Ministry on television to bury the hatchet.
"I never had a bad track record in driving a taxi. But this farang gave me a headache," Thongkham said while crying. "He went public and is destroying the image of me, my family, my wife and kids."
The 50-year-old man said he's been driving taxis since 2002 and received awards for his good manners. He said he was angry when he called McGee a cheapskate.
The Channel One 31 talk show appearance ended with a very lame handshake.
Netizens, perhaps all too familiar with similar experiences, found Thongkham's version of events dubious.
"Well-mannered, my ass. In the clip we can see you speaking like a dog. In this case, I believe the farang," user wrote Badoo Rahut said in comments responding to a Khaosod story. "Let the world know. If you come to Thailand and you haven't been conned with a meter, [been told it's] broken, or you haven't had to pay a flat fee or been refused a fare, then you haven't come to Thailand."
Others quickly piled on.
"Are you ashamed, you evil taxis?" Facebook user Nadia Mccloud wrote of a driver who once demanded 500 baht upon arriving from Australia. "I said no and gave him 50 instead. Then he complained a lot and displayed really bad manners. The law isn't tough enough with them."
Transport Ministry Director Supree Charuphum said McGee did the right thing by posting the video. He gave Thongkham credit for admitting he overreacted in emotion.
"You have to be service-minded to be a good driver," Supree said, adding that Thongkham's license will be suspended if it happens again.
Any passenger can file complaints about taxi drivers directly to the Land Transport Department by calling the hotline at 1584.