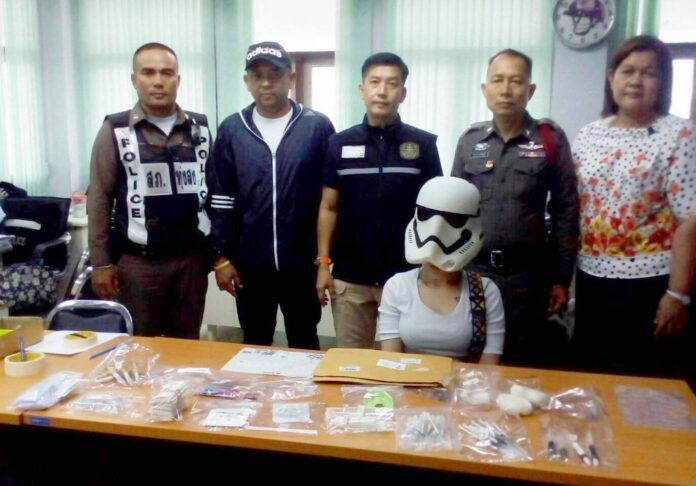 NAKHON SI THAMMARAT — Is this solo Stormtrooper under arrest a next-level marketing for the next Star Wars spin-off movies?
A photo of a suspect accused of running an illegal dental clinic wearing a Stormtrooper helmet in Nakhon Si Thammarat province sent the internet into overdrive and invited more questions than it answered.
Published on the eve of the Intergalactic Star Wars Day of May 4 nonetheless, it was shared more than 300 times and attracted numerous comments. But what was the backstory to this absurd moment?
Reached for comment Friday, the chief of Thung Song Police Station said the unidentified woman was arrested Wednesday. When she was paraded before the media per longstanding tradition – one even the junta has failed to stop – Col. Sukkasem Nakhonwilai said they wanted to save her from social stigma in case "she repents and becomes a good citizen of society in the future."
"I asked for a cap, but no one at the station had one," Sukkasem said. "But one of our officers is a [Star Wars] fan and happened to have the helmet on hand, so we used that."
He teased future episodes, given the audience reaction.
"If the fanclub wants it, maybe we will do it again," Sukkasem said.