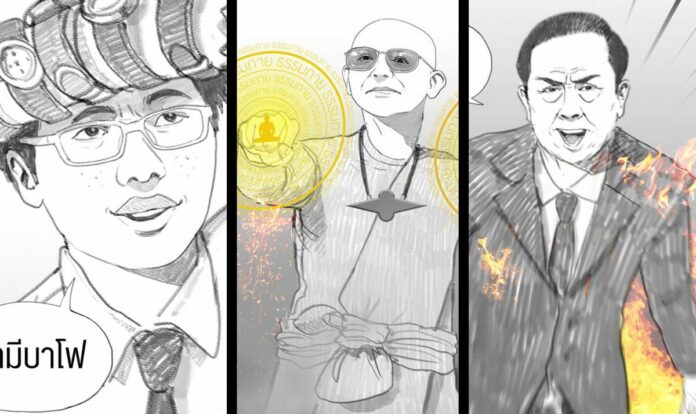 BANGKOK — "Hear me, and rejoice. You have been blessed with the presence of the prime minister."
What sounds like the opening lines of "Avengers: Infinity War," but slightly tweaked, is actually from "Tavenker: Infinity Prime Minister," an online comic featuring familiar political figures that has the internet's rapt attention since it was posted Monday.
"I was reading this at a red light, then I had to signal and park to read it all. Not going to work anymore!" wrote Facebook user Thanawat Dokchan after falling prey to the combined entertainment value of Marvel and Thai current events.
In nine hours since it was posted by Prakammanu, the comic has been shared more than 88,000 times and commented upon more than 54,000 times.
The post shows famed student activist Netiwit Chotiphatphaisal reciting lines similar to the character of Loki and fugitive former Dhammakaya sect leader Dhammajayo stands in for sorcerer Dr. Strange. Gen. Prayuth Chan-ocha takes the role of villain Thanos, with his underlings in The Black Order played by junta members Gen. Prawit Wongsuwan, deputy finance minister Somkid Jatusripitak, government spokesman Sansern Kaewkamnerd and Interior Minister Gen. Anupong Paochinda.
The comic also contains tongue-in-cheek references to the news cycle, with the Doi Suthep dacha scandal, submarines acquisition, an ultra-luxury watch scandal and high-speed rail saga all mentioned.
The story follows Prayuth, an all-powerful prime minister whose minions kill activists protesting the homes built in Doi Suthep. Prayuth must battle the Avengers including Netiwit and Dhammajayo. The scene mirrors the opening scene of Avengers: Infinity War as well as other fight scenes from the superhero blockbuster.
Monday's installation was the second part of the Facebook album comic by Prakammanu, which features Chulalongkorn students who heckled Prayuth in April, Netiwit as Captain America as well as Yingluck Shinawatra and Thaksin Shinawatra.