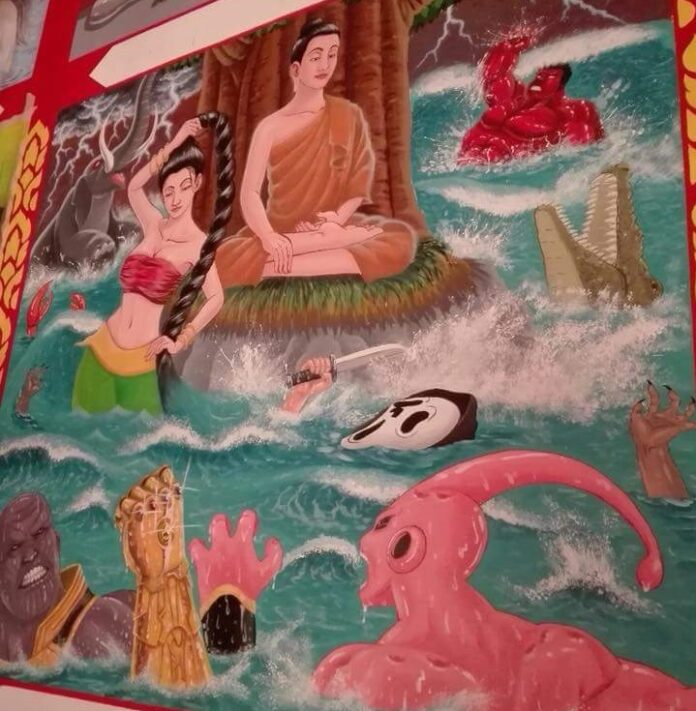 SUPHAN BURI — Netizens Sunday were amused and bemused by a Buddha mural in a temple in central Thailand bearing an unexpected twist.
A mural in Suphan Buri province's Wat Sam Pasiew depicting Buddha with various cartoon characters drew both appreciation and outrage alike after it went viral online.
Read: Avengers-Themed Comic Parodies Thai Politics
The decade-old artwork – depicting the life story of the Buddha on his enlightenment night, during which he was saved from a swarm of demons by the goddess of the earth – bears a modern spin with classic evil creatures replaced by several notorious comic and movie characters.
Among them are Ghostface from the Scream film saga, Majin Buu from Dragon Ball and Red Hulk from Marvel Comics. It also features Thanos, the main villain of the latest Hollywood blockbuster "The Avengers: Infinity War."
The painting was first brought to attention by Thailand Superhero Fan Club Facebook page, which posted a photo of the mural captioned "I feel many strange things in this. Please don't get overly dramatic about it."
It quickly went viral and had been shared more than 2,000 times as of Monday, with most comments finding it funny and creative.
"Will Siddhartha [Buddha] belong to Marvel, DC or Shonen Jump?" wrote user Phacharaphan Srijunngam, referring to the American and Japanese comic anthologies.
"If this kind of art can draw attention from a younger generation, I think it's more beneficial than leaving it sacred on an altar," wrote another user Teerachai Surakiatpinyo.
However, some found it inappropriate.
"This is so dirty and sad. I strongly disagree," user Vivattana Akaramontree wrote. "If children learn about the Buddha's life with all these characters featured in it … it will completely distort their understanding of the story."
"Damn, the religion has become a joke," user Tomorn Krishnakaree wrote. "Please don't excuse this as a strategy to draw more people to temples. If the painting is bullshit, how can you teach people the truth?"
Wat Sam Pasiew has long been famous for its unique style of art. Murals on Buddhism featured around the temple, painted by artist Rakkiat Lerdchitsakun, are embedded with modern cartoon characters such as Doraemon, Angry Birds and Ben 10.
"It was painted for a long time. The cartoons are hidden all around. It's really up to when people will find them," Monk Phuwisan, assistant abbot of the temple, said Monday. "All had been painted from 2002 to 2008. They only found out about this one now."