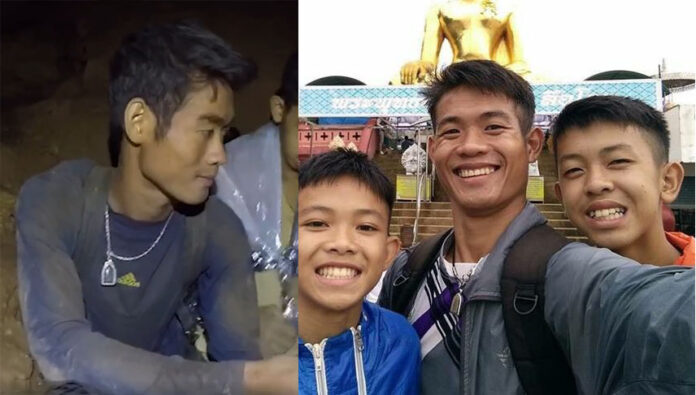 BANGKOK — Public sentiment is rallying around Ekapol Chantawong, the coach stuck in Tham Luang Nang Non for a fortnight with his football team of 12 boys.
Netizens, the boys' relatives and public officials were finding it hard to place blame on Ekapol, even after the rescue effort claimed its first victim Friday: Petty Officer 1st Class Saman Kunan, 38.
"To those who are blaming the kids and the coach: if your dad is crossing the street and he gets hit by a car, don't forget to blame your dad," Facebook user Somsan Wangsatja wrote after the news about Smarn's death on a Friday Facebook post.
Kum-aey Promtep, grandmother to Duangpetch Promtep, 13, told E-Jan social media page that none of the parents are blaming the coach.
"I know he's a good person. In the cave it looks like he's losing morale. He's probably afraid us parents would blame him," Kum-aey said. "I want to say that none of us are blaming him. If he knew this would have happened of course he wouldn't have brought the boys in there."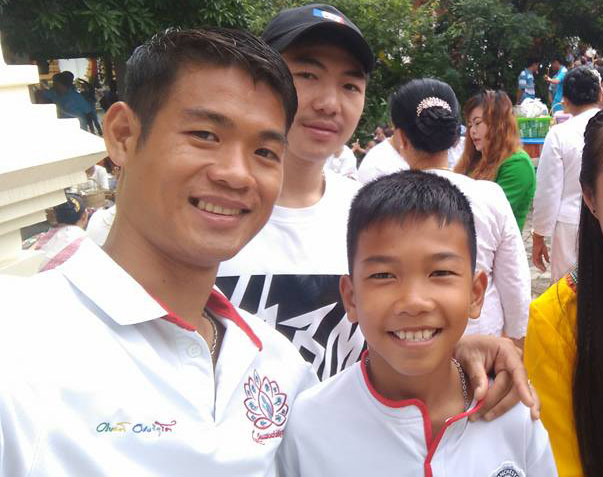 Thawatchai Thaikieaw, deputy director of the justice ministry said he was afraid the Coach would fall into depression and possibly commit suicide upon exiting the cave.
"I'm afraid he will misconstrue things and think of himself as the only source of blame. This could lead to depression and self-harm," Thawatchai said.
The minister said in one of his previous posts where he oversaw youth, a 13-year-old boy committed suicide out of guilt for putting him family through court cases.
"I'm afraid Coach Ek may suffer from similar issues. I'm worried," Thawatchai said. "I want to encourage him. If I got to see him, the first thing I would do is give him a hug…I want to tell him he's great."
Looking at footage of Ekkapol in the cave, his friend Noppadol Kantawong said he was shocked to see the deteriorated state of the healthy and lively young man.
"I was worried that after they come out of the cave, Coach Ek would be blamed. I'm afraid he would think like that too. But everyone is sending their encouragement, so I don't think Thai people would kick someone who's already down," Noppadol said.
However, not everyone sided with the coach. Arpakorn Kongpermpool, in a post shared almost 23,000 times, said that Ekapol was to blame.
"There's a huge sign in front of the cave and you still went in?" she wrote. "What the hell were you practicing football in a dark cave for? Teams worldwide just practice on a grass field…if I was one of the parents I would sue him."
Ekapol is an orphan who lives with his grandmother.
Similar sentiments of encouragement are being tweeted on the top trending hashtag #CoachEk.
อยากจะตีปากไอพวกที่ด่าน้อง ๆ ว่า เด็กเชี้ยบ้าง เด็กเวรบ้าง บลา ๆ ๆ ที่ทำให้คนอื่นต้องมาเดือดร้อน
คือ คือ คือ.. มึงเข้าใจไหมว่ามันคือ #ภัยธรรมชาติ เขาไม่ได้ตั้งใจโว๊ยยยย
..ถ้าเป็นมึงที่ติดอยู่ในถ้ำ ก็ให้ จนท.ระเบิดปิดปากถ้าไปเลยดีไหม โว๊ยยย หงุดหงิด ๆ#ถ้ำหลวง #โค้ชเอก #หมูป่า pic.twitter.com/BV4fRw1i5i

— คนเทา ๆ (@Gray___man) July 6, 2018
"I want to smack the mouths of those people who are blaming the kids for being a bother to others, blah blah. Don't you understand what a natural disaster is? He didn't mean to," Twitter user @Gray___man wrote.