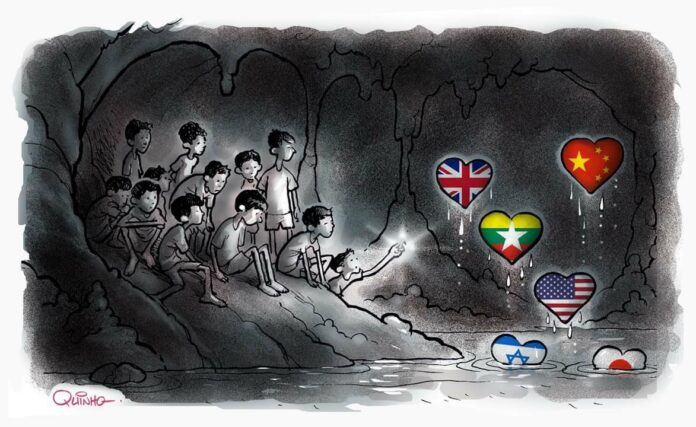 BANGKOK — The world on Sunday celebrated the news that four of the 12 boys and their football coach trapped in the Chiang Rai cave complex had been rescued, and anticipated the successful evacuation of the rest.
Twitter users worldwide have been using the English hashtag #ThaiCaveRescue to express their joy – from celebrities and children as young as the trapped boys to the United States president.
"For the first time in history, the entire world is rooting for the same football team. #ThaiCaveRescue," Twitted user @lindaelora03 wrote.
Many tweets were accompanied by illustrations to laud the rescue, while others praised the British divers who found the children, SEAL officer Saman Kunan who died trying to rescue the group and Ekapol Chantawong, the 25-year-old football coach who remains in the cave with eight other kids.
"Saman Kunan. Say his name. He's earned it," @tiggertheturtle tweeted.
This is the last photo taken of Sgt. #SamanKunan, a Thai ex-SEAL who died Thursday afternoon when he ran out of oxygen while returning from delivering oxygen tanks to the boys trapped in the cave. Saman Kunan. Say his name. He's earned it. #ThaiCaveRescue #TrueHero #Hero pic.twitter.com/DDabqWf87e

— Vikki (@tiggertheturtle) July 9, 2018
I hope everyone takes a moment today to remember Saman Gunan, the Thai Navy Seal that died making sure the kids stuck in the cave had enough oxygen so that today's rescue would even be possible. #ThaiCaveRescue pic.twitter.com/LkhGmBXOAl

— Josh Jordan (@NumbersMuncher) July 8, 2018
This is John Volanthen. Know who he is and teach your children about him. This is the definition of a hero #ThaiCaveRescue pic.twitter.com/cvOUCEkheO

— Dan (@NYMfanDAN) July 8, 2018
US President Donald Trump also tweeted about the rescue effort.
The U.S. is working very closely with the Government of Thailand to help get all of the children out of the cave and to safety. Very brave and talented people!

— Donald J. Trump (@realDonaldTrump) July 8, 2018
Elon Musk, who had offered to aid the mission, praised the rescue and tweeted videos of divers testing out his idea of using children-sized submarine pods.
Continue to be amazed by the bravery, resilience & tenacity of kids & diving team in Thailand. Human character at its best.

— Elon Musk (@elonmusk) July 7, 2018
Simulating maneuvering through a narrow passage pic.twitter.com/2z01Ut3vxJ

— Elon Musk (@elonmusk) July 9, 2018
"With some mods, this could also work as an escape pod in space," he commented in another tweet.
A card from Vivaan, an 11-year-old Indian boy.
#ThaiCaveRescue 'wild boars ' stay strong ! Message from Vivaan -11year old who with his sister is praying for all of you. pic.twitter.com/u27cS3XVBP

— Panchami N Bhardwaj (@PanchamiNB) July 9, 2018
Actress Viola Davis, who starred in motion picture The Help, tweeted words of encouragement along with an illustration of the kids climbing out of a cave that reads "hope."
Every fiber of my heart is rooting for the divers, remaining 8 young soccer players and coach in Thailand!! Thanking God for the rescue of the four!! 🙏🏿❤ #ThaiCaveRescue pic.twitter.com/THto0VzNIv

— Viola Davis (@violadavis) July 8, 2018

Asjad Nazir, editor of British newspaper Eastern Eye posted a series of tweets about the cave rescue.
Ekapol Chanthawong lost his whole family as a kid. He trained as a monk & then devoted his life to helping coach kids. He kept 12 children alive in a cave without food or light for 9 days. He will be last to leave tomorrow & is only 25. Remember him! #ThaiCaveRescue #Hero pic.twitter.com/yWzn2k1dJ4

— Asjad Nazir (@asjadnazir) July 8, 2018
Nazir also retweeted an earlier cartoon by Chris Roy Taylor, an illustrator for Australian daily Herald Sun.
Love this cartoon, made me feel really emotional and perfectly captures the moment… ❤😰#ThaiCaveRescue pic.twitter.com/HDtYAJB39j

— Asjad Nazir (@asjadnazir) July 8, 2018
US Congressman Ted Lieu applauded the children's' scuba diving feats.
I pray for the kids, coach and rescue team in the #ThaiCaveRescue. It took me weeks to get certified in scuba diving, with no dive lasting more than one hour. Remarkable that all these kids, who haven't done this before, are going underwater for 3 hours. https://t.co/GslSqOHrdN

— Ted Lieu (@tedlieu) July 8, 2018
Actor Michael Raymond James, who starred in TV series True Blood and Once Upon A Time, said his "heart aches" as he waits for continued news about the trapped kids.
My heart aches waiting on the news of the #ThaiCaveRescue. I can't imagine the fear and anxiety gripping those kids and their families. You are all in my thoughts. As are every member of the rescue team. Godspeed

— MichaelRaymond-James (@MRaymondJames) July 8, 2018

Twitter user @kaponyamwenye called the boys' ordeal "the epitome of resilience."
Let's put the #ThaiCaveRescue in perspective:

1) The 12 boys were trapped without food, clean water, and sunlight for 10 days
2) They had to learn cave-diving 101 in 5 days
3) The underwater journey takes 3 grueling hours

This is the epitome of resilience.

— Mwenye kaponya (@kaponyamwenye) July 8, 2018
please don't forget about the coach – he has kept the boys alive, and calm the whole time, gave them his food, making him weak, and will be the last out of the cave… most importantly he is only 25, he is so young and has done so well #ThaiCaveRescue

— Millie Young (@pinkwavestep) July 8, 2018
I'm not sure why but there's something special that gets triggered when we know a fellow human is trapped underground – whether it's Thailand, Chile, or WV. All tribalism disappears and is replaced with deep empathy and a deep desire to get them out of there…#ThaiCaveRescue

— Damian Bolton (@damianschnorque) July 8, 2018
Not all heroes wear capes 🙌 #ThaiCaveRescue pic.twitter.com/SStGxFlwHO

— james.saripudin (@m_radhie) July 8, 2018
For the first time in history, the entire world is rooting for the same football team. #ThaiCaveRescue

— Camila Cunha (@lindaelora03) July 8, 2018
Second rescues are underway & world patiently waits for good news. Hasn't been a story that's united everyone like this in years & world is cheering for the Wild Boars. Continue to keep the boys, coach, and rescuers in your prayers. #ThaiCaveRescue #wildboars #ThailandCaveRescue pic.twitter.com/1VoOQY5p7a

— Monica Pilcher (@monicapi1984) July 9, 2018
Today For the first time Entire world is cheering for the same football team.

The resilience of the young boys, the bravery of the divers, the prayers from all corners-This mission reignites our faith in humanity.

Today we got our Real superheroes♥️ #ThaiCaveRescue pic.twitter.com/zF7C4FAXp1

— tahaa_lone (@tahaa_lone) July 9, 2018
#ThaiCaveRescue Let's hope for another great day for the rescue effort. Divers will go in soon. pic.twitter.com/8eSgszufJn

— Andreas_sensei (@Bunny_Godfather) July 9, 2018
Thai tweeters have been using the Thai hashtag #BringtheWildBoarsTeamHome, referencing the football team's name. Many of the accompanying illustrations depict the boys as little boars.
Fighting❗ #พาทีมหมูป่ากลับบ้าน #ขอบคุณเจ้าของภาพ pic.twitter.com/KLZwlxUaMH

— มิคกี้บี้BieMic (@AumzaaL) July 8, 2018
Let's go #ThaiCaveRescue #พาทีมหมูป่ากลับบ้าน pic.twitter.com/AW3B8sw6uN

— 24_masa2010 (@24_masa2010) July 8, 2018
The World United #ThaiCaveRescue #ถ้ำหลวง #13ชีวิตรอดแล้ว #พาทีมหมูป่ากลับบ้าน #พาน้องกลับบ้าน # pic.twitter.com/s9o61KXzXw

— faye thanomklom (@faikiko) July 8, 2018
Fighting#พาทีมหมูป่ากลับบ้าน pic.twitter.com/ykuDMKlwf5

— Sa'Nack (@Saku_Nack) July 8, 2018
Fighting🙏🙏 #ถ้ำหลวง #พาทีมหมูป่ากลับบ้าน pic.twitter.com/ulB6PWzzMM

— peple (@SirilakMunklang) July 8, 2018
น้องๆ #ทีมหมูป่า เริ่มทยอยออกมากันได้แล้ว ขอเป็นกำลังใจให้กับคนที่เหลือให้ออกมาได้อย่างปลอดภัยด้วยน้า #ถ้ำหลวง 🐗⚽ pic.twitter.com/JFxNrC6v7F

— มิกินเป็ด (@miginped) July 8, 2018
Related stories:
4 Boys Rescued From Cave 'All Safe'
'Sgt. Sam,' Cave Rescue Hero Who Wanted to 'Bring Boys Home'
Don't Blame Boys' Coach: Thainet, Families, Officials