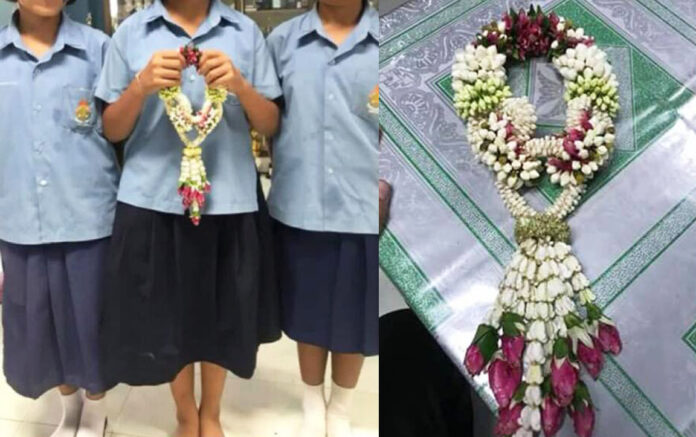 NAKHON RATCHASIMA — A primary school teacher apologized for shaming his students online for not weaving flower garlands to his standards.
A teacher at a school in the northeast apologized after netizens brigaded his personal Facebook page Tuesday for cussing out a group of schoolgirls for weaving what he deemed a "real piece of shit" garland in class.
"You guys wove a real piece of shit. You failed today. You are going to sit here and keep weaving until 8pm," the elementary school teacher Toto Dorothy.
The teacher's vulgar critique quickly got the attention of a page trafficking in online drama, which shared it to great virality of more than 7,000 reactions and 3,000 shares in less than a day.
The teacher's initial post included photos of three schoolgirls with their faces blurred out, holding a woven garland.
Toto posted an apology Wednesday accompanied by an unblurred photo of the three children.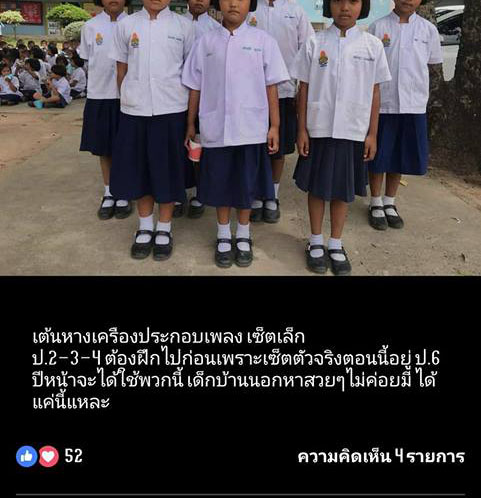 It proved too little and too late, as the crush of outrage pouring into his page and that of his schools already prompted Toto to deactivate his account.
"Why do you have to flame your students on your Facebook? Is it something a teacher should do? If you don't love the kids just quit and go plow the fields with the buffaloes," commented Sagittarius Iaolos.
"The kids are weaving the garland to put on your wrist during your funeral. It doesn't have to be perfect," Surinthip Thanyakum wrote.
It wasn't the first time he had posted humiliating messages about his female students.
Before Toto shut down his page, sharp-eyed sleuths dug up posts singling out schoolgirls.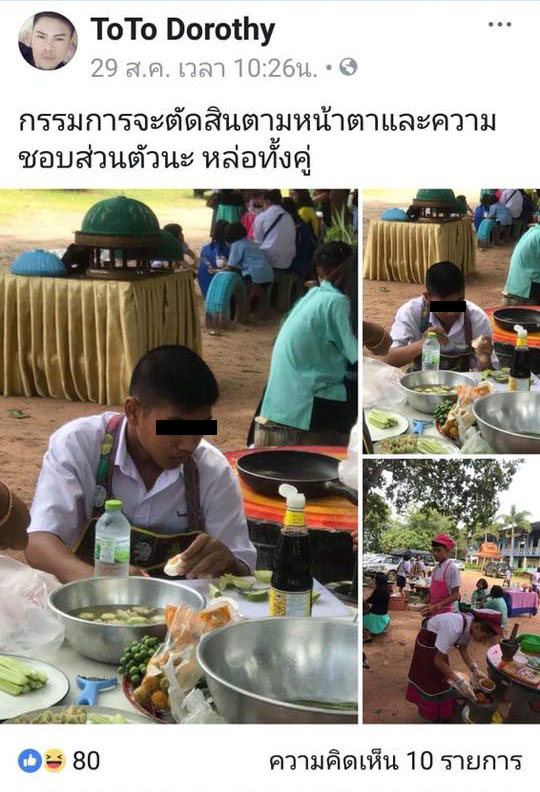 Toto on student coloring quality:
"Will you guys even survive the small textbook? Even your drawing and coloring doesn't meet my standards. How depressing."
Toto on general student attractiveness:
"There aren't really pretty girls found in the countryside. This is the best that can be found here," he captioned a photo of seven students from grades 2 through 4 practicing a school dance.
In fact, Toto displayed a pattern of only favoring his male students in possibly inappropriate terms.
"Evaluation will be based on your looks and my own personal preferences. Both of you are handsome," he wrote with a photo of several boys working on a class project.
Some have taken to the Chatvittaya School's page to call for the teacher to be dismissed due to his inappropriate and potentially worrisome comments.
Neither calls or messages to the school were answered as of Wednesday afternoon.