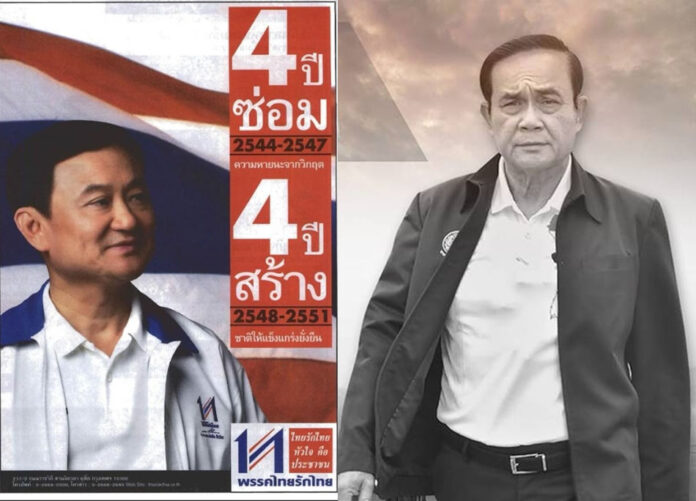 BANGKOK — Twelve years after his predecessor expelled Thaksin Shinawatra from Thailand, the current junta leader shares at least one thing with the man he blames for the nation's ills: a pithy campaign slogan.
Sharp-eyed observers Wednesday pointed out that a military agency post promoting the totally-not-campaigning Prayuth Chan-ocha used an identical slogan borrowed from then-prime minister's 2005 reelection campaign.
"Four years repairing, four years building," was written in the clouds next to a resolute-looking Prayuth in an image posted by the Royal Thai Army's cyber defense operation.
The black-and-white image shows Prayuth looming over the Bangkok skyline along with a list of his regime's achievements, from the conventional ("highest capital reserves in ASEAN") to the xenophobic ("standing firm on our policy to accept no Rohingya").
Commentators quickly pointed out that Thaksin used the same slogan, word-for-word, to brag about his government's success in bringing Thailand back from the economic brink following the Tom Yum Goong financial crisis.
"Four years repairing the disaster of the crisis, four years building the nation to be stronger," read one of his posters for a campaign which his Thai Rak Thai Party went on to win by a landslide.
"Dad, did you buy this army page already?" Thaksin's son, Panthongtae "Oak" Shinawatra, tweeted in response.
พ่อซื้อเพจกองทัพไปแล้วเหรอครับ? 🤣🤣 pic.twitter.com/EEH4wrKdfn

— Oak Panthongtae (@oak_ptt) September 19, 2018
Watana Muangsook of the Thaksin-aligned Pheu Thai Party also seized on the moment by tweeting: "'Four years repairing, four years building' was the 2005 slogan of Thai Rak Thai. If you want to copy everything, why don't you go ahead and copy Thaksin's brain too? That way, the country wouldn't be in such a state."
But not all found fault with the purloined slogan, as supporters of military rule said it made a deserved claim.
"You really did do all those things," Gavyn Klubklay wrote in reference to the stated accomplishments.
Another junta supporter suggested the junta need not even campaign to keep Prayuth in power.
"I don't think we need an election at all. Uncle being here is already good. An election would lead to the same loop of corruption. The junta is the best!" Jattarin Visesiri wrote.
But elsewhere on the internet, those tickled by the apparent plagiarism of a political arch-nemesis – on the 12th anniversary of the coup that ousted Thaksin – piled on.
Read: Junta No. 2 Says Thaksin Still to Blame, 12 Years After His Ouster
"If you hate Maew so much, why are you copying his policies?" wrote Rommanee Kham-Ai, referring to Thaksin's nickname.
"Oh man, this is hilarious. You guys really did return happiness to me," Anan Panmaingarm said, referring to the junta's post-coup 2014 anthem. "The one thing uncle did successfully was to be a funny jester for all of us to laugh at."
Others tweaked the slogan to fit their own political slant.
"Four years of economic crisis, four years of repairing the army," Thanthorn Sunanthawadee wrote.
Calls to the Army Cyber Center were not immediately returned Wednesday.