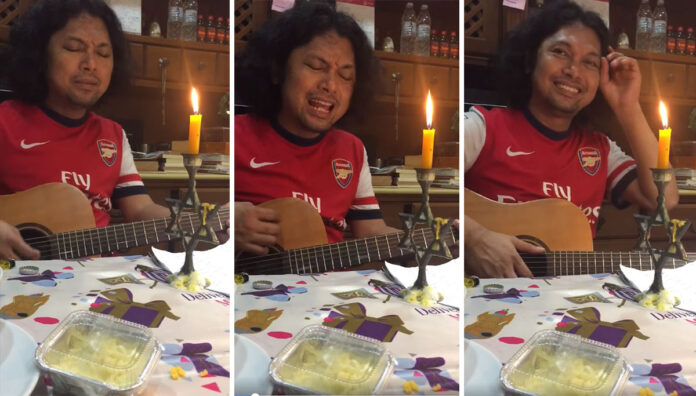 BANGKOK — A rocker admitted for mental health care following an erratic, live-streamed meltdown last month went online Friday morning to pledge his days of crazed videos are over after he was released from the hospital.
Seksan "Sek Loso" Sukpimai was released Thursday, weeks after he made national headlines with five days of live videos that led his ex-wife and girlfriend to stage an intervention and get him admitted for treatment of his bipolar disorder. Early this morning he went live again – only this time it was to reassure fans he'll stick to his singing rather than wildly ranting at the world.
"I will never do live-marathons in my life again," Sek said. "I'll not meddle in politics either. This page will be for entertainment only. "
The 20-minute stream began at 5am with Sek only speaking into the camera 14 minutes in to give a shout out to the Somdet Chaopraya Hospital.
"I'm live-streaming now because this is when I would wake up in the hospital," he said. "Thanks to the hospital for letting me come back and sing for all of my fans."
At about 9am, Sek returned online to sing songs he wrote during his treatment. The first unnamed song was dedicated to his long-suffering girlfriend, Apisaya "Eve" Pattanaworasap, and the second, "Little Deer," was dedicated to his daughter Gwang.
"It's only you that stays by my side, with crazy old me," Sek sang, reminding his audience that the 44-year-old performer indeed has singing chops. "I wanna thank you for taking care of me, when I had no one. Thank you from my heart. Don't you know I'm so touched?"
At 7pm on Thursday, Sek posted a photo of him and Apisaya in a car after checking out from the hospital.
Most people wrote comments expressing relief that Sek seemed right in the head.
"Bro, you gotta get some air too, okay? If you keep yourself cooped up, the same symptoms will come back. Trust me, I used to go cray too," Weerawat Ang Chomdara wrote.
Due to his hospitalization, Sek couldn't appear to hear a court verdict on charges stemming from his unloading a handgun into the sky in December. The court agreed to postpone the ruling to Oct. 25.
Related stories:
Sek Loso is No-Show For Court Verdict
Untreated Mental Illness Left Sek Loso Delusional, Living in Filth: Son
Girlfriend, Ex-Wife Drag 'Sek Loso' to Hospital
Sup With Sek Loso's Five-Day Facebook Live Meltdown?
Rocker Sek Loso Arrested After Police Standoff