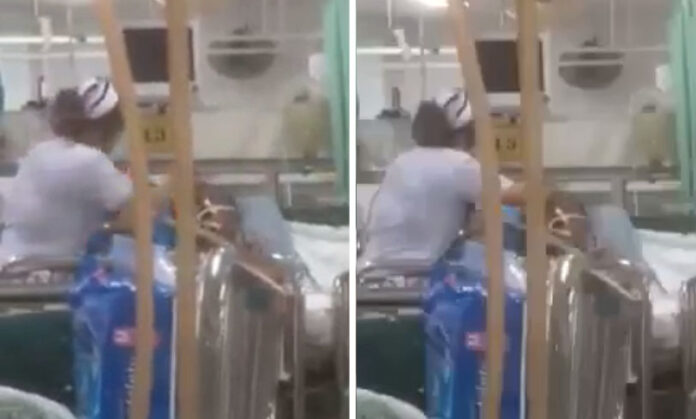 PHITSANULOK — The son of a coma patient whose apparent abuse by a nurse was watched by millions online said Thursday he won't press charges after she was transferred to a job away from patients.
Kong Duangprom, the 63-year-old son of the nonagenarian comatose man seen shoved violently at Buddhachinaraj Hospital, said he was satisfied with the transfer of the nurse – whose identity has been kept secret – but would like her to publicly apologize.
"We're not going to press charges against the hospital," Kong said Thursday."But I want this nurse to come apologize to society for her actions and explain herself."
Read: Hospital Apologizes for Violent Treatment of Coma Patient
Buddhachinaraj Hospital directors did not fire the nurse, but instead transferred her to a post at the provincial Health Ministry office that does not involve patient care.
"This incident happened because of built-up stress in her nursing job," said hospital director Suchart Porncharoenpong.
The most common sentiment online was frustration driven by the belief justice had not been served.
"Uncle, you might not mind, but I do! It's inappropriate for the nursing profession. This should have been punished," Kamsl Konnee wrote.
Comments defending the unidentified nurse by the Nursing and Midwifery Council were widely panned, including its secretary-general, Angkhana Sariyapong, strained argument that the woman's actions were misunderstood.
"From investigating the ward, we found that this nurse is generally a good, fast, nonviolent worker," Angkhana said. "At that moment, she saw that the patient was on the edge of the bed, and was afraid that he would fall, so she had to tug him because usually it takes two nurses to do so. She was being caring because she put a pillow underneath his head."
In the clip, the patient is clearly lying squarely in the middle of the bed. The nurse throws the pillow right at the comatose man's head before tugging him and roughly shoving it beneath his head.
"Such shameless water-treading," Bee Chanakant Kura wrote of the council's rationalization. "Even if someone so black-hearted wears a white uniform, the uniform immediately becomes dirty."