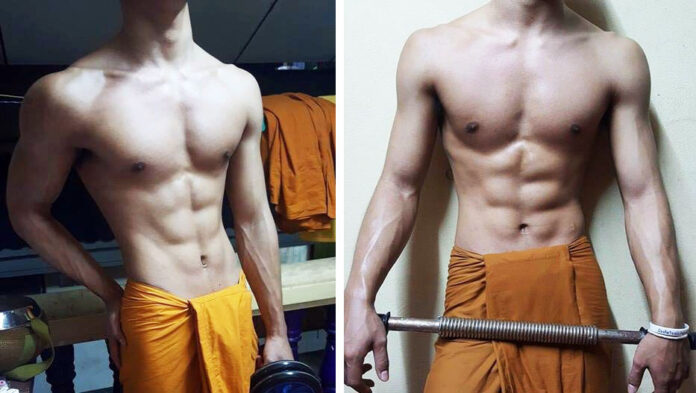 BANGKOK — Less than a week after anonymous photos of a ripped monk went viral online, national Buddhism authorities are on the hunt for the man, who they say tarnished the religion's image.
Narong Songarom, deputy director of the National Office of Buddhism said Thursday he had ordered national and provincial Buddhism officials to investigate and find the muscular monk's identity.
"Against monkhood discipline, this man has put on clothes similar to monk robes and taken photos of himself with fit muscles online. Although not a grave error in the monk's way, it is an earthly sin that invites societal criticism and damages Buddhism," Narong said Thursday.
Narong said authorities were unaware if the man in the photo displaying his pecs and abs is a real monk or a layman cosplaying as one. He said the monk would be warned and punished for his behavior if found by local Buddhist authorities, in accordance with the Buddhism Act.
The National Office of Buddhism also asked the Ministry of Digital Economy and Society to stop the photo from being circulated online.
Other monks have pitched in their criticism of the monk and his six pack.
"Building muscles and putting photos up on social media like this is a monk that forgets his vows of monkhood," Phra Payom Kalyano, abbot of Wat Suan Kaew in Nonthaburi, said. "It's inappropriate because it invites criticism and tarnishes our religion. If you want to exercise and have have a muscular body just stay home instead of being ordained."
Phra Payom said the incident was not a large enough offense for disrobing, however, because the monk could be "making his body strong to can carry out his monkhood duties better."
"The best exercise for monks is meditation, collecting alms and cleaning temples," he said.
The photos were originally posted Saturday by Surasek Kwathijak and have since been shared over 2,000 times. Surasek said he was just reposting photos he found on Twitter, and does not know the man in the photo or if he is really a monk.
"Going to the fitness isn't a monk's activity, but I'll give it a pass just this once," the caption reads. "Putting whey into your almsbowl."
More than one thousand comments by netizens on the post are mostly humorous.
"Going to hell for this," Yok Pluemchit wrote, tagging a friend. "Wiping up my saliva."
"[He's] opening a VIP ticket to hell," wrote Pornphan Puangthong. "Hell seems like a better place to be now."
Being ripped frowned upon, but being too large isn't okay either. The Ministry of Health in May said that over half of monks are obese from being given junk food in almsbowls.
Monks in Thailand's Theravada Buddhism are often restricted from publicly engaging in many acts. A film featuring a monk crying was censored earlier this month. Even a man who was about to be ordained was criticized online for taking photos commemorating the milestone in his life in May 2017.
Related stories:
Thai Film Minus Crying Monk Approved by Censors
Censors Pulled Thai Film Due to Crying Monk Scene
Thai Film Pulled Over 'Sensitive' Buddhist Scene
Please Don't Feed Junk to Chunky Monks: HealthMin