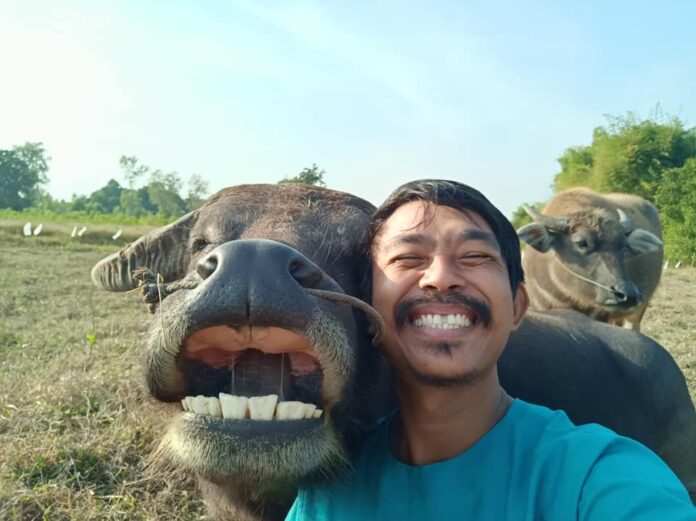 CHAI NAT — A buffalo who captured the nation's heart was back loping around with his friends in sunny, grassy Chai Nat province after an anonymous donor paid a bond for his release from police lockup.
Tongkum, 4, was freed from a pen behind a Bangkok police station and returned to his owner, Surat Phaeoket, as of Sunday.
Tongkum's ownership has been at the center of a scandal since Surat bought him using donations solicited online after photos of their interspecies friendship won hearts and minds. Boonlert Kanpakdee – Tongkum's former owner and a small functionary in Chai Nat province, accused Surat of being a beggar and misrepresenting the situation fraudulently. Surat was charged with fraud and money laundering and Tongkum was seized this past Tuesday by Bangkok police.
One high-ranking justice official last week described the case as absurd, noting that Surat had done what he had said he would do with the money – buy the buffalo.
"I don't know who the good-hearted puu yai was, but they paid the entire 100,000 baht to bail out Tongkum so he can live with me forever now," Surat said, using a term for a senior and influential person. "I'm so happy. I want to say thanks. I can smile again."
Tongkum arrived in Chai Nat with Surat last night.
Surat said the case is against him still ongoing. Boonlert has agreed that Tongkum should live with Surat, he said.
Surat said visitors are welcome to visit his small farm, named Farm Hug Bao. Other than its obvious English meaning, farm hug also means "love" in Isaan, and Surat says "bao" is his abbreviation of "buffalo."
"Anyone can come visit Tongkum. It's a landmark on Google now," Surat said.  
The farm is located about a three-hour drive from Bangkok. Those interested in Surat and Tongkum's adventures can follow either Surat's personal Facebook or a page he promised to open when he crowdfunded Tongkum: Smiling Buffalo, A Little Thing Called Happiness.
Related stories:
Smiling Buffalo Sliding Into Depression: Farmer Friend
Summoned by Police, Farmer Briefly Reunites with Smiling Buffalo
Farmer Who Bought Smiling Buffalo Charged With Fraud, Money Laundering
Smiling Buffalo Seized by Police, Impounded as Evidence
Smiling Buffalo's Former Owner Mad as Hell About Crowdfunded Sale
Internet Saves Beautiful Man-Buffalo Friendship
With His 'Smiley Buffalo' to be Sold Off, Farmer Needs Internet's Help