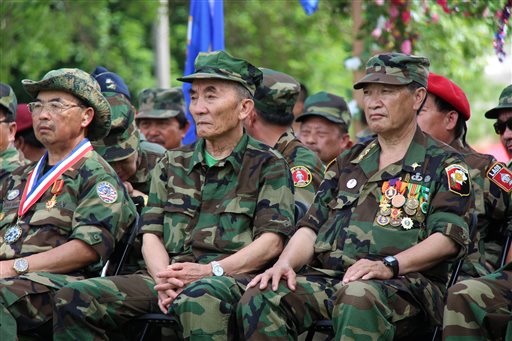 ST. PAUL, Minn.  —  A new memorial on the Minnesota Capitol grounds honors soldiers of the "secret war" in Laos.
Hundreds gathered Saturday for the dedication of the memorial to the U.S. and Alliance Special Forces in Laos, Minnesota Public Radio News reported.
The 10-foot-tall bronze monument commemorates those who served in the southeast Asian country, from 1961 and 1975. Laos was neutral during the Vietnam War, but the CIA recruited Hmong soldiers to carry on a covert campaign.
After the U.S. pulled out of Laos and Vietnam, tens of thousands fled and lived in refugee camps in Thailand. Many refugees eventually resettled in the U.S. An estimated 66,000 Hmong live in Minnesota.
Lt. Gov. Tina Smith praised the veterans at the dedication ceremony.
"More than four decades ago, Hmong, Lao and southeast Asian soldiers served during the Secret War, saved American lives and helped to advance the cause of freedom and democracy," Smith said. "Your service embodies the ideal of sacrifice."
The memorial resembles a sprouting bamboo shoot, with its leaves bearing images of daily life, war and relocation.
The ceremony featured Hmong music, a gun salute and the playing of "Taps." Several officials including St. Paul Mayor Chris Coleman and U.S. Sen. Amy Klobuchar spoke as well as veterans.
The Americans recruited Gen. Vang Pao to encourage many in his country to fight. The general, who died in 2011, was represented by his son, Wang Chong Vang.
Vang said it was a "special day for all of us to honor the Lao Hmong soldiers who served as the U.S. secret army in Laos."