BANGKOK — Low-cost carrier Nok Air has suspended one of its pilots over a conversation in which the idea was raised of crashing a jet carrying former prime minister Yingluck Shinawatra, while Thai AirAsia has acknowledged one of its trainees was also involved.
Nok Air said the pilot, which it did not identify, took the photo Sunday of Yingluck from the cockpit of Nok Air flight DD8005, before posting it in a Line chat group with the message, "We have prey on board. " As for the message requesting a "CFIT," or Controlled Flight Into Terrain, Thai AirAsia said it suspended one of its trainees – also not identified – for making that comment.
Read: Nok Air Pilot 'Jokes' About Crashing Yingluck's Plane

Controlled Flight Into Terrain is pilot jargon for when a plane is accidentally flown into the ground.
Flying officer Norahuch Ployyai said the Nok Air pilot didn't see the message because he had turned off his cellphone before the "CFIT" message appeared. The pilot has been suspended for at least one week.
"For this incident, I'm really sorry I let it happen," Nok Air CEO Patee Sarasin tweeted Monday afternoon and a fresh wave of scorn was unleashed against the struggling airline.
Yingluck, who was returning home on the flight from Phrae province, thanked Patee for apologizing in an online message Monday evening and said she believes the airline will continue investigating the matter.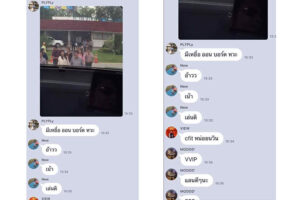 "However, I want this to be a lesson in not mixing personal views with professional service work, which is at the heart of the business," she wrote. "And I hope such cases won't happen again, be it to myself or other passengers."
The disciplinary action by the two carriers came under mounting pressure to take action over the type of messages that could see a passenger jailed for at least five years under a new civil aviation safety law passed last year.
Thai AirAsia CEO Tassapon Bijleveld said the airline found a newly recruited trainee pilot was responsible for posting the jest that the Nok Air pilots should crash the plane.
Tassapon said the unidentified trainee has at least two years of training before being allowed to fly and had been in training only three days when the incident occurred. The trainee has been suspended and will have to go through an attitude evaluation test.
Tassapon said being a pilot requires maturity and the trainee will still become a pilot if all tests and training are passed.
Additional reporting Chayanit Itthipongmaetee