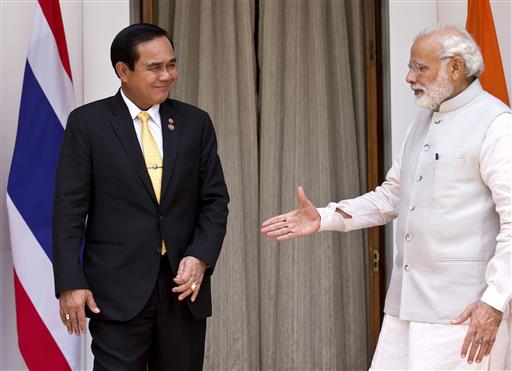 NEW DELHI  — The prime ministers of India and Thailand have agreed to deepen cooperation in tackling terrorism, cybersecurity, narcotics, transnational economic offenses and human trafficking.
India's Prime Minister Narendra Modi says the two countries would also step up maritime cooperation for counter-piracy on seas through naval patrolling and greater staff exchanges and exercises.
Thai Prime Minister Prayuth Chan-ocha is on a three-day visit to India. He met with Modi in New Delhi on Friday and plans to visit the Buddhist pilgrim center of Bodh Gaya on Saturday before returning home.
Modi told reporters that information technology, pharmaceuticals, auto-components and machinery are some other areas of promising economic collaboration between the two counties whose bilateral trade in the last 15 years has grown eight times to about USD$7.93 billion (280 billion baht).
India, Thailand Agree to More Cooperation on Drugs, Security (Photos)
Related stories: 
In Singapore. Prayuth Defends Social Media Crackdown