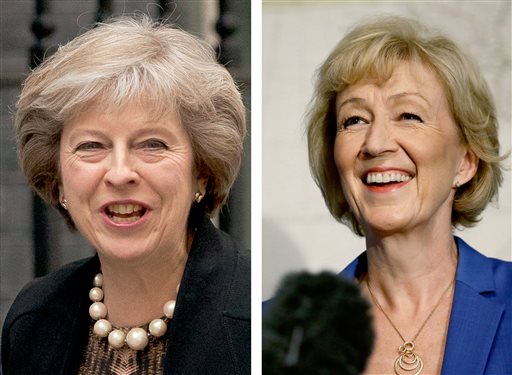 LONDON  — Andrea Leadsom, one of two Conservative lawmakers vying to replace Prime Minister David Cameron, withdrew from the contest Monday, leaving Home Secretary Theresa May as the sole remaining candidate.
The party was expected to address whether it would to re-open the contest to candidates eliminated in earlier rounds or declare May the winner unopposed. If so, she could be prime minister within days. Cameron is resigning after British voters rejected his advice and chose to leave the European Union in a referendum last month.
Leadsom withdrew after a weekend uproar over comments she made suggesting that being a mother would be an advantage in the job. Leadsom has children; May does not.
It wasn't clear whether the flap affected her decision to drop out. She said simply that she did not believe she had sufficient support within the party to remain in the race.
Leadsom said "business needs certainty" in the wake of Britain's vote to leave the European Union, which has unsettled the markets and sent the value of the pound plunging.
She said Britain needed a government that would "move quickly to set out what an independent United Kingdom's framework for business looks like.
"We now need a new prime minister in place as soon as possible," Leadsom said.
Story: Jill Lawless