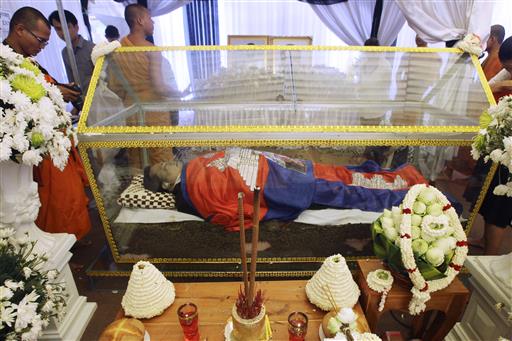 PHNOM PENH, Cambodia  — A former Cambodian soldier has been charged with murder in the killing of a prominent government critic, an attack that has raised accusations of a political conspiracy.
Oeut Ang faces up to life in prison if convicted of killing Kem Ley, who was shot dead on Sunday. He also was charged with possession of an illegal weapon when he appeared at the Phnom Penh Municipal Court on Wednesday.
During interrogation, Oeut Ang had told police that Kem Ley owed him USD$3,000 (105,000 baht), and that he shot the well-known political analyst and government critic because of the dispute.
He also identified himself by the nickname Chuob Samlab, which in Cambodian means "meet and kill." Court officials said the nickname would be used in documents for now.
Oeut Ang was also charged with possession of an illegal weapon during his appearance at the Phnom Penh Municipal Court on Wednesday.
"After questioning, examining the documents and with the evidence present, the prosecutor of Phnom Penh Municipal Court has decided to charge the accused with premeditated murder and illegal possession of weapon," said Ly Sophana, a court spokesman.
In an interview with The Associated Press on Tuesday, Oeut Ang's wife said her husband was too poor to have loaned the victim USD$3,000. She also said he had never mentioned Kem Ley's name before. She said her husband was a former Khmer Rouge soldier as well as an ex-government soldier.
Opposition parties and Global Witness, a British activist group whose work was occasionally the subject of Kem Ley's radio commentaries, have suggested a political conspiracy behind the killing.
Kem Ley's body is being kept at a Buddhist temple until his funeral on July 19 to allow his admirers and friends to pay their respects.
Prime Minister Hun Sen, often a target of Kem Ley's criticism, has promised a thorough investigation into the killing, which came at a time of political tension that began last year with legal and other pressures by the government on the opposition Cambodia National Rescue Party.
Kem Ley was widely known because he was frequently heard on the popular Cambodian-language services of Radio Free Asia and Voice of America, U.S. government-funded services that are among the few independent news sources in Cambodia. He was also frequently quoted in the country's handful of independent newspapers.
One of his most recent commentaries was about a report issued last week by Global Witness that alleged that Hun Sen and his family had enriched themselves and kept power through corruption.
Kem Ley is the most prominent Cambodian government critic to be killed since trade union leader Chea Vichea in 2004.
"This outrageous act of violence must be thoroughly, transparently and independently investigated," Transparency International said in a statement Wednesday. It said it is also "concerned at increasing restrictions placed upon civil society organizations and harassment of activists in the country."
The opposition CNRP also urged the government to appoint independent investigators to solve the killing. It noted that the police had still not found the masterminds behind the killing of Chea Vichea and an environmentalist, Chut Wuthy.
Instead, the police have arrested innocent people and coerced them to confess, the party said in a statement.
Story: Sopheng Cheang
Related stories:
Wife of Alleged Cambodian Killer 'Shocked' by Accusations
Cambodian PM Promises Vigorous Probe into Critic's Killing