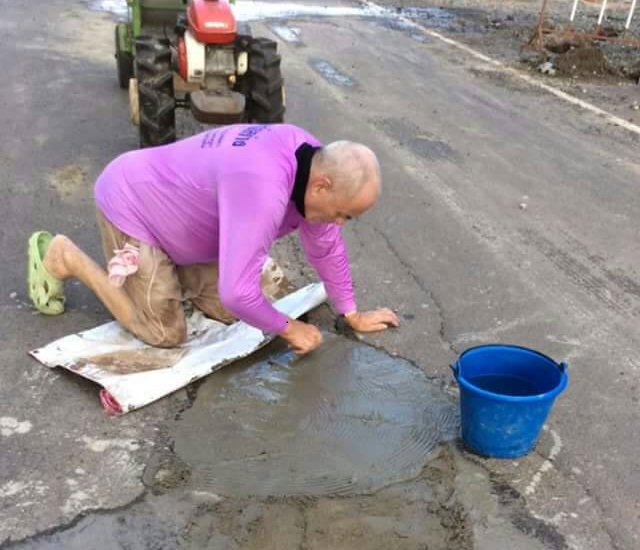 BURIRAM — Things were moving a little smoother in Buriram today thanks to a 76-year-old German man who showed his civic pride by joining volunteers for some road repair.
With perilous potholes a national topic since a Tak woman found a creative way to call attention to the issue,a 51-year-old Buriram woman said Tuesday that she and her husband, retired German national Peter Goman, filled potholes along Nong Hong Road in the province's Nong Hong district to improve road safety.
Kusuma Namwon, who works at the local hospital's Friends Help Friends volunteer organization, said her husband keeps active by accompanying her on activities and also volunteers as a swimming teacher.
Kusuma said the junction there was filled with so many potholes neighboring residents feared a serious accident would happen.
"We like to go buy soy milk and pa tong go [fried dough sticks] at the house there," Kusuma said Tuesday. "The lady would always tell me about the potholes there and how 10-wheeler trucks and other big cars would drive fast at night, unable to see the holes."
Potholes have been a trending topic since Friday when Tak's Aticha "Palmy" Kusoltrakulpattana Tak won vows of action from authorities by doffing her clothes to bathe in large road depressions in her hometown.
Others have gotten into the act, including a group of women Monday in Khon Kaen province who hoped to win the same response from the authorities.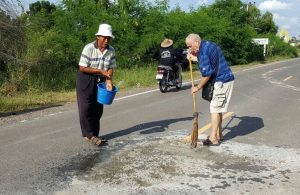 Kusuma said those in her district were large enough to take down bike riders.
"Motorcyclists would occasionally fall into the holes, and the people in the houses would rush to them." The potholes became such a big issue that she persuaded her volunteer group to take action.
Goman, her husband, volunteered to help her with the road work, paying for the construction along with two other villagers who scraped together 120 baht to help.
"His work was really neat," said his wife. "Back in Germany, he worked as an engineer."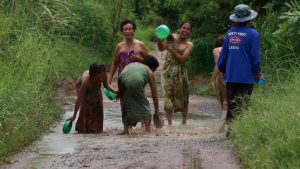 Netizens have been praising the farang and his wife for their altruistic work after Kusuma posted a Facebook video of Gowan fixing potholes on Sunday afternoon.