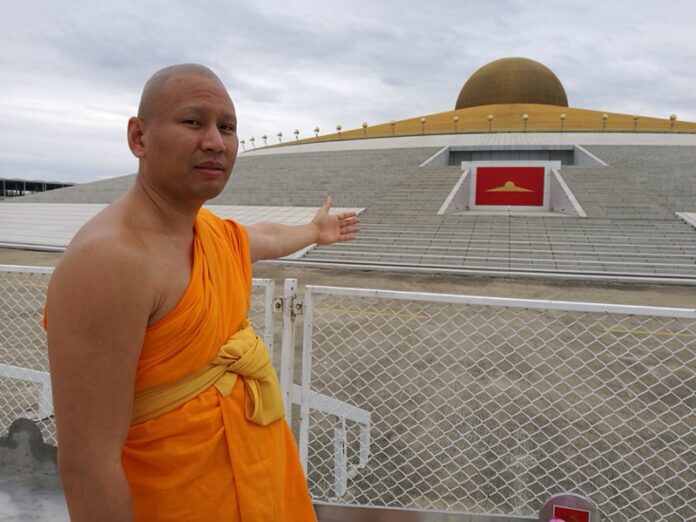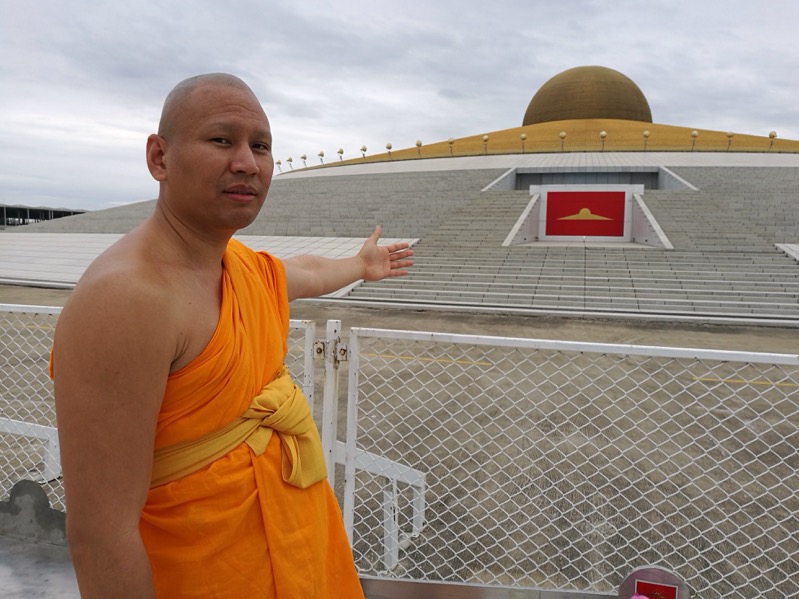 PATHUM THANI — Wat Dhammakaya is arguably the most controversial and largest Buddhist temple in Thailand. Some consider it a cult which has deviated from the core teaching of Buddhism and stresses donations as the path to heaven.
Today, the 46-year-old order and its leader, finds itself wanted by the military regime and loathed by much of the domestic media, which has been barred entry to its sprawling complex north of Bangkok.
It was in that context I was given the green light to pass through Gate 7 on Friday morning, through which law enforcement has not dared to enter for risk of confrontation. Their objective, to execute search warrants related to accusations that have multiplied to include 111 charges, ranging from various regulatory violations to being party to laundering more than a billion baht in embezzled funds.Even Dhammakaya's lay spokesman, Ong-art Thamnitha, is now wanted for sedition for allegedly inciting public unrest.
Read: Dhammakaya Asks Court to Cancel Search Warrant as Tensions Mount
Also on Friday, the Department of Special Investigation's court-approved search warrants expired, marking the second time in six months that authorities have blinked. Both times that has seemed out of fear of conflict with the followers who've assembled to defend the order's charismatic former abbot, 73-year-old Phrathepyanmahamuni, better known as Phra Dhammachayo, who is regarded as a fugitive by police.
As if the weight of further charges would prize him free of the compound, I would walk out from a three-hour tour to learn the charges against the temple had risen to 158, including violations of traffic law.
Once inside the vast temple campus, a spokesman awaited. It wasn't Ong-art, who is now wanted and was nowhere to be found. Instead, a tall and soft-spoken monk who goes by the name Phra Pasura Dantamano presented his name card, a lay disciple behind him.
Behind him sprawled the temple's Memorial Hall, built to honor Phramongkolthepmuni, best known as Luang Por Wat Pak Nam, who the Dhammakaya revere for what they consider his rediscovery of their meditation technique a century ago. It's a golden, UFO-like structure looks ready to take devotees off to nirvana or outer space.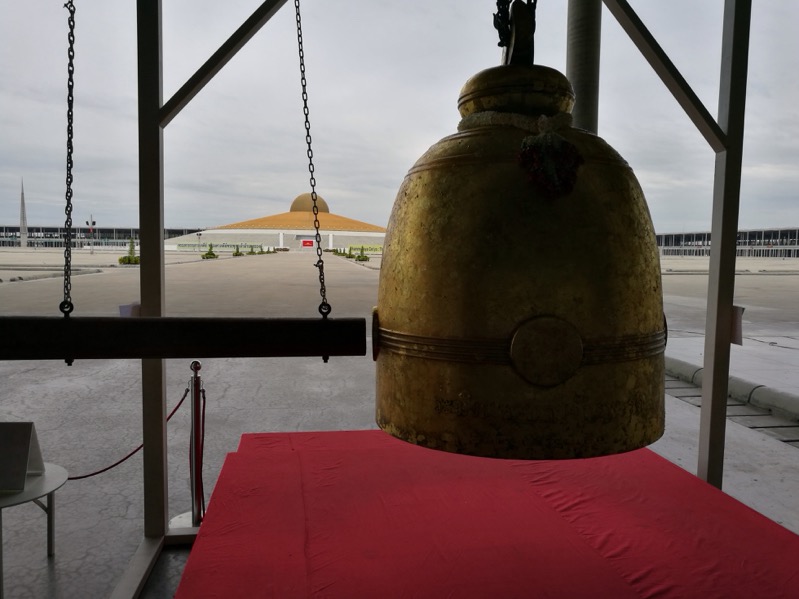 Modest Living
The 39-year-old monk knew this was not going to be just an ordinary guided tour, but a combination between that and critical interview. I only assured it would be fair.
"Guided" of course, means not seeing everything one wants. I wasn't allowed to see Dantamano's living compound, not to mention that of Most Venerable Dhammachayo, the charismatic former abbot who is rumored of leading a very luxurious life.
The Modest Living Quarter for Novices was shown instead, and it lived up to its name. The monk reminded me that frugal and simple living is at the core of Dhammakaya's teachings. I was led inside a long, single level where 20 young novices, 13 to 19, sleep. The wooden floor was bare, the walls made of woven dried palm leaves giving a sense of simple monastic lifestyle. The temple hosts some 300 novices who may spend years here, although my ordained guide said only less than one-third entered monkhood afterward.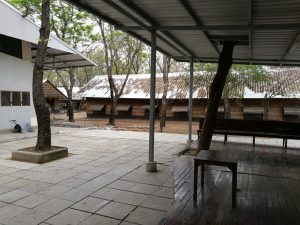 As I said earlier, the venerable Dantamano, a former flight attendant for Thai Airways International, insisted his off-limits living quarters were also modest, with no air conditioning. The monk added that he, like any of the 3,000 plus monks at the sprawling 195 rai or 90-acre temple, has to move from his room to another every year, "so we won't accumulate many belongings." He said that were he attached to nice things, he wouldn't have left his life behind his life as a steward 11 years ago.
Donations the Stairway to Heaven?
Yet modesty in the rank and file doesn't necessarily extend to the top. The temple is widely perceived for having a competitive donation scheme in which bigger contributions mean getting closer to heaven or reincarnated life.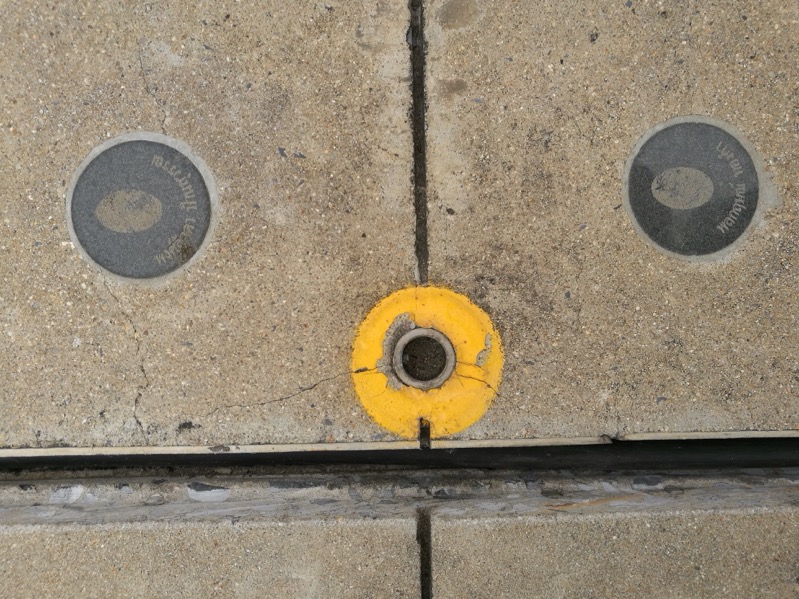 I raised the question to my monk-guide and he flatly denied it. He said the strength of the temple, with its vast followers, is due to its ability to explain Buddha's teaching in a simplified way that is accessible.
"We made the Tripitaka simple," said Dantamano. This allegation is so common and widespread that the temple's spokesperson even has a printed paper listing "reserve your space in heaven" as among the attacks made against Dhammakaya, to mislead the public into hating and despising the temple and see them as a danger to Buddhism.
On the contrary, the temple's belief is that prosecution or persecution of the temple will, in the words of another page of PR materials given to me by Dantamano, "be the beginning of the destruction of Buddhism in Thailand."
The monk alluded to the siege mentality inside the temple, stressing that what's happening is not prosecution but persecution.
Citadel of Worshippers
Bangkok's Rajamangkala Stadium can accommodate 80,000 people, while the National Stadium can seat 35,000 spectators. A stadium in Pyongyang, North Korea, is believed to hold the most in the world – a whopping 150,000. They have nothing on the Maha Dhammakaya Cetiya, a square-kilometer quadrangle said to accommodate 400,000 worshippers.
Dantamano led me to the citadel, or cetiya. We took a long walk inside the amphitheater-like square, a kilometer on each side, passing worshippers praying in the afternoon in the direction of a large, sci-fi stupa made of a silicon-bronze alloy resistant to corrosion.
It's most immediate resemblance is to a retro-style UFO from 1950s cinema.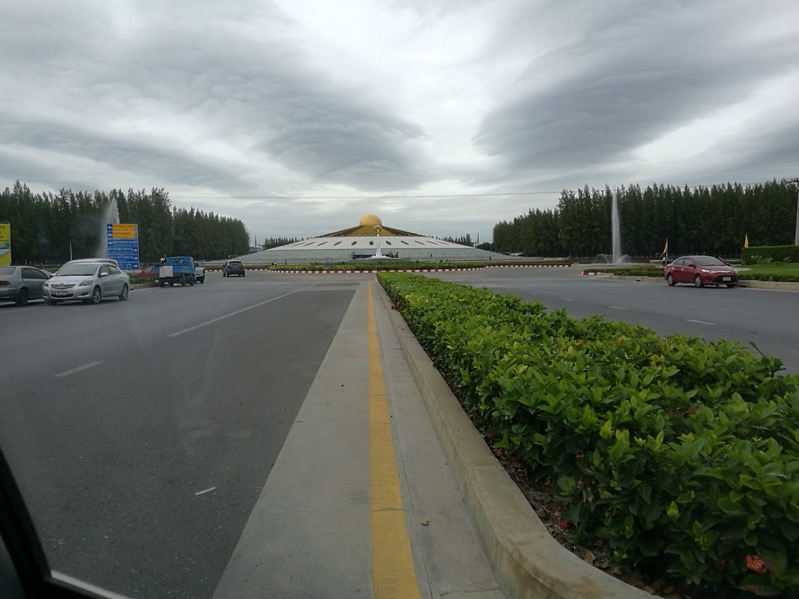 Dantamano proudly talks of building a stupa or cetiya that would last a thousand years. The choice of gold-hue silicon bronze stupa was thus utilitarian. Surrounding the dome-like stupa were 300,000 small Buddha statues cast from pure silver and gold-plated place and 700,000 more kept inside the inverted bowl-like structure. The monk said for each devotee who donated 10,000 baht, one of the million Buddha statues would be engraved with the person's name on its 18-centimeter-wide base.
Multiplying 10,000 baht by one million, the figure of 10 billion loomed in my mind as Dantamano took us to our final stop.
Future of Dhammakaya
I asked what will happen to the temple after Dhammachayo was gone. The monk-spokesman assured me that for several years, various committees have been running the temple, as opposed to a single person or monk. Dantamano, who speaks fluent English and holds a bachelor's degree in the language from Ramkhamhaeng University, for example, is on the international affairs committee.
Dhammachayo is removed from daily operations, he said.
"He doesn't know about [the daily running of the temple]," he said.
That was the opening to ask why Dhammachayo does not turn himself in and prove his innocence before the courts.
Dantamano said they have no trust in the justice system under the military regime. But he was noncommittal on whether Dhammachayo would turn himself in under an elected government either. Anyhow, he added, the decision is no longer up to the monk who is suffering from diabetes and a blood clot in his leg, but that of the disciples who have no trust in the military regime.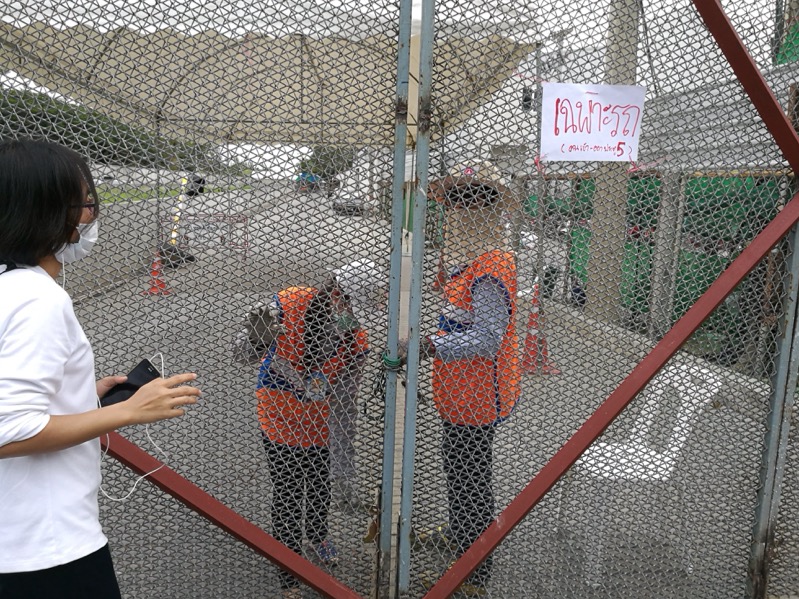 Enemies of the Temple
I asked why the temple thinks it has so many enemies, and whether some of that was because it was perceived as being supportive of fugitive former Prime Minister Thaksin Shinawatra.
Dantamano insisted its devotees are not only Redshirts, but people from across the political spectrum. He said devotees are asked not to discuss politics inside the temple.
Instead, he said it's normal for a temple with such a vast following to be perceived as a threat to governments, particularly in times of political sensitivity. He said that during the late years of the Cold War, the temple was accused of supporting Communism, for example.
He didn't appear appreciative when I suggested this recalled the antagonism between China's dictatorship and its Falun Gong sect.
Tour's Over
Along the way back, it became clear this wasn't the only media visit, as New York Times reporter Seth Mydans and his assistant Thai reporter were waiting on the same cart for their tour to begin.
It was the front of Master Nun Chand Refectory, where many worshippers dine and meditate. Although I was not allowed to enter the guarded compound, Dantamano suggested I talk to two police officers positioned outside without the temple's invitation.
"Why don't you go and ask them why they're here," the monk said.
Even though I felt a little used for having to ask police the question, I was curious myself and proceeded. The replied was that it was a secret.
As I bid farewell to the monk and his assistant, Dantamano blessed me and said he didn't want me to take side with the temple but to report fairly and accurately.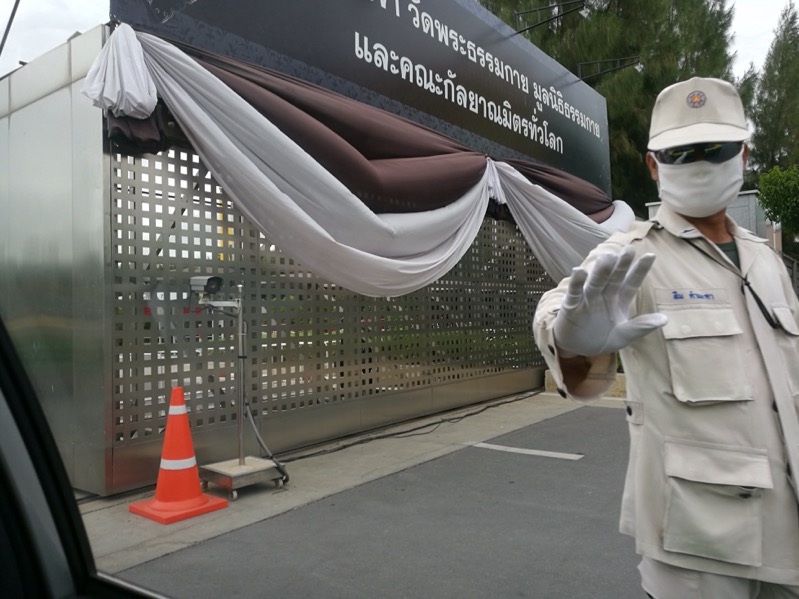 Correction: An earlier version of this story misidentified Phra Dantamano's academic degree as a master's degree. In fact he obtained a bachelor's degree in English from Ramkhamhaeng University.
Related stories:
Dhammachayo Removed as Abbot of Dhammakaya
Dhammakaya Defies Order to Halt Broadcasts
Deadline for Dhammakaya Abbot to Surrender Expires, Again
Renewed Bid to Capture Dhammakaya Abbot Weighed