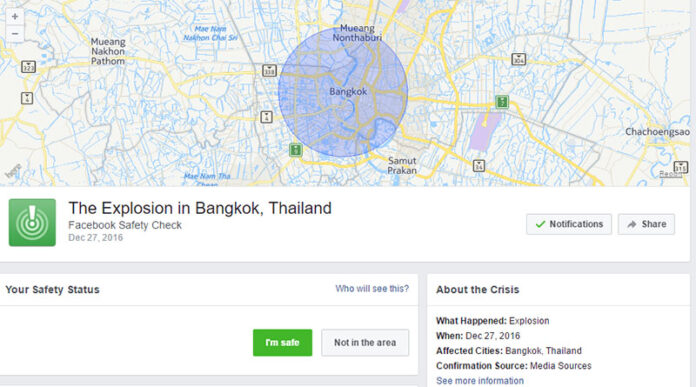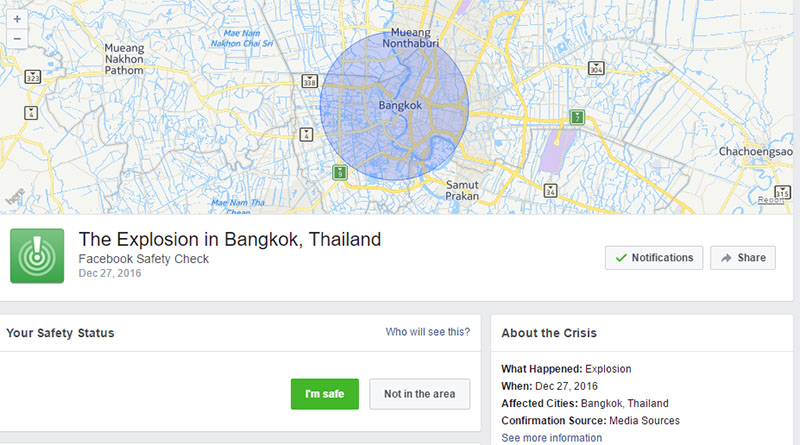 BANGKOK — No, there was not a massive explosion Bangkok on Tuesday night.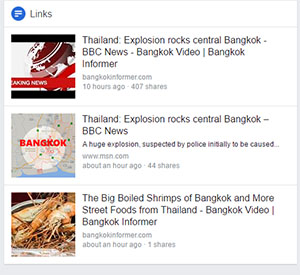 At about 9pm, Facebook activated its safety check-in system for a reported explosion in the Thai capital. Facebook said the crisis was "confirmed" by media reports, and users began marking themselves "safe."
The only problem is the media report it referenced was a BBC article posted to the website of Bangkok Informer. That article appeared to have been posted more than a year ago before it was republished today and was eventually picked up by an MSN.news bot at about 8pm.
Update: Facebook Says Panic-Inducing Bangkok Explosion Actually Happened
The original BBC report was about the Aug. 17, 2015, bombing of the Erawan Shrine, which killed 20 people, mostly tourists.
As of 10:15pm, the Facebook alert had been deactivated.
Facebook launched its Safety Check Feature in October 2014 for its users to notify their loved ones they were safe in event of disaster. The first major crisis that saw it used was the Nepal earthquake of April 2015.
In March of this year, the social media giant apologized after it erroneously sent safety check notifications worldwide after a suicide bomber attacked Lahore, Pakistan.
Khaosod English says goodbye to 2016:
2016's Most WTF and Very Prayuth Stories
Our Most/Least Read Stories of 2016
Calls for Justice Answered by Social Media in 2016
Of Pokemon and Creepy Dolls: The Trendiest Trends of 2016
From Trafficked Tigers to Charred Children, 2016 Delivered on Awful