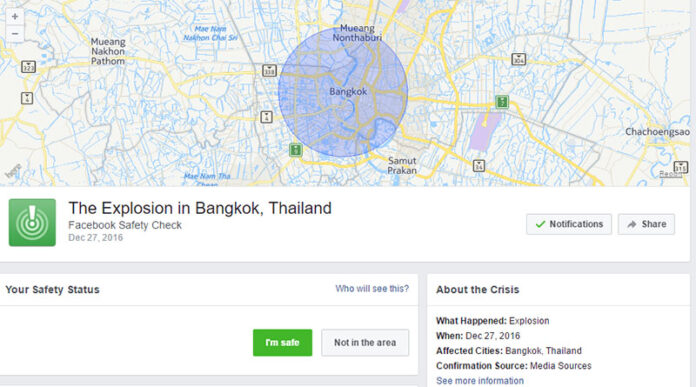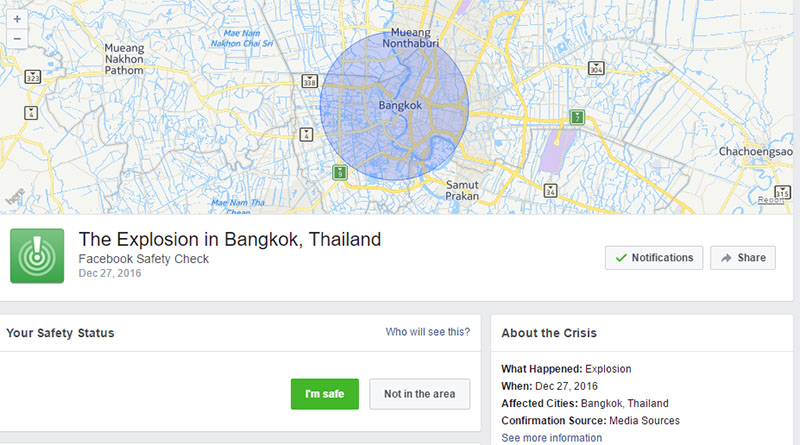 BANGKOK — Facebook has denied its Tuesday night alert about an explosion hitting Bangkok was made in error, saying it was supported by news reports about a man who threw fireworks from the roof of a bank nine hours earlier.
Citing English-language reports by Khaosod English, Bangkok Post, Thai PBS and The Nation, Facebook said the system was working as intended when it was activated "in Thailand following an explosion."
"As with all Safety Check activations, Facebook relies on a trusted third party to first confirm the incident and then on the community to use the tool and share with friends and family," the statement said.
The "explosion" Facebook is referencing was a mentally ill man who had ascended to the roof of a bank near the prime minister's office to throw homemade "ping pong" bombs that caused no injuries.
Read: Man Tosses Small Bombs at Gov House for 'Justice'
Those assertions did not match up with Facebook's own original Safety Check, which listed as "confirmation" a bogus news report on a news aggregating site, an automated MSN news report derived from the first and a story on Thai street food.
A Facebook Thailand representative reached for comment Wednesday afternoon said the alert had been activated since Tuesday morning but declined to explain why it didn't begin circulating until 9pm.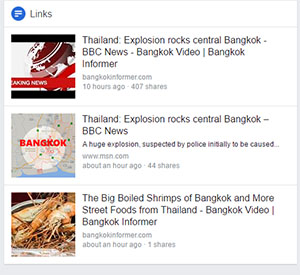 The representative declined to give her name saying it was company protocol.
Asked why Facebook now says it was caused by the Government House incident when their system showed the bogus news story, the spokeswoman declined to answer.
A reporter also asked if their system is working when a man throwing firecrackers from a roof triggers panic 12 hours later, but the representative declined to answer.
The representative said they were "gathering information" and would send more details later today.
Additional reporting Sasiwan Mokkhasen
Related stories:
Police Weigh Computer Crime Act Prosecution for FB Bangkok Bomb Hoax
'Fake News' Prompts Facebook Bangkok Bomb Scare