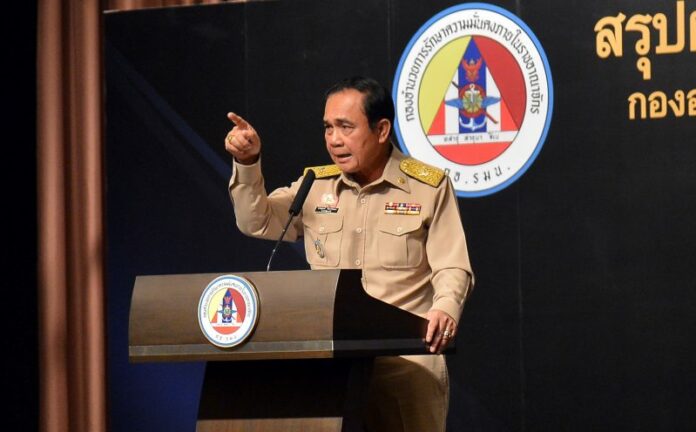 BANGKOK — Gen. Prayuth Chan-ocha opened fire on reporters Monday at Government House over their questions about a potentially toxic landfill in the Thai south that local officials say has been poisoning livestock and water supplies.
The junta leader said civil servants were at work "solving the problem" of the landfill located in Nakhon Si Thammarat, after residents filed a complaint Thursday with the Ministry of Natural Resources and Environment that it was sickening people and animals.
"Landfills are a problem everywhere, and in response you just protest about it. The easiest solution is to write a law so the government owns all the landfills. Local government is at work on it, why don't you ask them?" Prayuth said. "You ask me to fix everything. The next time your toilet clogs, will you ask me to fix it too?"
Local officials blame poor development planning for the landfill contaminating water supplies. More than 150 households in Na Sai subdistrict have reportedly been polluted by the landfill, causing many people to break out in sores and blisters, while animals have been infected with parasites, subdistrict chief Wachara Chupathum said Thursday.
As of Monday, Na Sai subdistrict mayor Sukcharoen Soodsomboon complained that no steps had been taken or help received to solve the problem.
"There haven't been any substantial moves from the municipal government in solving the problem at the root yet. They did send some mobile clinics to check up on people, but the problem of wastewater still remains," Sukcharoen said. "People are getting red itchy rashes all over their bodies."
"I just submitted a complaint to the 4th Regional Army about this. This landfill is the fourth biggest one in Thailand, 1.3 million tons big," Sukcharoen said.
In response to a follow-up question on whether the regional army base would be affected, Prayuth said only reporters who sorted their trash and recyclables were qualified to prod him on the issue.
"Let's do it this way. Give me a list of reporters who sort trash at their households. Come on, raise your hands. Do I have to issue an order so that only reporters who sort their trash can enter Government House?" Prayuth said.
Just let some issues go after he's given an answer, the retired general suggested.
"Everything I do, I do under fear of the law, even though I don't have to be so afraid of it," Prayuth said.
Mayor Sukcharoen said the water contamination was caused by local government building reservoirs which don't properly handle wastewater, which becomes contaminated and then flows into local khlongs. He said it's mostly fishermen in the community who are affected.
Locals should bring their animals for a checkup with the Livestock Development Department free of charge, Nakhon Si Thammarat deputy mayor Sawai Kiewjun said.
"If the municipality really comes and checks up on us, that would be good for the well-being of the animals which have been affected by the landfill for so long," subdistrict chief Wachara said Thursday.
Asked to describe the landfill, Sukcharoen was terse yet unsparing:
"The stench is ridiculous."