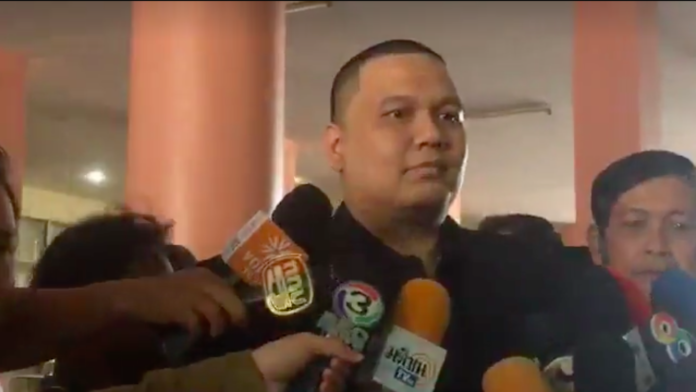 BANGKOK — A famous auto racer turned himself in Tuesday afternoon after the Narcotics Suppression Bureau sought him and three others for questioning as part of an inquiry into Thai links to an alleged Laotian drug lord.
Pai Leeke, aka Pai One Point, appeared Tuesday afternoon to answer questions relating to his involvement in the acquisition of a 20 million baht Lamborghini police suspect was paid for with drug money from trafficking suspect Xaysana Keopimpha.
The owner of the vehicle, Akarakit "Benz Racing" Worarojcharoendet, turned himself in for questioning Friday, saying he borrowed money from one of the Lao man's associates, Natthaphol "Boy" Nakkham.
Read: 'Benz Racing' Denies Having Connections to Laotian Drug Lord
"I don't know [Benz and Boy] personally," Pai said before going into the bureau. "I only found and inspected the car for them, and I met Boy once on the purchase day."
Maj. Gen. Pornchai Charoenwong announced Tuesday morning that four people, including Pai, were wanted for questioning.
They and others appeared photos with Xaysana that began circulating after the Lao man's arrest Jan. 19 at Suvarnabhumi Airport.
On Friday, moto racer Akarakit "Benz Racing" Worarojcharoendet denied any link to Xaysana days after he vanished from his home with the Lamborghini, which was in his possession.
Pai owns a racing team and is the 38-year-old son of former minister Ruangwit Leeke and the boyfriend of actress Arisara "Dew" Thongborisut. Two other persons of interest are from well-connected political families, one of which owned the used auto dealership that sold the car to Akarakit.
If they fail to appear by Wednesday, police said they would seek warrants for their arrest.
Akarakit has failed to submit more information as requested, police added, saying he would be called in for more questioning in a week's time.
Two soap opera actors seen in photos with Xaysana have also fallen under suspicion.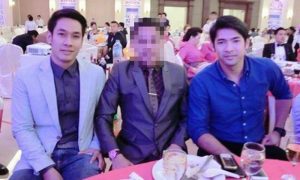 Xaysana was seen in images with Thai lakorn celebrities Akkaphan "Om" Namart and Arnas Lapanich. The Channel 7 stars denied any wrongdoing in their first interviews with reporters Tuesday morning after Arnas returned from Japan.
"We're both innocent and have no connection with the drug lord," said Akkaphan, adding that the photos were taken a couple of years ago when they were working in Laos, and it was normal for them to take photos with fans and those who come to greet them.
"We met [Xaysana] sometimes at events there, but we thought he was just a businessman," Arnas said.
They also said they would cooperate with the police investigation, but had yet to receive any notification.
A number of authorities, including police upcountry and an immigration police officer at Suvarnabhumi airport, are also being investigated.
Related stories:
'Benz Racing' Denies Having Connections to Laotian Drug Lord
'Benz Racing' Surrenders to Narcotics Cops Today
Soap Star's Husband Investigated for Laundering Drug Money