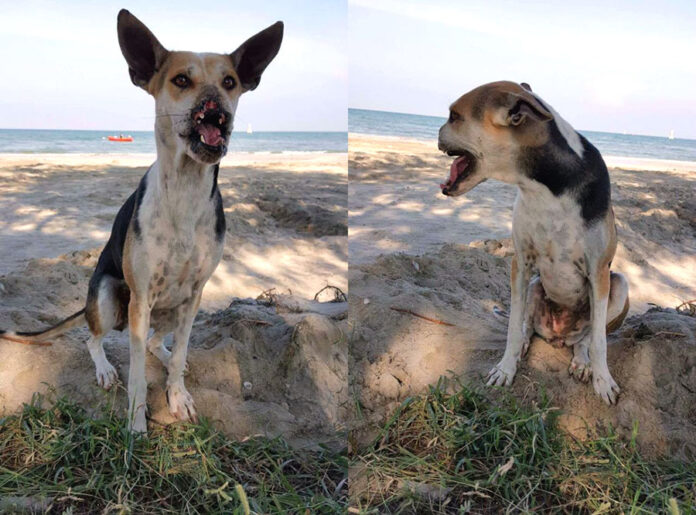 BANGKOK — The story of a mutilated dog rescued from a Thai butcher's knife and given a new life in America by two women grabbed attention worldwide this past week.
But after stories ran around the world about 2-year-old dog Teresa – Gamung, as she was known in Thailand – the man who found is disputing she was rescued from the dinner plate, saying that aspect of the story was completely fabricated. And no one else involved in rescuing the animal can back up the claim later made by the women who adopted her.
Construction worker Saichol Rachentara said Gamung lived at the site where he was working on a crew building a resort swimming pool in the southern province of Prachuap Khiri Khan. The dog was stealing food from the site, leading one of the other construction workers to attack and mutilate her.
Read: Dog Deformed by Thai Butcher Now Thriving in US
The story, which wound up in The Associated Press, seemed plausible. After all, Thailand does have a dogmeat trade in its farthest northeastern reaches, where it is smuggled over the border into Laos and Vietnam. But dog is not on Thai menus and down in Prachuap, far from any canine abattoirs, Saichol was incensed when he heard the story.
"It's not true that [Gamung] was rescued from a dog butcher," he said. "They can't frame Thai people in general like that."
He said the animal's injuries were consistent with an attack but made no sense if someone intended to eat it.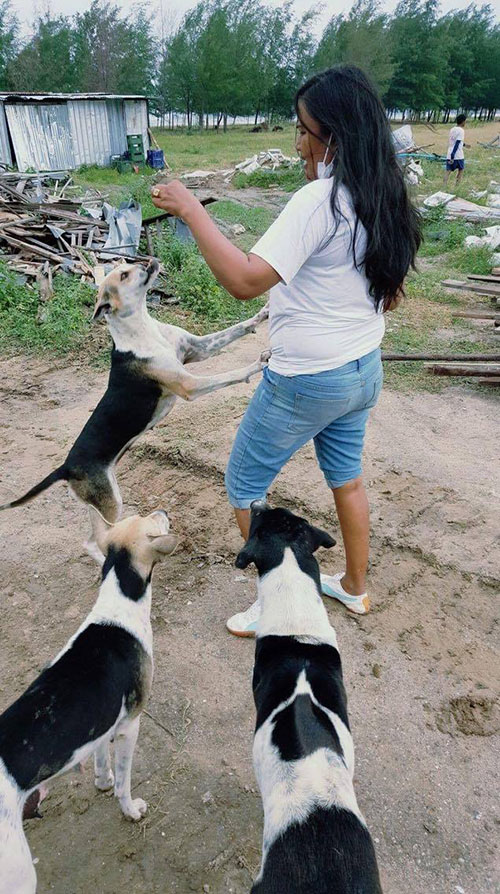 "Dog eaters don't chop off the dogs' faces," he said. "They stab their necks like pigs."
The women who made the claim the opening line of their crowdfunding campaign to bring the dog back to the United States did not respond to inquiries sent via messages and email.
"Teresa was the victim of someone who tried to cut her head off to eat her. The person missed and cut of part of her face," read their GoFundMe campaign, which has brought in over USD$11,000 (385,000 baht) in donations to pay for the dog's medical and relocation expenses.
Saichol sent dozens of photos to show that he had cared for Gamung for a period of time.
He said that around the time the construction project finished in December, he and his girlfriend were trying looking for a home for Gamung. They had been unsuccessful, so they reached out to animal-related communities such as Watchdog Thailand, Thai Love Animal and Stray Dogs Cha Am.
The latter offered to help. Stray Dogs anesthetized Gamung and brought her to a veterinarian for treatment.
Reached by phone Tuesday, the founder of Stray Dog Cha Am said she did not know the cause of Gamung's injuries. Oranuch Banyaem said she heard the dog was about to be eaten by a Burmese worker at a construction site.
But she's still on the fence about what really happened.
"If there was any photo to prove the story, I'd definitely buy it," Oranuch said. "Anyway, I want people to focus on the fact that Gamung is now very happy in America."
At the Cha Am Vet Clinic where Gamung was first treated, the vet had no idea what had befallen his former patient as well.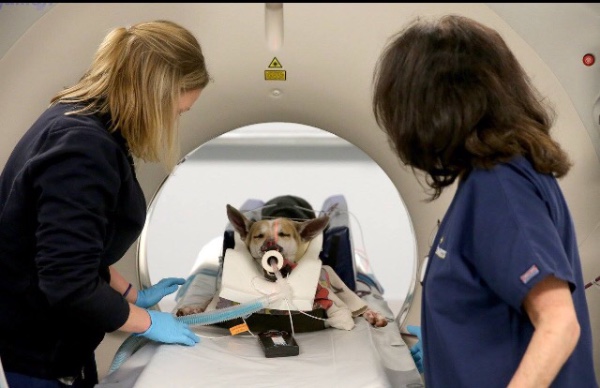 Thawirat Ladloi said Gamung was aggressive when she was admitted to his clinic, but calmed down after a few days of care. Asked what could have caused the the dog's deformity, the vet gave several theories.
"It might have been a disease that could have left a severe wound. I don't know, but the wound has a very sharp cut," Thawirat said. "But if it was a dog eater, he wouldn't have had to chop off her face."
Saichol said he hasn't heard any update on Gamung since she was adopted. After seeing many news and tabloid reports talk about the female Thai dog rescued from a Thai butcher, Saichol said he felt obligated to step forward and say it wasn't true.
He believes it was a misrepresentation to elicit greater sympathy that played on foreigners' mistaken notions of Southeast Asia.
"[They] probably intended to make [Gamung] more pitiful and get more donations from people, I don't know," he said. "But to frame Thai people, I don't think it's right."
But whatever the truth, Saichol said that in the end if Gamung, now Teresa, is happy, then he's happy too.
"If she is there and under good care by an owner – that's good," Saichol said. "I only hope it's not about personal interest because that would just be another form of exploiting the dog."
Additional writing Todd Ruiz
Related stories: