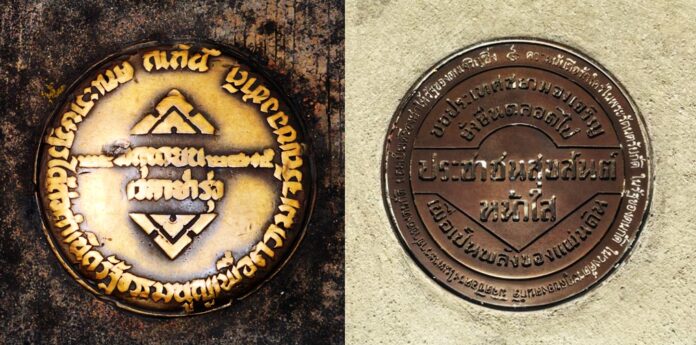 BANGKOK — A discussion set for Wednesday evening about the disappearance of a plaque commemorating Thailand's transition to democracy 85 years ago was ordered canceled on the authority of the military regime, according to the Foreign Correspondents' Club of Thailand.
In an announcement posted online this morning, the club said it was contacted by police on the behalf of "relevant officials" who said the event, Memories of 1932: The Mystery of Thailand's Missing Plaque, posed a threat to national security and "could be used by unscrupulous individuals to stir up disorder."
Read: Activist Arrested Attempting to Petition Prayuth on Plaque
"The FCCT disagrees with this assessment," read the unsigned statement. "However the FCCT has been given to understand that this cancellation is on the orders of the NCPO, and we have no choice but to comply."
FCCT chairman Dominic Faulder could not immediately be reached for comment.
Wednesday is also World Press Freedom Day, and the downtown clubhouse announced it would instead mark the day with a panel of speakers to discuss the state of media freedom in the kingdom.
The plaque, a small brass peg that for decades sat in the Royal Plaza, was removed early last month and replaced with one bearing royalist inscriptions. No one has publicly taken responsibility for its removal, and the authorities have arrested or detained several people calling for an investigation of its disappearance.
Related stories:
Former Convict Risks Arrest to Petition Prayuth on Plaque
The Curse That Haunted Bangkok 150 Years – Until Now?
Not First Dance For Man Detained Over 1932 Revolution Plaque
City Hall Instructed to Remove 11 CCTVs Before 1932 Plaque Taken
Revolution Plaque: Latest Casualty of 1932 Revolution's Endangered Legacy
Authorities Respond to Questions About Missing Plaque With Arrests, Silence