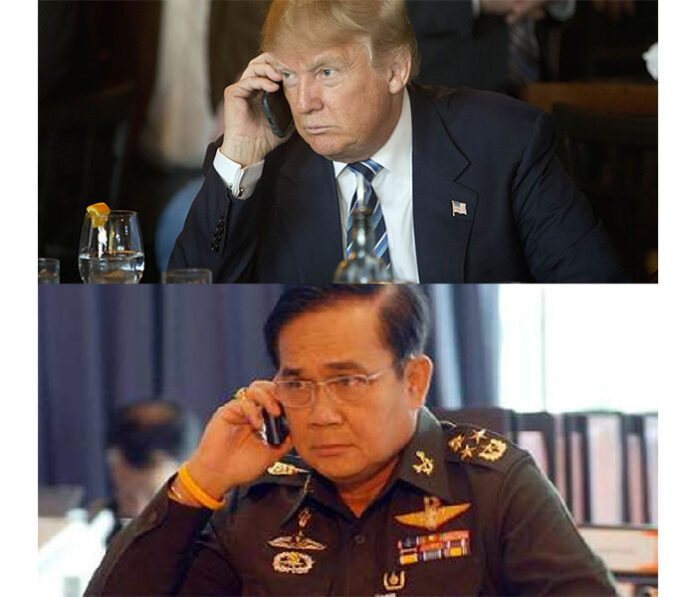 BANGKOK — Critics of military rule in Thailand offered mixed reactions to Sunday's phone call made by U.S. President Donald Trump to junta leader Gen. Prayuth Chan-ocha.
Pro-democracy advocates were split on what the surprise phone call, one of several by Trump to authoritarian leaders to shore up support over North Korea, meant to the military regime's legitimacy, and prospects for human rights in the kingdom.
"How long Prayuth can run the country and how well the democratic side can fight with the military regime is not up to the U.S. factor, but more dependent on struggles by political groups in Thailand," said Puangthong R. Pawakapan, an associate professor of political science at Chulalongkorn University on Tuesday, playing down the call.
Read: Trump Invites Prayuth to White House
Puangthong conceded however that Thais fighting for democracy will feel more isolated as a result, as the U.S. government no longer appears to be their friend on that front.
Thammasat University lecturer of International Relations Pongkwan Sawasdipakdi shared similar sentiments, but added that the military regime's attempts to make the most of the call reflects its deep insecurity and lack of legitimacy.
"It's as if the regime is insecure and must depend on a foreign state to shore up its legitimacy. This means this government has low legitimacy so it needs something to confer [legitimacy] to it," said Pongkwan.
In a brief readout of the call published Wednesday in state media, Prayuth's government described the call as "an elevation of Thailand's relations with the U.S. in all dimensions," adding that Trump "lauded the work of the Thai government before discussing areas such as trade, relations and the Korean peninsula."
"The call itself won't change much. The call doesn't mean the U.S. accepts Prayuth," said the lecturer, who agreed the invitation to the White House had more to do with getting U.S. allies into common cause against threats posed by North Korea.
Sunday's call came back-to-back with similar calls to Philipinne President Rodrigo Duterte and Singaporean Prime Minister Lee Hsien Loong.
The 2014 coup came at a tricky time for the former Obama administration, which had embarked upon a "strategic pivot" of engaging Asia. Barack Obama was officially cool toward Prayuth and his junta, but continued to engage the regime and invited Prayuth to a conference of Southeast Asian leaders in California.
For his part, Prayuth and his intermediaries dismissed U.S. criticisms, only to seek and publicize photo ops with Obama at the United Nations.
Puangthong said that while Trump's call reflected the U.S. president's disregard for Thailand's human rights and democratic record under Prayuth, the contact was more about balancing U.S. power vis-a-vis China, as Southeast Asia has become a contested area between the two powers.
Parit Chiwark, a well-known student activist and soon to be freshman political science student at Thammasat University, thinks the call means the democracy movement and human rights community in Thailand must rely on themselves.
"I think, in the end, foreign powers think about their own interests. Because we fight for our national interests, we can't expect much from foreign states," Parit said.
And, he added, the United States probably wants closer ties with Thailand to stem growing Chinese influence in the kingdom.
Pipob Udomittipong, a prominent commentator on international affairs, thinks it's a negative sign for democracy movements and human rights activists in Thailand, as such a call to the leader of the 2014 coup and present regime was never made by Trump's predecessor.
"Thailand is being treated like Egypt, which is dictatorial, but the U.S. closes one eye because it's a strategic partner," said Pipob, noting that Thailand has drifted closer to China and Russia of late.